Objectives
On completion of this chapter, you should be able to:



•




Describe the development of the digestive system and list the unique features of the fetal abdomen




•




Describe normal development of the stomach and the importance of its sonographic visualization




•




Define abnormalities of the fetal gastrointestinal tract and hepatobiliary system and describe their sonographic findings
The fetal abdominal organs—liver, biliary system, spleen, stomach, kidneys, and colon—are well formed by the second trimester. The following differences between the fetal and adult abdomen have been noted:



•




The umbilical arteries and veins provide important anatomic landmarks for fetal abdominal anatomy and measurements.




•




The ductus venosus is patent and serves as a conduit between the portal veins and systemic veins.




•




The proportions of the fetal body differ from those in the adult. The fetal abdomen is larger relative to body length, and the liver occupies a larger volume of the fetal abdomen.




•




The fetal pelvic cavity is small; therefore the urinary bladder, ovaries, and uterus lie in the abdominal cavity.




•




The apron of the greater omentum is small, contains little fat, and remains unfused in the fetus. Fetal ascites may therefore separate the omental leaves.
Sonographic evaluation of the abdominal cavity
The sonographer must carefully evaluate the gastrointestinal system during the routine fetal anatomy sonographic examination. The stomach, liver and vascular structures, cord insertion, small bowel, and colon should be clearly identified.
Hepatobiliary system
Liver.
The fetal liver is relatively large compared with the other intraabdominal organs and occupies most of the upper abdomen in the fetus. It accounts for 10% of the total weight of the fetus at 11 weeks and 5% of the total weight at term. The hepatic veins and fissures are formed by the end of the first trimester ( Figure 63-7 ). The left lobe of the liver is larger than the right in utero secondary to the greater supply of oxygenated blood. This of course reverses after birth.

Gallbladder.
The normal gallbladder may be seen sonographically after 20 weeks of gestation. Both the gallbladder and portal-umbilical vein appear as oblong fluid-filled structures on the transverse view of the fetal abdomen through the liver ( Figure 63-8 ). The gallbladder is distinguished by its location to the right of the portal-umbilical vein and as an oblong, more oval structure than the "tubular" intrahepatic umbilical vein.

Pancreas.
The normal fetal pancreas has been seen in utero, but it is more difficult to routinely recognize because of the lack of fatty tissue within the gland. It lies in the retroperitoneal cavity anterior to the superior mesenteric vessels, aorta, and inferior vena cava ( Figure 63-9 ).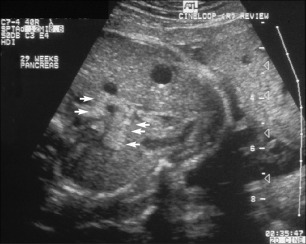 Premium Wordpress Themes by UFO Themes
WordPress theme by UFO themes