Fig. 1
Severe asphyxia in a preterm neonate. DWI image shows hyperintensity in the thalami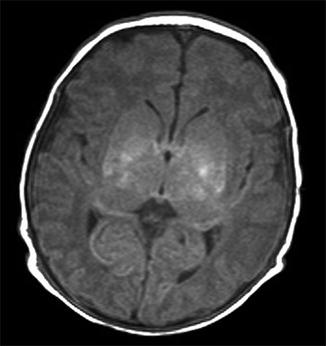 Fig. 2
T1WI in a preterm neonate who suffered severe asphyxia shows hyperintensity in the thalami and posterior lentiform nuclei. The high signal in T1 can persist into the chronic stage
Mild-to-Moderate Asphyxia
HII in the Term Neonate
As mentioned before, HII is also considered an important cause of death, neurodevelopmental disorders, and disability in term neonates, although its incidence and prevalence has declined over the last decade and is now estimated to be between 2 and 4 per 1,000 live term births [
3
,
32
,
33
]. Risk factors for HII can be divided in antepartum factors and intrapartum factors. Antepartum risk factors include maternal hypotension, infertility treatment, multiple gestation, prenatal infection, gestation ≥41 weeks, and thyroid disease. Among the most important intrapartum factors are forceps delivery, breech extraction, umbilical cord prolapse, abruptio placentae, tight nuchal cord, maternal fever, prolonged membrane rupture, abnormal cardiotocography, shoulder dystocia, and thick meconium. The most popular hypothesis is that most of the HII cases are attributable only to antepartum risk factors; however, there are new reports that point to the intrapartum factors as necessary to develop this condition. In approximately 10 % of HII cases, there are postnatal complications such as sepsis, shock, and/or severe respiratory distress [
33
–
35
].
The clinical manifestations at birth of HII in term infants include nonspecific signs and symptoms that evolve over a period of days. Data suggest that the infants at risk for severe HII can be reliably identified by a group of clinical manifestations that include evidence of intrapartum distress (e.g., fetal heart rate abnormality), severe functional depression (low 5 min Apgar score), need for resuscitation in the delivery room, severe fetal acidemia, abnormal early neurologic examination, and abnormal electroencephalogram. These patients, in the first hours after a severe insult, may present with depressed consciousness, periodic breathing or apnea, or bradycardia. In cases where severe injury to cortical regions has ensued, hypotonia and seizures may occur. In patients that survive, severe HII typically develops including quadriparesis, choreoathetosis, severe seizure, and/or mental retardation. In cases of moderate HII, spastic diplegia or quadriplegia almost always develops and is usually referred to as cerebral palsy. On the other hand, in mild cases of HII, term infants may develop mild developmental delay or recover completely.
The imaging patterns can be subdivided depending on the severity of the hypoxic injury into severe and partial asphyxia (Table
2
).
In term neonates, transfontanelle US is the first imaging study to be obtained when HII is suspected. Although some abnormalities can be detected by US, it has a low sensitivity and therefore a negative study should not be used as a definite evidence of an absence of hypoxic injury. If there is strong clinical suspicion of HII and US is negative, MR imaging should be obtained to evaluate the presence and severity of the injury. It is important to remember that, as mentioned before, the biochemical and histological features of HII that influence the imaging findings vary with time so that a study performed only hours after the event will be different from one done several days later.
Severe Asphyxia
In term neonates, severe asphyxia results mainly in a central pattern of injury that usually involves the deep gray matter including the putamina, ventrolateral thalami, hippocampi, dorsal brainstem, and lateral geniculate nuclei. Occasionally, the peri-rolandic cortex is also involved. The explanation for this pattern of injury is, as we mentioned before, the active state of myelination of these areas and the high concentration of NMDA receptors which makes them more susceptible to neonatal HII [
6
,
36
]. The rest of the cortex is usually spared or shows mild abnormalities since it is generally less metabolically active. However, if the injury is prolonged, the remaining cortex will be injured and portrays a worse prognosis [
10
].
Transfontanelle US, although it is the most commonly used technique and usually the first one in cases of suspected HII, is less sensitive (about 50 % in the first week of life) and specific compared with CT and MRI and carries less interobserver agreement [
3
,
37
,
38
]. Its sensitivity increases when it is performed after 7 days. Early US findings include a generalized increase in cerebral echogenicity and diffuse cerebral edema with obliteration of the cerebrospinal fluid (CSF) containing spaces. Subtle increased echogenicity in the basal ganglia, thalami, and brainstem can be seen in the first week but are more apparent after 7 days [
38
,
39
]. The presence of thalamic hyperechogenicity generally suggests a severe insult and poor outcome [
40
]. At a later stage, the imaging pattern reflects the loss of volume including prominence of the ventricles and extra axial CSF-containing spaces, likely due to atrophy. Doppler US during the initial US examination may be useful and improves sensitivity and specificity by showing diminished resistive indexes (<60) in the anterior and middle cerebral arteries. These lower resistive indexes have been also associated with poorer clinical outcome, even in absence of other US abnormalities [
41
].
MRI is probably the most accurate modality to assess neonatal HII especially when performed with diffusion-weighted imaging (DWI) in the first 24 h, when DWI is most sensitive to detect injuries which may still not be visible in conventional T1- and T2-weighted images. DWI shows high signal (with corresponding low ADC values) in the ventrolateral thalami and basal ganglia (particularly the posterior putamina), peri-rolandic regions, and along the corticospinal tracts (Fig.
9
). It is important to highlight the fact that even with the high sensitivity of this technique, the findings in DWI in the first 24 h usually underestimate the ultimate extent of the injury, and although rare, some reports of normal findings in the first 24 h have been reported [
17
,
42
]. It is believed that the reason for this delay in showing the full extent of the injury may be based in the important role of apoptosis in HII, and as explained before, the time that takes for ATP to be depleted which precedes the death of neurons and the resultant neurodegeneration at a macroscopic level. Abnormalities on DWI peak at 3–5 days. By the end of the first week, the hyperintensity in injured areas in DWI tends to decrease, phenomenon known as "pseudo-normalization" [
4
,
6
,
10
,
20
]. It is important to realize that although the images seemingly improve, this does not imply that there is a real reversal or improvement of the underlying injury, just resolution of signal abnormalities on DWI. Because of the rare possibility of a false-negative DWI study when performed in the first days, it is recommended to repeat the examination at 2–4 days when the signal abnormality is expected to be greatest or perform an evaluation with proton MR spectroscopy (MRS).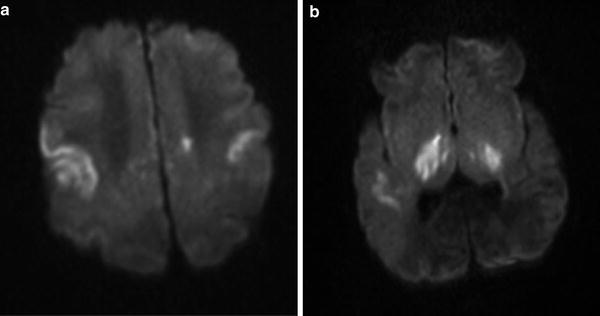 Fig. 9
(
a
,
b
) DWI in a term neonate with severe asphyxia demonstrates diffusion restriction in the ventrolateral thalami and peri-rolandic cortex
It is well known that conventional MRI sequences with T1- and T2-weighted images obtained within the first day are frequently normal and therefore are less useful than DWI to diagnose acute HII. By the second day, conventional sequences, especially T1-weighted images, start to show hyperintensity in the posterior lentiform nuclei and ventrolateral thalami (Figs.
10
and
11
). Sometimes, signal intensity changes may also be seen in the dorsal brainstem and basal ganglia [
36
]. The T2 hyperintensity usually develops later than the T1 shortening and usually by the second week, affects the thalami and posterior putamina. As mentioned before, cortical abnormalities can also occur.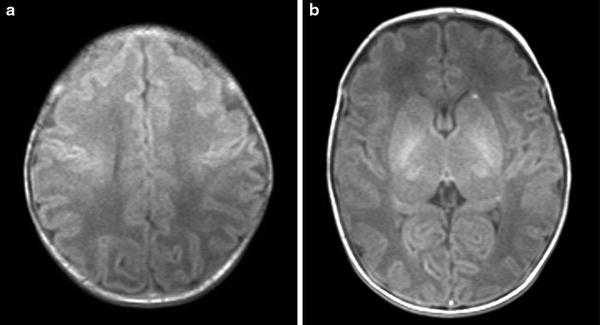 Fig. 10
(
a
,
b
) T1WI showing hyperintensity in the posterior lentiform nuclei, ventrolateral thalami, and pericentral cortex in a preterm neonate who suffered profound asphyxia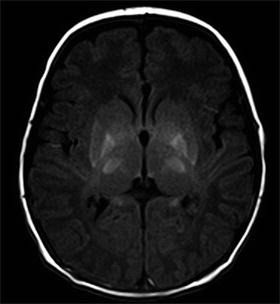 Fig. 11
T1WI. A different patient showing T1 hyperintensity in the posterior lentiform nuclei and ventrolateral thalami
The cause of the abnormalities seen with the MRI conventional sequences in the basal ganglia and thalami remains incompletely understood, with possible explanations including hemorrhage, transient calcium deposition, lipid release from myelin breakdown, free fatty acids, and even paramagnetic effects from free oxygen radicals. In infants, cortical abnormalities are likely due to laminar necrosis [
36
,
43
]. A possible explanation for the delay in appearance of the T2 hyperintensity changes is the high water content of the white matter, so subtle abnormalities are obscured and difficult to identify at first. The T1 shortening in posterior putamina, thalami, and peri-rolandic cortex can persist for several months. Because of all these reasons, DWI is very useful in the first days, especially in the first 24 h when conventional MR images are likely to be normal. On the other hand, conventional MRI sequences are useful at the end of the first week when the DWI images pseudo-normalize. Later, in the chronic phase, the imaging findings reflect atrophy of injured structures and T2 hyperintensity especially in the ventrolateral thalami, posterior putamina, and corticospinal tracts (Figs.
12
and
13
) [
36
]. The major imaging differential diagnosis in newborns with bilateral basal ganglia lesions includes HII and inborn errors of metabolism. The latter ones are suspected if there is no history of HII and if other imaging features outside of the typical spectrum of HII, like localized white matter and cortical abnormalities, atrophy, or heterotopias, are seen.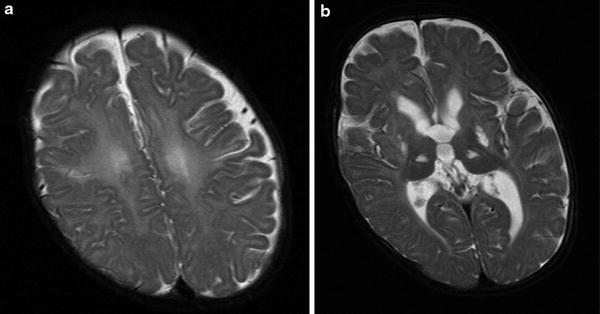 Fig. 12
(
a
,
b
) T2WI in a term neonate with chronic changes from HII shows hyperintensity in the corticospinal tracts, putamina, and ventrolateral thalami. Also, some loss of volume is noted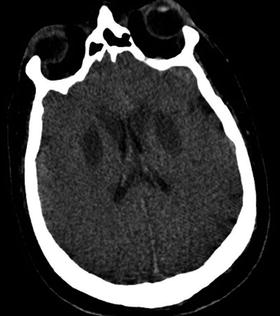 Fig. 13
NECT in acute severe HII shows hypodensity of the basal ganglia. CT is not usually the imaging modality of choice in these patients
Partial Asphyxia
When partial asphyxia occurs, the pattern of injury changes and as mentioned before, the neonatal brain is more resistant to hypoxia than the adult brain. For this reason, in mild or moderate insults of short duration, there may be little or no injury [
10
]. Compensatory mechanisms that take place when hypoxia is established have been well studied in animal models. With prolonged fetal hypoxia, blood shunting to vital brain structures occurs, including the brainstem, basal ganglia, hippocampi, and cerebellum. Thus, less metabolically active regions of the brain receive less blood and are more susceptible to injury, specifically the cortex and white matter. This is the reason why in mild-to-moderate HII, the brainstem, cerebellum, and deep gray matter are generally spared. When the autoregulatory mechanisms are exceeded, the result is injury to the watershed zones which become relatively hypoperfused. The clinical manifestations of this process generally are seizures, hypotension, and possibly proximal extremity weakness and/or spasticity [
10
].
US diagnosis of this type of injury is difficult as this technique has low sensitivity for examination of the cortical and subcortical areas that are close to the calvarium. For this reason, MRI is the modality of choice when studying term infants with suspected partial asphyxia. Regarding the MRI sequences that are more useful, again DWI are the most sensitive and the first to show abnormalities in the first 24 h. These abnormalities include hyperintensity with corresponding low ADC values (diffusion restriction) in the watershed territories (Fig.
14
). Interpretation of DWI is sometimes difficult because of the high content of water of the brain at this age which makes the hyperintensity of HII subtle. To facilitate the correct diagnosis, it is important to interpret DWI with the corresponding ADC map which will show areas of low signal confirming true diffusion restriction [
17
]. T1 and T2 images may be normal in the first 24 h, but by the second day, they show T2 hyperintensity in the cortex and subcortical areas related to cortical swelling and loss of differentiation between the gray and white matter contrast. These findings are more evident in watershed zones but occasionally can be appreciated in the hemispheres [
3
]. Deep gray matter structures will be most likely spared in these patients. In the chronic stage, there are signs of atrophy with loss of volume of the white matter and cortical thinning predominantly in the parasagittal watershed zones (Table
3
).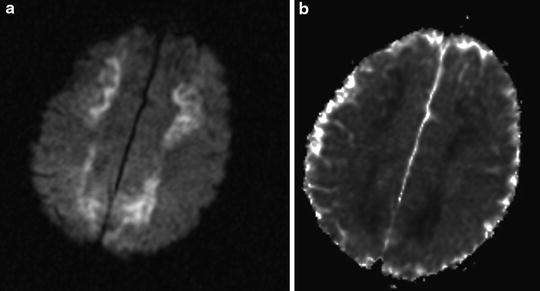 Premium Wordpress Themes by UFO Themes
WordPress theme by UFO themes