Nodal Non-Hodgkin Lymphoma in Neck
Key Facts
Terminology





NHL is lymphoreticular system malignancy






Multiple different NHL subtypes






Multiple forms of NHL in head & neck






Nodal, non-nodal lymphatic, non-nodal extralymphatic NHL
Imaging





Multiple bilateral, enlarged nodes involving multiple nodal chains






Typically

large, solid,

round, or oval nodes






Necrosis/extranodal spread

suggests

aggressive NHL






May see different patterns of nodes









Multiple mildly enlarged, 1-3 cm nodes






Dominant, markedly enlarged node






FDG PET shows variable avidity









High in aggressive NHL, lower in more indolent NHL
Top Differential Diagnoses





Reactive adenopathy






Tuberculosis lymph nodes






Sarcoidosis lymph nodes






Hodgkin lymphoma nodes






Nodal metastases from systemic primary
Pathology





80-85% B-cell tumors, most common DLBCL






Often associated with AIDS
Clinical Issues





Adult with painless neck masses






May be indolent and progressive but not curable, or aggressive but often curable






Treat with XRT, chemotherapy, or both






5-year survival: Stages I-II (85%), stages III-IV (50%)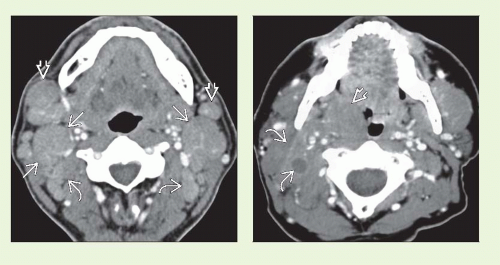 Figure 1
(Left)
Axial CECT shows multiple large, round, solid lymph nodes in every chain of the suprahyoid neck. Bilateral nodes are evident in levels IIA

,
IIB

,
and IB

.
Absence of necrosis with such large nodes suggests that these are not metastases from H&N squamous cell carcinoma.
(Right)
Axial CECT in a different patient shows nodal and tonsillar lymphoma. Level II nodal mass is partially necrotic

,
with extranodal infiltration of fat and paraspinal muscles. Right tonsil is homogeneously enlarged

.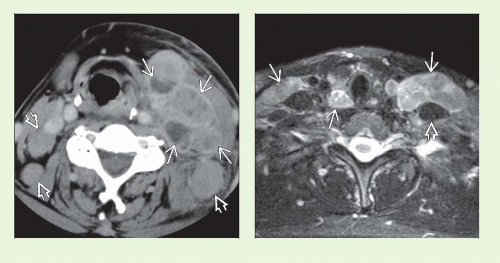 Figure 2
(Left)
Axial CECT demonstrates massive left nodal conglomerate, some with necrosis

.
Surrounding induration and stranding of fat in left neck suggests inflammatory response. Other large nonnecrotic nodes

are seen bilaterally.
(Right)
Axial T2WI FS MR reveals multiple heterogeneous and predominantly hyperintense nodal masses

.
Despite large size, nodes insinuate around structures with little mass effect and no arterial compression. Largest node wraps around anterior scalene muscle

.
TERMINOLOGY
Abbreviations





Non-Hodgkin lymphoma (NHL)
Definitions





NHL is lymphoreticular system malignancy, thought to arise from lymphocytes & derivatives






Multiple different NHL subtypes









Most common (> 30%): Diffuse large B cell (DLBCL)






Head & neck NHL has multiple forms









Nodal, non-nodal lymphatic (tonsils & adenoids), non-nodal extralymphatic (e.g., thyroid)
IMAGING
General Features





Best diagnostic clue









Multiple bilateral, enlarged nodes involving multiple nodal chains






Location









All cervical nodal chains may be involved






Levels II, III, & IV often involved






Superficial adenopathy, spinal accessory (level V) nodes common






Size









Different patterns of nodes









Multiple mildly enlarged, 1-3 cm nodes






Dominant node 3-5 cm in size; may be ≤ 10 cm






Morphology









Round or oval enlarged nodes, typically

solid






Nodal necrosis ± extranodal tumor

spread suggests

aggressive NHL









AIDS-associated NHL often aggressive: Necrosis and surrounding induration
CT Findings





NECT









Nodal density similar to muscle






Calcification rare, usually post therapy






CECT









Multiple ovoid masses bilaterally in multiple cervical node chains






Enhancement may be variable, even in same patient









Nodes isodense to muscle → diffuse enhancement