Objectives
On completion of this chapter, you should be able to:



•




Describe the methods of genetic testing, including maternal serum markers, chorionic villus sampling, and amniocentesis




•




Describe the ultrasound technique of amniocentesis




•




Discuss how anomalies are transmitted genetically




•




Detail the prevalence and prognosis of the most common chromosomal anomalies




•




Describe the sonographic features of chromosomal anomalies
Chromosomal disorders
Prenatal ultrasound has become the investigative tool for the obstetrician to access the developing fetus, and it is likely that the fetus with an anomaly will be subjected to ultrasound at some time during pregnancy. The role of the sonographer is to screen for the unsuspected anomaly and to study the fetus at risk for an anomaly. The benefits of the examination are greatest when the sonographer is adept at detecting congenital anomalies and understands the cause, progression, and prognosis of the common congenital anomalies, including chromosomal anomalies.
When a fetal anomaly is found antenatally, a multidisciplinary team approach to managing the fetus, mother, and family is preferable because the fetus may need special monitoring (e.g., serial ultrasound), delivery, postnatal care, and surgery. This multidisciplinary team includes the perinatologist (maternal-fetal medicine specialist), neonatologist (specialist for critically ill infants), sonologist, perinatal sonographer, pediatric surgeon, other pediatric specialists, geneticist, obstetrician, perinatal and pediatric social workers, and other support personnel. Consultation with specialists is recommended when diagnosis is uncertain. Once an anomaly is found, these specialists can work as a team to optimize clinical management, to prepare the patient and family for possible surgery, to provide the patient and family with emotional support, and to plan for delivery. Most fetuses with major birth defects are delivered in perinatal regional centers where the specialized physicians, nurses, equipment, treatment, and postnatal surgery are available.
Genetic testing
The role of genetic testing is to provide noninvasive prenatal testing and invasive testing, which may include screening tests and diagnostic tests, when needed, to identify chromosomal anomalies. Paired with sonographic evaluation, the risk for a chromosomal anomaly may be increased based on these findings. The number and type of screening and diagnostic tests continue to increase, most recently with the addition of cell-free DNA screening and chromosomal microarray analysis.
Maternal serum markers
Alpha-fetoprotein
Alpha-fetoprotein (AFP) is the major protein in fetal serum and is produced by the yolk sac in early gestation and later by the fetal liver. AFP is found in the fetal spine, gastrointestinal tract, liver, and kidneys. This protein is transported into the amniotic fluid by fetal urination and reaches maternal circulation or blood through the fetal membranes ( Figure 55-8 ). AFP may be measured in the maternal serum (MSAFP) or from amniotic fluid (AFAFP).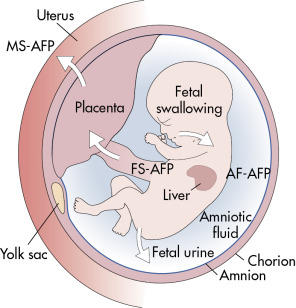 AFP levels are considered abnormal when elevated or low. Neural tube defects, such as anencephaly and open spina bifida, are common reasons for high AFP levels. In both instances, AFP leaks from the defect to enter the amniotic fluid and then diffuses into the maternal bloodstream (see Figure 55-8 ). AFP elevations will not be found when there is closed spina bifida (occulta) because there is no opening to allow leakage.
Monitoring of AFP is a screening test for neural tube defects and other conditions ( Box 55-1 ). Evaluation is usually based on 2.0 to 2.5 multiples of the median (MOM), but false positives do occur. MSAFP screening detects approximately 75% to 90% of open neural tube defects and may also detect up to 85% of abdominal wall defects.
Premium Wordpress Themes by UFO Themes
WordPress theme by UFO themes