Key Facts
Terminology











Most common childhood soft tissue sarcoma
Imaging





Soft tissue mass with variable contrast enhancement






Bone destruction

or

remodeling

possible






Up to 40% occur in head & neck









Orbit, parameningeal sites, & all other H&N sites






Bone CT best to evaluate osseous erosion






Enhanced MR best to evaluate intracranial spread






Include neck to rule out cervical metastatic adenopathy
Top Differential Diagnoses





Juvenile angiofibroma






Langerhans cell histiocytosis






Plexiform neurofibroma






Nasopharyngeal carcinoma






Non-Hodgkin & Hodgkin lymphoma






Leukemia
Pathology





Originates from primitive mesenchymal cells (rhabdmyoblasts) committed to skeletal muscle differentiation






3 histologic subtypes









Embryonal RMSa:

Most common; younger children






Alveolar RMSa:

2nd most common; patients 15-25 years of age






Pleomorphic RMSa:

Least common; adults 40-60 years of age
Clinical Issues





Age at presentation









70% under 12 years, 40% under 5 years of age






Treatment: Surgical debulking, chemotherapy ± radiation therapy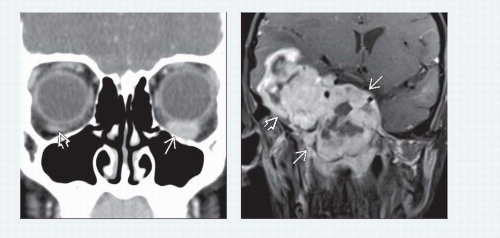 Figure 1
(Left)
Coronal CECT in a 5 year old shows a well-defined, mildly enhancing left orbital rhabdomyosarcoma

,
inseparable from the left inferior rectus muscle. Notice contralateral normal inferior rectus muscle

.
(Right)
Coronal T1WI
C+
FS MR in an 11-year-old boy with recurrent parameningeal rhabdomyosarcoma

shows intracranial extension involving the cavernous sinuses bilaterally and the right middle cranial fossa

.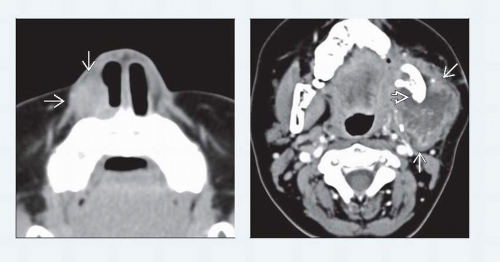 Figure 2
(Left)
Axial CECT in a 2-year-old girl with nasal ala RMSa

shows a well-defined mass narrowing the right anterior nasal cavity, without significant bone destruction. Lack of bone destruction in a young child with a soft tissue mass should not be interpreted as diagnostic of a benign lesion.
(Right)
Axial CECT in an 11 year old with left facial mass and prior history of RMSa demonstrates a large, necrotic, left masticator space recurrence

and destruction of the mandible

.
TERMINOLOGY
Definitions





Malignant neoplasm of striated muscle;

most common

childhood soft tissue sarcoma
IMAGING
General Features





Best diagnostic clue









Soft tissue mass with variable contrast enhancement






Bone destruction or remodeling

possible






Location









Up to 40% occur in head & neck (H&N)












Parameningeal sites:

Middle ear, paranasal sinus, nasopharynx (NP), masticator space, pterygopalatine fossa, parapharyngeal space









Intracranial extension in up to

55%






All other

head & neck sites including cervical neck, nasal cavity






Size









Variable, may present earlier in orbit secondary to small space and early proptosis
CT Findings





Invasive soft tissue mass with variable contrast enhancement






Osseous erosion common but not seen in all cases
MR Findings





Isointense T1, hyperintense T2 relative to muscle






Variable contrast enhancement






Intracranial extension in parameningeal RMSa









Meningeal thickening and enhancement
Imaging Recommendations





Best imaging tool









CT best to evaluate osseous erosion






MR best to evaluate intracranial & perineural spread






Protocol advice









Coronal post-contrast fat-saturation T1 imaging for assessment of intracranial disease






Axial and coronal thin section bone CT for osseous erosion






Include neck to rule out cervical metastatic adenopathy