7 ULTRASOUND EVALUATION OF FETAL BIOMETRY AND NORMAL AND ABNORMAL FETAL GROWTH
The earliest unequivocal sign of pregnancy using sonographic evaluation is the demonstration of the "gestational sac."35–41 Interestingly, the term gestational sac is largely an invention of the early sonologists, who used the term to describe the ring-like structure they identified within the womb of women with positive pregnancy tests. The more precise term is chorionic sac. It is the developing chorionic villi that generate the bright echogenic ring noted near the endometrial cavity. The fluid contained therein is almost totally chorionic fluid during very early development. With early articulated-arm equipment (static imaging) and transabdominal real-time equipment the gestational sac could not be visualized until approximately 6 menstrual weeks, but with the new high-resolution real-time equipment, particularly those equipped with transvaginal probes, the gestational sac can usually be seen by 5 menstrual weeks. At this early stage in gestation, the average internal diameter of the gestational sac, calculated as the mean of the anteroposterior diameter, the transverse diameter and the longitudinal diameter (the so-called mean sac diameter [MSD]), can provide an estimation of menstrual age in a normally developing pregnancy (Table 7-2). Importantly, the measurement of the MSD is obtained from the interface of the chorionic villi and the chorionic fluid. Therefore, it represents an estimate of the mean internal diameter of the chorionic sac. The wall of the sac is not included.
| Mean Gestational Sac Diameter (mm) | Predicted Age Range (week) = 95% CI* | Predicted hCG (mIU/mL) Range = 95% CI† |
| --- | --- | --- |
| 2 | 5.0 (4.5–5.5) | 1164 (629–2188) |
| 3 | 5.1 (4.6–5.6) | 1377 (771–2589) |
| 4 | 5.2 (4.8–5.7) | 1629 (863–3036) |
| 5 | 5.4 (4.9–5.8) | 1932 (1026–3636) |
| 6 | 5.5 (5.0–6.0) | 2155 (1226–4256) |
| 7 | 5.6 (5.1–6.1) | 2704 (1465–4990) |
| 9 | 5.9 (5.4–6.3) | 3785 (2085–6870) |
| 10 | 6.0 (5.5–0.5) | 4470 (2400–0075) |
| 11 | 6.1 (5.6–6.6) | 5297 (2952–9058) |
| 12 | 6.2 (5.8–6.7) | 6267 (3502–11,218) |
| 13 | 6.4 (5.9–6.8) | 7415 (4145–13,267) |
| 14 | 6.5 (6.0–7.0) | 8773 (4894–15,726) |
| 15 | 6.6 (6.2–7.1) | 10,379 (5767–18,682) |
| 16 | 6.7 (6.3–7.2) | 12,270 (6776–22,235) |
| 17 | 6.9 (6.4–7.3) | 14,528 (7964–26,501) |
| 18 | 7.0 (6.5–7.5) | 17,188 (9343–31,621) |
| 19 | 7.1 (6.6–7.6) | 20,337 (10,951–37,761) |
| 20 | 7.3 (6.8–7.7) | 24,060 (12,820–45,130) |
| 21 | 7.4 (6.9–7.8) | 28,464 (15,020–53,970) |
| 22 | 7.5 (7.0–8.0) | 33,675 (17,560–64,570) |
| 23 | 7.6 (7.2–8.1) | 39,843 (20,573–77,164) |
| 24 | 7.8 (7.3–8.2) | 47,138 (24,067–93,325) |
* Predicted age from mean sac diameter is from Daya S, Wood S, Ward S, et al: Early pregnancy assessment with transvaginal ultrasound scanning. Can Med Assoc J 144:441, 1991. Reprinted with permission from the Canadian Medical Association.
† Predicted hCG from mean sac diameter is from Nyberg DA, Filly RA, Filho DLD, et al: Abnormal pregnancy; Early diagnosis by US and serum chorionic gonadotropin levels. Radiology 158:393, 1986. (The hCG was calibrated against the Second International Standard.) CI, confidence interval; hCG, human chorionic gonadotropin.
There is some controversy in the literature regarding the precise age at which sonography can first detect a chorionic (gestational) sac; estimates range from 3 to 5 weeks.38,42,44 There is less controversy regarding the size of the gestational sac when it is first observed.44 This is now thought to be approximately 2 to 3 mm MSD. Similarly, most observers agree that the MSD increases about 1 mm per day in early gestation.36,42,45,46 Controversy returns when one studies age estimates of MSD by various authors.38,42,43 Embryologic data and recent data gathered by de Crespigny, Cooper, and McKenna44 leave little doubt that the MSD equals 2 to 3 mm at 4 weeks and 3 to 4 days.41 It is reasonably safe to assume that a gestational sac reaches 5 mm at 5 weeks.43 Thus (until an MSD of 25 mm is reached), GA in days can be calculated by adding 30 to the MSD (i.e., MSD at 5 weeks or 35 days = 5 mm).36,46
The early embryo cannot be seen at this time, but there are two features that differentiate the gestational sac from the pseudogestational sac of an ectopic gestation. One is the double sac sign, which is created by visualization of the deep layer of the decidua parietalis and the early villi separated by the less echogenic layer and more superficial layer of decidua parietalis (Fig. 7-2).18,50 Also of value is the intradecidual sign, wherein the developing sac, imbedded in the decidua, deviates the endometrial cavity reflection (Fig. 7-3).49 Visualization of an embryo or embryonic structure is a more reliable sign than either of the features just mentioned. The earliest embryonic structure detectable by sonography is the yolk sac. This can be seen using high-resolution vaginal probes during the 5th menstrual week (MSDs usually range from 6 to 12 mm when a yolk sac is seen in the absence of a concomitant embryo) (Fig. 7-4).
The MSD becomes progressively less reliable for predicting menstrual age as the first trimester of pregnancy advances. Once the embryo can be visualized, the measurement of choice for estimation of menstrual age becomes the crown rump length (CRL). The developing embryo can be consistently detected with transvaginal transducers when the CRL reaches 5 mm and can be detected when it is as small as 2 mm. If the embryo can be visualized and measured, then MSD is no longer used to predict age. The embryo achieves a CRL of 5 mm when the MSD equals approximately 14 mm. MSDs of 14 mm or less are very precise for predicting menstrual age in normal pregnancies. The accuracy of MSD measurements only deteriorates after this time. As a general principle, embryonic or fetal measurements are more precise than measurements of the gestational sac. In addition, the earlier the measurement, the more accurate it will be. Therefore, MSD measurements between 2 and 14 mm (i.e., before the embryo can be seen) are highly reliable because they represent the earliest possible sonographic measurement.
By the 6th menstrual week, one can usually identify the early embryo and usually cardiac activity, as well, in normally developing pregnancies (Fig. 7-5A). However, better visualization of the early embryo can be made between 7 and 13 menstrual weeks (see Fig. 7-5B). Warren et al41 demonstrated the developmental landmarks of the embryo during this time frame (Fig. 7-6). Although these anatomic features can provide clues to the age of the fetus, better estimates of menstrual age can be made by measurement of the CRL.23,29,31,39,51–60 Strictly speaking, investigators and clinical sonologists do not truly measure the CRL when determining the length of first trimester embryos and fetuses.61 The early embryo/fetus is curved (see Fig. 7-5B). The conventional measurement that is obtained is the maximal straight-line length of the fetus (see Fig. 7-5B).61 The true CRL is depicted in Figure 7-5C. An additional measurement that can be considered is the maximum axial length of the fetus depicted in Figure 7-5D. However, despite the minor inaccuracy of nomenclature, the maximal straight-line length as measured by virtually all practicing sonologists will be referred to in this chapter as the CRL. When using the CRL to predict menstrual age, one should use the average CRL measurement from three satisfactory images. Modern instruments compute the menstrual age from this measurement. Alternatively, one may refer to published tables for estimation of menstrual age (Table 7-3).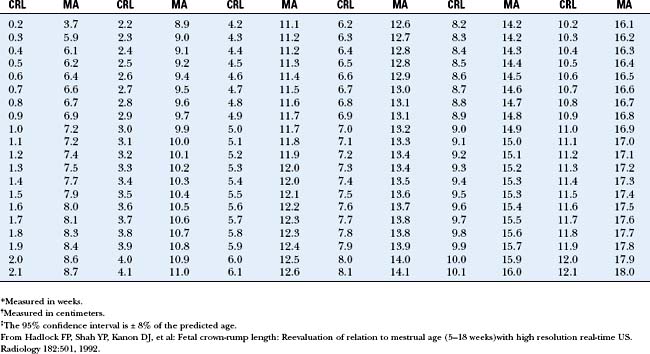 In general, there has been extreme uniformity in the CRL data from various centers dating back to the original studies of Robinson51 and Robinson and Fleming,52 and it has been demonstrated that measurements made with static image equipment, transabdominal real-time equipment, and transvaginal real-time equipment demonstrate no significant differences. Additionally, Silva et al59 evaluated patients with known dates of conception using high-resolution transvaginal probes, and their data correspond closely with those of the early investigators. The only difficulty with the older studies is that they do not provide data before 7 weeks. This posed a problem when estimating the menstrual age of embryos detected earlier than 7 weeks. In a comprehensive study of CRL, Hadlock et al23 developed measurement tables establishing menstrual age for CRL as small as 2 mm and extended the range of CRL, data up to measurements as large as 12 cm (see Table 7-3). The majority of the early studies on CRL demonstrated that the accuracy of the method in predicting menstrual age was 3 to 5 days (± 2 standard deviations [SD]).51–53
In a study by MacGregor et al,56 however, the accuracy of the technique was demonstrated to decrease as pregnancy advanced into the late first trimester. Hadlock et al23 concurred that accuracy decreases as the first trimester of pregnancy nears its end. Because MacGregor's study population had known dates of conception, this increase in variability with advancing pregnancy was believed to represent early biologic variability in embryonic or fetal size. In an effort to simplify the reporting of variability estimates, Hadlock et al evaluated variability as a percentage of the predicted age and demonstrated that the variability is relatively uniform at 8% for CRL measurements between 2 mm and 12 cm. Thus, for a CRL menstrual age prediction of 8 weeks, the 95% confidence interval is 8 weeks ± 8% = 8 weeks ± 0.64 week. Similarly, for a CRL age estimation of 15 weeks, the variability would be 15 weeks ± 8% = 15 weeks ± 1.2 weeks. The optimal time for prediction of menstrual age from CRL measurements is between 6 and 9 weeks.
Benson and Doubilet8 recommended the following rules of thumb for visual estimates of early first trimester menstrual age. If a chorionic (gestational) sac with no yolk sac or embryo is seen, estimate the age at 5 menstrual weeks. If a chorionic (gestational) sac with a yolk sac but no embryo is seen, estimate the age at 5.5 menstrual weeks. If a chorionic (gestational) sac with a tiny embryo (<5 mm) adjacent to the yolk sac is seen, estimate the age at 6 menstrual weeks. Although these are simple visual estimates, their accuracy is uncanny.
Other measurements of the fetus can also be made in the first trimester of pregnancy. For example, Bovicelli et al54 in 1981 evaluated the fetal BPD in comparison with the first trimester CRL for predicting menstrual age between 7 and 13 weeks, and in 1982 Selbing39 reported a similar study. Both groups demonstrated that the first trimester BPD is an accurate predictor of menstrual age but is not more accurate than the CRL and adds little, if anything, to the age estimate based on the CRL. Reece et al31 demonstrated similar results using early fetal "abdominal" (torso) circumference in the first trimester of pregnancy. Most recently, Sladkevicius et al62 compared 21 different CRL-based dating formulae to three different BPD-based dating formulae obtained at 12 to 14 weeks GA by abdominal ultrasound in 167 singleton pregnancies conceived following in vitro fertilization, and thus had definitively known pregnancy ages. Their findings showed that five of the CRL formulae generated very accurate pregnancy ages, and although the BPD formulae were also quite accurate, they had smaller random measurement errors than the CRL formulae. This led the authors to conclude that the BPD is a superior measurement than the CRL at 12 to 14 weeks for dating purposes. No measurements of the AC, HC, or FL were performed in this study, and thus, comments cannot be made about them in comparison to the CRL. In practice, the use of high-resolution vaginal probes allows very acceptable images of the head, abdomen, and femur for measurements of HC, BPD, AC, and FL from 10 weeks on. However, because these additional measurements are not necessarily more accurate than the CRL length in predicting age from 10 to 13 weeks and their use in conjunction with the CRL does not further improve age estimation, it is difficult to justify their use. Moreover, they are technically more difficult to obtain than the CRL measurement, and at least thus far their routine use is not warranted in the first trimester. The transition between first and second trimesters (13 to 14 weeks) is the appropriate time to make the transition from CRL to BPD, HC, AC, and FL.
In summary, the accuracy of first trimester fetal measurements in predicting menstrual age is well documented; there is very little biologic size variability during this time. This is in contrast to the third trimester of pregnancy, in which individual genetic expressions in fetal size can result in a very heterogeneous population. It is also well established that once menstrual age has been determined or corroborated by very early MSD (2 to 14 mm) or embryonic or fetal CRL in the first trimester of pregnancy, the menstrual age of the pregnancy is established and should never be changed based on biometric measurements made later in pregnancy.
Indeed, the same can be said of sonographic estimation of age at any time. An earlier measurement supersedes a later measurement, and sonographic estimates of age before 20 weeks gestation are highly reliable for pregnancy dating. In nearly all cases, sonographic estimates of age before 20 weeks gestation (except those with assisted conception and those maintaining basal body temperature charts) represent the most accurate scientific information establishing the menstrual age.
An important issue is the timing of the sonogram when the dates are uncertain. It has already been stated that the earlier the measurement is obtained, the more accurate is the estimate because biologic variability increases throughout gestation. Unfortunately, an age estimate at 7 menstrual weeks will be extremely accurate but provides little other useful information about the fetus, placenta, amniotic fluid volume, and cervix. An alternative is to wait until the second trimester is under way before performing the sonogram to establish dates (15 to 18 weeks). Because dates are in question, the uterine size estimate is important in planning the timing of the early second trimester examination. If this second option is elected, dating accuracy will suffer. However, the accuracy at 15 to 18 weeks is still excellent and adequate for all clinical purposes. The value of waiting is that a large amount of additional information about the health of the pregnancy is obtained. Of course, there is also the possibility of obtaining both first trimester and second trimester sonograms, but this is associated with a significant increase in cost. The greatest accuracy per medical dollar spent is achieved in the first trimester. The greatest value per medical dollar spent is achieved in the early second trimester. If the dates of a pregnancy are clinically truly uncertain, the earliest possible ultrasound is advised to ensure the highest accuracy in assigning GA. This information may ultimately prove to essential for the long-term management of the pregnancy, and therefore worth the additional expenditure up front.