The role of structural neuroimaging in the diagnosis of Alzheimer's disease (AD) is becoming increasingly important. As a consequence, a basic understanding of what are normal brain changes in aging is key to be able to recognize what is abnormal. The first part of this article discusses normal versus pathologic brain aging, focusing on qualitative and quantitative magnetic resonance (MR) imaging markers. In the second part, the role of MR imaging in the (differential) diagnosis of AD is reviewed.
Structural neuroimaging in dementia has traditionally served the sole purpose of ruling out (treatable) disease as an alternative explanation for cognitive deterioration, for example a brain tumor or subdural hematoma. However, with more widespread use of magnetic resonance (MR) imaging and the development of more advanced imaging techniques (including diffusion-weighted and susceptibility-weighted imaging, positron emission tomography, or single-photon emission computed tomography), the role of neuroimaging in dementia has shifted gradually from exclusion of disease toward that of a highly valuable aid to the clinical diagnosis and subtyping of dementia. To this end, MR imaging is preferred over computed tomography (CT), because it has the advantage of not only assessing (regional) atrophy (for which CT is sufficient) but also depicting other brain changes such as white matter lesions (WMLs) and microbleeds. Furthermore, there is increasing evidence showing that the pathologic process associated with dementia may begin decades before diagnosis. Detecting such preclinical changes by means of imaging could imply a major role for neuroimaging in risk stratification and early disease prevention. Yet, many brain changes seen in dementia also occur in middle-aged and elderly individuals who are cognitively intact, and are considered part of the normal aging process. Distinguishing normal from abnormal aging is therefore a prerequisite when interpreting an imaging examination of an individual suspected of Alzheimer's disease (AD) or non-Alzheimer's dementia, and even more so when the goal of imaging shifts toward prediction of development of dementia. Structural MR imaging is the primary neuroimaging technique of choice in clinical practice to support the clinical diagnosis of dementia. This article focuses on structural MR neuroimaging in normal aging and in dementia, more specifically in AD. In the first part, normal versus pathologic brain aging is discussed, focusing on qualitative and quantitative MR imaging markers. In the second part, the role of MR imaging in the (differential) diagnosis of AD is reviewed.
Part I: structural imaging in aging
To recognize the abnormal, one needs to first know what is normal. With increasing age, the brain may show structural changes to varying degrees. Many of these brain changes overlap with the spectrum of disease present in dementia and AD, and there is a fine line between normal and pathologic brain aging. Moreover, even among those persons considered to age normally, there is a wide range, varying from successful brain aging (ie, retaining normal brain structure and volume up to high age) to the more typical aging or even near-pathologic brain aging ( Fig. 1 ). Also, even although changes such as atrophy or WMLs are to a certain extent considered to be part of the normal aging spectrum, these have consistently been related to vascular risk factors. Furthermore, their presence may be accompanied by subtle cognitive deficits or even an increased risk of neurodegenerative or cerebrovascular disease. Studying the distribution and the time course of alterations that occur in the normal brain with aging is therefore important for understanding the mechanisms leading to these changes and for better characterization of neurologic disorders of which the risk increases with advancing age, such as dementia. Furthermore, because more clinical trials on therapy for AD are investigating imaging measures as surrogate markers for disease outcome, it becomes of particular importance to take into account the normal age-related brain changes that can be expected.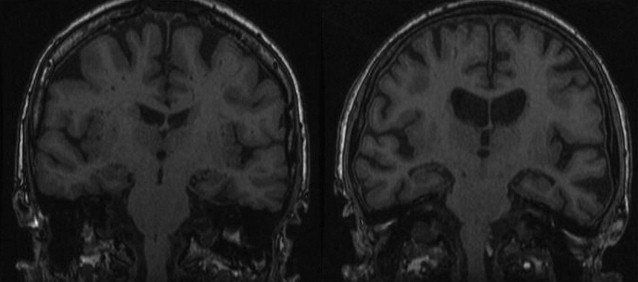 This section describes what changes are commonly found in the aging brain, to what extent these can be regarded as normal, and how these could be interpreted in the context of (suspected) AD.
A summary of common imaging findings in normal aging is presented in Box 1 .





Brain atrophy




•




Total brain volume: 0.4–0.5% brain tissue loss per year is normal, >1.0% is likely abnormal




•




Hippocampus: volume loss 1.6%/y in normal individuals




•




Normal volume loss in aging should be taken into account in clinical setting or in trials; reference data derived from normal population may be helpful





WMLs




•




Punctiform or early confluent lesions (Fazekas score 0–2) in periventricular or subcortical distribution is generally normal in aging




•




Confluent lesions are always abnormal (Fazekas score 3)




•




MR imaging sequences such as diffusion tensor imaging (DTI) are more sensitive in detecting microstructural changes in normal-appearing white matter





Cerebral microbleeds




•




T2∗-weighted MR imaging sequence needed for depiction




•




Common in elderly individuals: prevalence more than 20% in persons older than 60 years




•




(Strictly) lobar distribution linked to cerebral amyloid angiopathy (CAA) and AD




•




Deep or infratentorial distribution related to hypertensive arteriolosclerosis




•




New microbleeds develop yearly in 3%–7% of aging individuals





Silent brain infarcts




•




Small lacunar strokes that are presumably without symptoms, but have been linked to subtle cognitive deficits and increased risk of stroke and dementia




•




Present in 11%–28% of individuals older than 55 years





Enlarged perivascular spaces (EPVSs)




•




Common around anterior commissure, in centrum semiovale, near vertex of the brain, and in hippocampus




•




May be considered normal in most individuals but have also been linked to small vessel disease, cognitive deficits, and risk of dementia
Part II: structural neuroimaging in AD
Until recently, the diagnostic criteria for AD, most notably those set out by the National Institute of Neurologic Communicative Disorders and Stroke–Alzheimer's Disease and Related Disorders Association (NINCDS-ADRDA), were based on clinical symptoms only, and antemortem diagnostic certainty was limited to probable AD. In the 2011 revision, the NINCDS-ADRDA criteria include structural and functional biomarkers to provide evidence of AD pathophysiologic process for research purposes. Early diagnosis of AD even with the revised NINCDS-ADRDA criteria is by definition impossible, because the presence of a dementia syndrome is required. Dubois and colleagues propose to discard this severity threshold and reserve the term AD for the in vivo clinicobiological expression of the disease, encompassing the whole severity spectrum of its clinical course. Within this framework, the diagnosis of AD requires the presence of the core diagnostic criterion of early episodic memory impairment, as well as a minimum of 1 supporting biomarker, derived from structural MR imaging, CSF, metabolic imaging, or genetics. The distinction between possible and probable AD, as made with the NINCDS-ADRDA criteria, is no longer made; instead a distinction is made between typical and atypical AD. Although these criteria are not yet widely accepted as clinical diagnostic criteria, they emphasize the increasing diagnostic role for structural neuroimaging in AD.
Typical Presentation of AD
The radiological hallmark finding of AD is cortical atrophy caused by neuronal degeneration and loss. Atrophy is diffuse, but more prominent in the temporal and parietal lobes, with the hippocampus most severely and disproportionately affected ( Fig. 18 ). The primary motor and sensory cortices are relatively spared until late in the disease. Findings are bilateral and generally symmetric, but a certain degree of asymmetry may occur. White matter volume is also reduced, presumed to be secondary to Wallerian degeneration after cortical neuronal cell death. Ventricles and sulci are consequently also enlarged. Widening of the CSF spaces is most prominent surrounding the entorhinal cortex and the hippocampus (ie, the temporal horn and the choroid fissure). The temporospatial distribution of atrophy follows that of the histopathologic characteristics of AD. Neurofibrillary tangles and neuropil threads first appear in the transentorhinal and entorhinal areas (parahippocampal gyrus), increasing in density during the course of the disease and appearing in the hippocampus, further progressing from the limbic system to the temporal and parietal association cortices and eventually to the entire neocortex. Accordingly, focal entorhinal cortical and hippocampal atrophy occurs early and remains the most prominent feature in the disease process.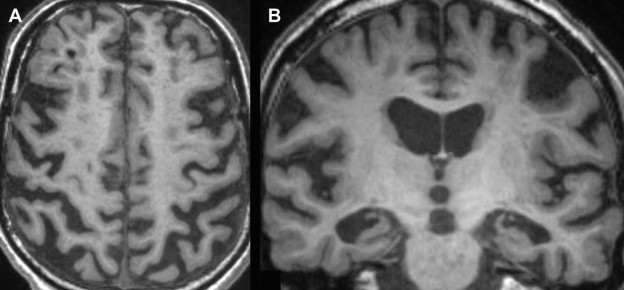 Hippocampal atrophy
Multiple studies confirm hippocampal volume loss in patients with AD compared with healthy controls. Sensitivity and specificity in distinguishing patients with AD from healthy controls are in the range of 85% and 88%, respectively. Findings regarding entorhinal cortex atrophy are similar, but not more accurate than hippocampal atrophy to distinguish patients with AD from healthy controls.
Although atrophy of the medial temporal lobe is commonly seen in patients with AD (70%–95%), it is also frequently seen in patients with minor cognitive impairment (MCI), although the frequency is lower (60%–80%) and extent of hippocampal atrophy is less pronounced. However, sensitivity and specificity of hippocampal atrophy to identify prodromal AD are only in the range of 70%, indicating limited clinical usefulness. Adding entorhinal cortex measurements may improve accuracy, although findings are inconsistent. More recently, studies have focused on using hippocampal shape, rather than volume, to predict AD. Preliminary results are promising in that they show that hippocampal shape provides additional predictive value over hippocampal volume.
Hippocampal atrophy may be seen in other conditions, such as hippocampal sclerosis, mesial temporal sclerosis and temporal lobe epilepsy, ischemic insults to the hippocampus, and herpes simplex encephalitis. Furthermore, hippocampal atrophy is common in other types of dementia, such as dementia with Lewy bodies (DLB), frontotemporal dementia (FTD), and the Heidenhain variant of Creutzfeldt-Jakob disease (CJD). Consequently, diagnostic accuracy to distinguish AD from other dementias is considerably lower than from healthy controls.
Medial temporal atrophy rating scale
The most commonly used and well-validated method to assess hippocampal atrophy is the medial temporal atrophy (MTA) scale. This 5-point visual rating scale ranging from normal (score = 0) to severe atrophy (score = 4) assesses 3 easily recognizable structures on coronal MR images: the width of the choroidal fissure, the width of the temporal horn, and the height of the hippocampal body ( Fig. 19 , Table 3 ). A score of 0 to 1 may be considered normal in persons younger than 75 years, whereas a score of 2 may still be considered normal at older than 75 years. The MTA scale correlates well with both linear and volumetric measurements of the hippocampus and has reasonable interobserver agreement, with best results obtained when the scale is dichotomized (MTA = 0–1 vs MTA = 2–4). In the absence of automated algorithms it is less time-consuming than manual volumetric assessment, but has greater interrater variability.
Premium Wordpress Themes by UFO Themes
WordPress theme by UFO themes