Neurofibrillary pathology in Alzheimer's disease consists of paired helical filaments comprising tau protein. This pathology is correlated with dementia, but can appear in the first two decades of life. Extracellular amyloid β-protein arises through proteolytic processing of a transmembrane precursor, which involves the action of several enzymes. Mutations in the genes for the precursor and presenilin proteins accelerate the deposition of Aβ. Tau mutations cause other tauopathies in the absence of amyloid deposition, indicating that amyloid deposition is not a prerequisite for dementia. An improved understanding of Alzheimer's disease awaits to be obtained by molecular imaging of these pathologies.



•




The pathologic hallmarks of Alzheimer's disease are the presence of both neurofibrillary tangles and senile plaques, first described in a patient with presenile dementia by Alois Alzheimer.




•




Neurofibrillary pathology consists of intraneuronal fibrils present in tangles, and in neurites found both throughout the neuropil and in neuritic senile plaques.




•




Neurofibrillary pathology in Alzheimer's disease consists of paired helical filaments comprising tau protein.




•




Amyloid pathology occurs as the deposition of amyloid-β (Aβ) protein within senile plaques and in the form of diffuse deposits throughout the neuropil. In addition, it can be found as deposits around blood vessels.




•




Aβ deposits derive from the processing of a transmembrane-spanning Aβ protein precursor (APP) to release an extracellular Aβ peptide of 40 to 43 amino acids in length; larger peptides form more insoluble Aβ deposits.




•




Mutations in APP and the presenilin proteins 1 and 2 cause familial Alzheimer's disease and result in increased deposition of insoluble Aβ. Presenilin 1 possesses the catalytic sites of a tetrameric γ-secretase complex that cleaves APP, with the aid of β-secretase, to Aβ peptides.




•




Tau mutations cause tauopathy in conditions other than Alzheimer's disease in the absence of amyloid pathology. These conditions include frontotemporal dementia syndromes, and indicate that amyloid is not essential to cause dementia.




•




Tau pathology in Alzheimer's disease precedes amyloid pathology by 2 decades.




•




Molecular imaging of amyloid in Alzheimer's disease using Pittsburgh B compound and the future development of selective tau ligands indicate that knowledge of the pathogenesis of Alzheimer's disease will be greatly improved by direct visualization of the pathology in humans.
The German psychiatrist Alois Alzheimer presented the original description for a 55-year-old patient who had suffered with presenile dementia and who had the unique combination of both senile plaques and neurofibrillary degeneration in her brain. Alzheimer was prompted to consider this case as representing a specific disease process in which the neurofibrillary pathology made it particularly distinctive. In just 2 pages, Alzheimer had described the pathologic basis for the disease to be given his name. By 2010, more than 9000 articles related to Alzheimer's disease were published in a single year.
The pathologies that Alzheimer observed at autopsy can now be examined during life by molecular imaging techniques that allow an even greater insight into the pathogenesis of the disease and the means to assess therapeutic efficacy. This article focuses on the molecular pathology found in Alzheimer's disease, namely that of tau protein and amyloid-β (Aβ) protein ( Fig. 1 ).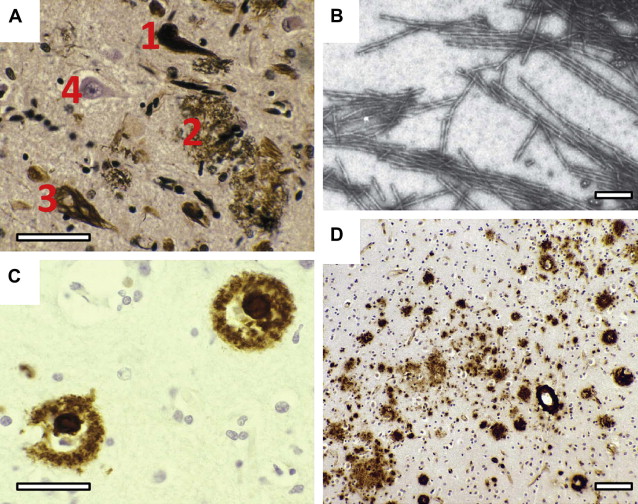 β-Amyloid pathology and molecular genetics of Alzheimer's disease
Mutations that cause Alzheimer's disease and influence Aβ protein deposition have been identified in 3 genes: Aβ protein precursor ( APP ) and 2 presenilin genes, PSNL1 and PSNL2 . An updated list of these mutations can be found at www.alzforum.org . Further genetic risk factors, such as phosphatidylinositol-binding clathrin assembly protein (PICALM), are being identified through genome-wide association studies (GWAS).
The Alzheimer's disease mutations of APP are either within or flanking the Aβ domain of APP, a domain that gives rise to the deposits of Aβ plaques throughout the cortex and, to a lesser extent, in the cerebellum. APP exists in at least 5 isoforms, but its physiologic role in the brain is not understood. In the numbering of the largest APP isoform (770 residues), the 42-residue Aβ domain corresponds to residues 672 to 713 encoded for by exons 16 and 17 ( Fig. 5 ). In one family, a Swedish mutation results in the replacement of 2 amino acids (K670N and M671L), whereas other point mutations causing Alzheimer's disease include A692G, E693G, V715M, I716L, V717I, V717G, V717F, V717L, and L723P (see Fig. 5 ). Hereditary cerebral hemorrhage with amyloidosis—Dutch type, which exhibits severe congophilic angiopathy in the absence of plaques and tangles, is caused by the mutation E693Q.
Premium Wordpress Themes by UFO Themes
WordPress theme by UFO themes