10.1055/b-0034-81510
11 Building a Successful Tumor Ablation Practice
A successful tumor ablation practice is a crucial and rewarding addition to the modern interventional practice. Whether tumor ablation becomes a component of a broad interventional oncology practice with chemoembolization and yttrium-90 radioembolization, or alone as the first foray into cancer therapy, tumor ablation has become a necessary addition. Interdisciplinary turf battles, intrasubspecialty competition, and broad health care expansions into new regional cancer centers have placed additional demands on traditional radiology groups to offer new interventional oncology treatments. Percutaneous tumor ablation may be the most appealing new treatment for the traditional interventional radiologist. A new tumor ablation practice can potentially be launched from radiology practices that perform diagnostic tumor biopsy, a frequent and common procedure. This includes existing cancer patient referrals from oncologists and available technical skills for image-guided procedures.
Central to building a tumor ablation practice is the need to contemplate a change of focus from a procedure-centered practice to a practice that incorporates longitudinal patient care. This new paradigm should center on patient longitudinal care with initial consultation, intervention, and follow-up.1–3 These new responsibilities pose new administrative and clinical challenges. No matter which practice strategies you choose, three fundamental areas need to be addressed: referrals, the interventional radiology (IR) clinic,1,4,5 and the IR clinical team ( Fig. 11.1 ). Setting goals within each of these areas will provide a solid foundation on which the practice can grow. This chapter provides several strategies for overcoming obstacles and building a successful tumor ablation practice.
♦ Preparing the Groundwork and Generating Support
Educating your radiology partners and support staff and creating the right environment for the initiation of an ablation practice is an important first step. Most importantly, support from your diagnostic radiology partners is crucial in generating the momentum for establishing the new service, funding the start-up costs, and finding the time to build the practice. Your radiologist colleagues, who make the initial imaging cancer diagnosis, need to be informed about the indications for potential ablation patients so that both the cancer diagnosis and the ablation potential can be mentioned when they communicate the diagnostic findings with the referring physician. The radiology administrative staff needs to be educated about the new procedures being offered, and about how to manage new scheduling demands for the clinic, the procedures, and for follow-up. Hospital credentialing requirements for radiologists need to be determined, and a strategy needs to be developed to obtain the necessary training and documentation, whether by means of industry-sponsored proctorships/ workshops, or conferences at professional meetings.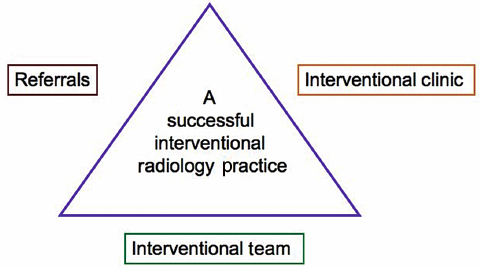 There are factors that may help persuade your partners that the expenses of starting tumor ablation can be warranted. The financial benefits of adding tumor ablation to any practice can be substantial including income from doing the procedures, from clinic appointments (evaluation and management income) as well as from follow-up imaging (computed tomography, magnetic resonance imaging, and positron emission tomography). Other intangible benefits include enhancement of professional relationships (with oncologists and others), as well as enhancement of the practice's standing within the hospital and the community at large.
♦ Building a Referral Base
Within the Hospital
Building a tumor ablation practice needs referring physicians first to be aware of tumor ablation and thereafter to actually refer their patients. This requires the oncologist to be familiar with ablation's potential benefits either as a result of prior formal training or, for the unaware, through new educational and marketing initiatives. Changing perception and awareness can be challenging, especially for the latter group of physicians, who may initially be skeptical. It is easiest to start within one's affiliated hospital system, with one's established relationships built around the cancer-related procedures that are already being performed in your department, including tunneled central venous catheterization for chemotherapy, percutaneous gastrostomy procedures, and biopsies of suspicious masses. Having an existing group of oncologists that refer patients for other cancer-related procedures to your practice is a valuable advantage and one that should be fostered by making office visits to the oncologists to discuss the potential benefits of ablation.
Tumor Board
Participation in a multidisciplinary tumor board is the most important aspect of building an ablation practice. Physicians who perform cancer-related procedures must actively participate in the forum where modern cancer treatment is formulated. As a diagnostician and potential therapist, the interventional radiologist is uniquely poised to offer both scan interpretation as well as therapy options. Frequently, the radiologist's role in interpreting scans is done by one of your diagnostic colleagues and requires your additional presence at the tumor board. Initially, passive attendance at tumor board may be helpful in becoming familiar with the oncology experts in your hospital and local oncology practice politics, learning cancer terminology, and enhancing understanding of cancer therapy concepts. In addition, assessing the general work flow of the local tumor board is helpful, as each board has its own politics and tolerance of new therapies. Thus, it may be prudent to act as an observer rather than aggressively suggesting tumor ablation at every meeting. Potential tumor ablation referrals may be difficult to generate if the suggestion is met with resistance initially, and it may take time, patience, and resilience to overcome this skepticism. Some practitioners have invited speakers from major universities or other large-volume ablation practices to speak at the tumor board to introduce the role of ablation in cancer therapy. Industry spokesmen frequently can assist in this regard and facilitate the ablation expert's inclusion for continuing medical education for the board members. The speaker can address some of the initial concerns, defend the role of tumor ablation, as well as demonstrate the advantages already achieved elsewhere by reviewing previously published clinical data and papers on tumor ablation.
Four other possible strategies to improve one's initial success in starting a successful ablation practice are:





Offering to treat patients with limited or no therapy options






Acquiring a general understanding of the basic oncology scientific literature






Combination treatment with ablation






Sharing procedures
Treating Patients with Limited Options
Introducing a new cancer treatment option can often draw immediate opposition (turf wars). The three main specialties that deliver cancer therapy can all potentially feel apprehensive about percutaneous tumor ablation as a new alternative: surgical oncology (for potential resectable tumors), radiation oncology (for nonsurgical patients), and medical oncology (for chemotherapy patients). A very effective initial strategy is to focus on patients who are outside the range of these three specialties—that is, patients with the least, or even no, therapy options.5 A nonthreatening approach is to suggest ablation for only the following types of patients: nonoperative candidates, those who are not radiation candidates because they have reached the maximum lifetime radiation doses, or those who have progressed through several lines of chemotherapy. Ablation can also be used as symptom control palliation. However, there must be a potential benefit; it is crucial to select the initial ablation patients carefully, as it is imperative to be at least somewhat successful in the initial stages, no matter how modest the proposed intended goals (e.g., tumor progression stabilization). Most oncologists find it frustrating to reach the point for terminal cancer patients when all standard therapies fail, so when ablation practitioners offer a new option for these patients, it will be well received if you can improve patient outcomes or quality of life with tumor ablation for their initial referrals.
Thus, the initial candidates for a new ablation practice can include the following clinical scenarios:





Patients with intractable bone pain from mass-forming bone metastatic lesions who have failed radiation or reached radiation maximums. These patients are difficult to treat, as they have a great amount of morbidity. Ablation not only yields a tumoricidal effect that is visible and reproducible on scans, but also, more importantly, may improve the well-being of their patients with clinical significant pain improvement, which may be the springboard for more referrals.






Patients who have failed chemotherapy. Patients with disease that has progressed through three lines of chemotherapy can be treated with debulking/cytoreduction ablations for disease control.






Patients with lung malignancies who have reached the radiation maximum (e.g., lung cancers in chronic obstructive airway diseases).






Patients with tumors that are not chemotherapy or radiation sensitive (e.g., some types of sarcomas).






Patients whose cancers are resectable but who have medical comorbidities (e.g., cardiovascular disease in renal cell carcinoma), rendering them nonoperable.






Patients who are symptomatic; lung radiofrequency ablation (RFA) can be used for hemoptysis that was caused by lung cancers (cauterization effect of RFA).
Premium Wordpress Themes by UFO Themes
WordPress theme by UFO themes