10.1055/b-0040-177992
4 Acute Deep Venous Thrombosis: Sporadic and Compressive
Summary
Acute deep venous thrombosis (DVT) may be sporadic, or can result from compressive phenomena, which are recognized as distinct anatomic syndromes. The management of DVT in the acute stage is increasingly of interest to interventional radiologists, as improvement in customized devices has allowed for better outcomes of intervention. This chapter reviews the evaluation of patients with acute DVT, and discusses the management of patients appropriate for pharmacomechanical catheter-directed therapy, with a discussion of management of underlying compressive syndromes. The reader can be expected to become familiar with relevant anatomic variants and their management, as well as developing an understanding of the pharmacologic and device-based interventions available for this patient population. A discussion of the details of procedural management, as well as postprocedural follow-up, is included in the chapter.
4.1 Introduction
Deep venous thrombosis (DVT) is a common medical problem with varying underlying etiologies and multiple immediate and long-term sequelae. Nearly 600,000 hospitalizations in the United States are attributable to DVT annually. Advances in the detection and treatment of DVT hold the potential to significantly impact a patient's quality of life both in the acute setting and over time. Herein, the evaluation and treatment of DVT is reviewed, including a review of two common syndromes that predispose to DVT: iliac vein compression syndrome (commonly known as May–Thurner syndrome [MTS]) and Paget–Schroetter syndrome (PSS), also known as axillosubclavian venous effort thrombosis.
4.2 Sporadic Deep Venous Thrombosis
DVT most commonly affects veins of the lower extremities; however, the veins of the upper extremities, neck, central thorax, pelvis, and inferior vena cava (IVC) may also be involved. While the visceral and portal venous systems are located deep within the body, the term DVT is generally not used to describe thrombosis in these vessels. In the upper and lower extremities, the deep veins accompany their similarly named arterial counterparts. Symptoms manifest as a direct result of venous obstruction, or due to venous insufficiency as a result of valvular incompetence and decreased venous compliance, both of which are common in recanalized veins previously affected by DVT.
4.2.1 Case Vignette
Patient Presentation
A 46-year-old man presents with new right lower extremity swelling, chest pain, and shortness of breath.
Physical Exam
The patient presented with 2–3 right lower extremity edema, cyanosis, and warmth to the knee. Prominent bulging superficial veins were present in the upper thigh. He exhibited normal lower extremity motor and sensory exams, but displayed pain with deep palpation and during forced dorsiflexion of the right ankle (positive Homan's sign). He was hemodynamically stable. Chest pain was noted on deep inspiration.
Imaging
CT of the chest and abdomen with contrast revealed acute right lower lobe pulmonary emboli and right lower extremity DVT extending to the right common iliac vein (Fig. 4.1a). Lower extremity duplex ultrasound revealed hypoechoic occlusive material within noncompressible lower extremity veins extending from the external iliac to the central aspect of the femoral vein consistent with acute DVT (Fig. 4.1b; Fig. 4.1c; Fig. 4.1d). The right popliteal vein and the left lower extremity veins were patent.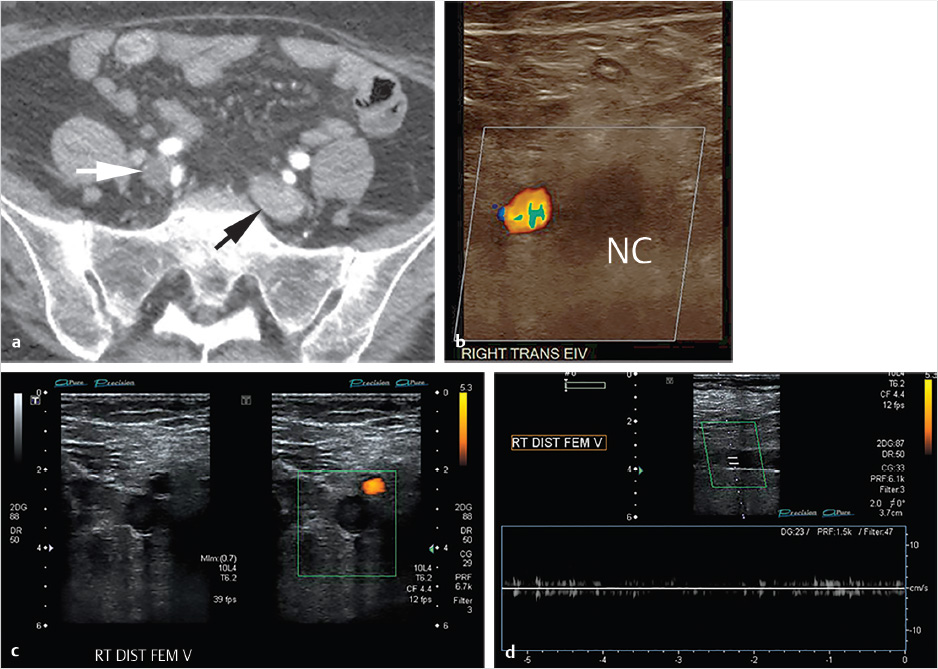 Specifics of Consent
Given his symptoms, the patient requested aggressive treatment for his DVT. The risks of venous injury, bleeding, infection, pulmonary embolism (PE), and recurrent thrombosis were all discussed and the patient agreed to proceed.
Details of Procedure
At the time of initial evaluation, anticoagulation was initiated with intravenous heparin. Placement of an IVC filter was discussed for further pulmonary embolus prophylaxis. Right internal jugular vein was accessed under ultrasound guidance and IVC venography was performed prior to deployment of an infrarenal IVC filter. The filter sheath was exchanged for a 9-French sheath, which was positioned below the filter in the IVC. A hydrophilic wire was navigated peripheral to the common femoral vein and right lower extremity, and pelvic venography was performed. Occlusive thrombus was noted extending from the right common femoral to the common iliac vein (Fig. 4.2a). A multiside hole thrombolysis catheter was laid along the extent of thrombus (Fig. 4.2b). Overnight catheter-directed thrombolysis (CDT) was initiated with alteplase at 1 mg/h. By the next day, the thrombus load had reduced significantly. Venoplasty was undertaken with a 10-mm balloon across the length of the vein (Fig. 4.2c; Fig. 4.2d). The thrombus completely resolved the following day. Final venography demonstrated brisk anterograde venous flow without residual thrombus (Fig. 4.2e; Fig. 4.2f).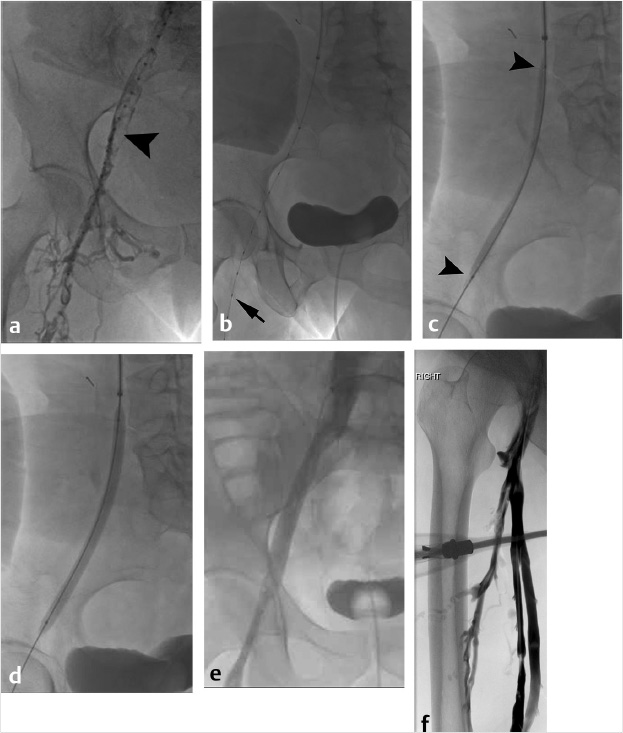 Follow-up
At the conclusion of the procedure, compression stockings were applied and the patient was continued on therapeutic anticoagulation. At discharge 2 days later, his lower extremity swelling had considerably improved. At a follow-up clinic visit 4 weeks after discharge, the patient had returned to baseline. A same-day duplex ultrasound revealed no evidence of recurrent DVT.
4.3 Epidemiology and Scope of the Problem
As many cases of DVT are likely subclinical, precise epidemiologic data are difficult to obtain. The incidence is estimated at 45 to 117 cases per 100,000 person-years for isolated DVT without PE. DVT is often combined with PE into a larger category known as "venous thromboembolism" (VTE) for statistical tracking; the estimated incidence of VTE is 104 to 183 cases per 100,000 person-years. In the United States, VTE affects approximately 0.96 to 3.0 per 1,000 individuals per year, which equates to over 1 million patients in this country annually. 1 The vast majority of cases are diagnosed in older patients, with the incidence rising dramatically over the age of 60. The overall incidence of VTE ranges from 1 per 10,000 at age 20 up to 10 per 1,000 by age 80. DVT is diagnosed in men slightly more often than in women (1.2:1 ratio), although under the age of 45, women are more commonly affected. Isolated DVT without PE is more common in younger patients, with concomitant PE seen more frequently beginning in the seventh decade. 2
The high incidence and frequent morbidity associated with DVT burdens the health care system significantly. DVT is a frequent complication of patient hospitalization; it is the second most common reason for prolonged hospital stays, and is the third most common cause of excess hospital-related mortality. More than half of all cases of DVT are encountered in the hospital setting, with 25% occurring in the perioperative setting. The average length of stay for patients with isolated DVT ranges from 4.9 to 7 days, increasing to 7.4 to 9 days in patients with concomitant PE. Readmissions are common in this population and subsequent stays are often longer than the initial admission. Current cost estimates for a primary admission for DVT range from $3,000 to $6,000 and are significantly higher for readmissions for the same problem. 1 However, the economic burden does not end at the time of discharge. Recurrent thromboembolic disease is common, and therefore frequent follow-up and long-term anticoagulation are needed to prevent a repeat event. Data from 2004 suggest the total cost of care for a first-event DVT without PE exceeds $33,000, taking all factors into account; this cost has undoubtedly increased. 3
Unfortunately, even with successful management of an initial DVT, long-term sequelae are common. Aside from recurrent DVT, patients may develop lower extremity venous insufficiency, with an estimated 25 to 50% leading to formation of varicose veins, skin changes and ulcerations, and chronic debilitating symptoms associated with postthrombotic syndrome (PTS). The societal cost, including lost productivity, personal disability, and long-term health care, can be staggering.
Full access? Get Clinical Tree
Get Clinical Tree app for offline access