Robert M. Barr
Alisa D. Gean
Tuong H. Le
Head Trauma
Scalp Injury
When interpreting CT scans for head trauma, it is helpful to begin by examining the extracranial structures for evidence of
scalp injury or radiopaque foreign bodies. Scalp soft-tissue swelling is often the only reliable evidence of the site of impact. The subgaleal hematoma is the most common manifestation of scalp injury and can be recognized on CT or MR as focal soft-tissue swelling of the scalp located beneath the subcutaneous fibrofatty tissue and above the temporalis muscle and calvarium.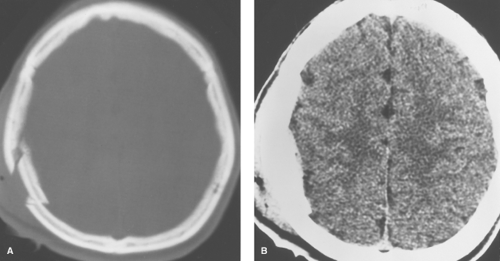 Figure 3.1.
Depressed Skull Fracture. A
. Axial CT scan demonstrates a right parietal depressed skull fracture with overlying soft-tissue swelling. The fracture is well seen using a wide window in order to enhance contrast between bone and soft tissue.
B
. The narrower window demonstrates excellent contrast between gray and white matter but fails to show the fracture. A small extra-axial hematoma is seen in the right parietal area.
Skull Fractures
Nondisplaced linear fractures of the calvarium are the most common type of skull fracture. They may be difficult to detect on CT scans, especially when the fracture plane is parallel to the plane of section. Fortunately, isolated linear skull fractures do not require treatment. Surgical management is usually indicated for depressed and compound skull fractures, both of which are seen better on CT scans than on plain films (
Fig. 3.1
). Depressed fractures are frequently associated with an underlying contusion. Intracranial air ("pneumocephalus") may be seen with compound skull fractures or fractures involving the paranasal sinuses. Thin-section CT using a bone algorithm is the best method to evaluate fractures in critical areas, such as the skull base, orbit, or facial bones. Thin sections can also be helpful to evaluate the degree of comminution and depression of bone fragments.
Temporal Bone Fractures
Thin-section, high-resolution CT scanning has led to a dramatic improvement in the ability to detect and characterize temporal bone fractures. Patients with fractures of the temporal bone may present with deafness, facial nerve palsies, vertigo, dizziness, or nystagmus. Clinical symptoms are often masked in the presence of other serious injuries. Physical signs of temporal bone fracture include hemotympanum, CSF otorrhea, and ecchymosis over the mastoid process ("Battle sign"). Temporal bone fractures may be first suspected on standard head CT scans performed to exclude intracranial injury. Findings such as opacification of the mastoid air cells, fluid in the middle ear cavity, pneumocephalus, or occasionally, pneumolabyrinth, should raise the suspicion of a temporal bone fracture. Optimal evaluation of a suspected temporal bone fracture requires thin-section (1 to 1.5 mm) axial and direct coronal CT imaging using a bone algorithm. With multidetector CT, thinner section axial imaging can be performed, and coronal reformats may be adequate for interpretation.
Head Injury Classification
Classification of Head Injury
. Traumatic head injury can be divided into primary and secondary forms. Primary lesions are those that occur as a direct result of a blow to the head. Secondary lesions occur as a consequence of primary lesions, usually as a result of mass effect or vascular compromise. Secondary lesions are often preventable, whereas primary injuries, by definition, have already occurred by the time the patient arrives in the emergency department.
Primary lesions
include epidural, subdural, subarachnoid, and intraventricular hemorrhage, as well as diffuse axonal injury (DAI), cortical contusions, intracerebral hematomas, and subcortical gray matter injury. Direct injury to the cerebral vasculature is another type of primary lesion.
Secondary lesions
include cerebral swelling, brain herniation, hydrocephalus, ischemia or infarction, CSF leak, leptomeningeal cyst, and encephalomalacia.
Brain stem injury, which is also divided into primary and secondary forms, is discussed later in this chapter.
Primary Head Injury: Extra-Axial
Most epidural hematomas are temporal or temporoparietal in location, though frontal and occipital hematomas can also occur. Venous epidural hematomas are less common and arterial epidurals and tend to occur at the vertex, posterior fossa, or anterior aspect of the middle cranial fossa. Venous epidural hematomas usually occur as a result of disrupted dural venous sinuses.
Primary Head Injury: Intra-Axial
Diffuse axonal injury (DAI)
is one of the most common types of primary neuronal injury in patients with severe head trauma. As the name implies, DAI is characterized by widespread disruption of axons that occurs at the time of an acceleration or deceleration injury. The affected areas of the brain may be distant from the site of direct impact; in fact, direct impact is not necessary to cause this type of injury.
The incidence of DAI was likely underestimated until recently because of the difficulty in visualizing these lesions on existing imaging studies as well as on histologic specimens. DAI is much better seen by MR than CT. This factor accounts to a large degree for the increased success of MR at explaining neurologic deficits after trauma and in predicting long-term outcome. Though MR has improved the detection of DAI in patients suffering head trauma, the incidence of this form of injury is probably still underestimated. Newer imaging methods, such as diffusion-weighted and diffusion tensor imaging with three-dimensional tractography, have shown potential in improving the detection of white matter injury in both acute and chronic DAI (
12
,
13
,
14
,
15
).
Patients with DAI are most commonly injured in high-speed motor vehicle crashes. These lesions have not been seen as a consequence of simple falls, such as when a patient falls from the standing position. Loss of consciousness typically starts immediately after the injury and is more severe than in patients with cortical contusions or hematomas.
CT findings in DAI can be subtle or absent. Most common is the finding of small, petechial hemorrhages at the gray–white junction of the cerebral hemispheres or corpus callosum (
Fig. 3.13
). Ill-defined areas of decreased attenuation on CT may occasionally be seen with nonhemorrhagic lesions.
On MR, nonhemorrhagic DAI lesions appear as small foci of increased signal on T2WI (T2 prolongation) within the white matter (
Fig. 3.14
). The lesions tend to be multiple, with as many as 15 to 20 lesions seen in patients with severe head injury. If seen on T1WI, they appear as subtle areas of decreased intensity. Petechial hemorrhage causes a central hypointensity on T2WI and hyperintensity on T1WI within a few days as a result of intracellular methemoglobin. The conspicuity of DAI on MR diminishes over weeks to months as the damaged axons degenerate and the edema resolves. Residual findings might include nonspecific atrophy or hemosiderin
staining, which can persist for years and is especially obvious on gradient–echo sequences (
Fig. 3.15
).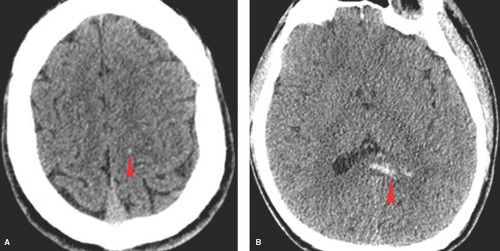 Figure 3.13.
The CT Appearance of Diffuse Axonal Injury
. Noncontrast CT images show a punctate high attenuation focus (
arrowhead
) within the left frontal subcortical white matter (
A
) and mixed linear and amorphous high attenuation (
arrowhead
) within the left splenium of the corpus callosum (
B
), consistent with hemorrhagic diffuse axonal injury.
DAI is seen in characteristic locations that correlate with the severity of the trauma. Patients with the mildest forms of injury have lesions confined to the frontal and temporal white matter, near the gray–white junction. The lesions typically involve the parasagittal regions of the frontal lobes and periventricular regions of the temporal lobes. Patients with more severe trauma have DAI involving lobar white matter as well as the corpus callosum, especially the posterior body and splenium (
Figs. 3.13
and
3.16
). The corpus callosum accounts for approximately 20% of all DAI lesions (
21
). Initially thought to be caused by direct impact from the falx, experimental work shows that injury to the corpus callosum is most commonly caused by rotational shear forces, like all forms of DAI (
22
). The corpus callosum may be particularly susceptible to DAI because the falx prevents displacement of the cerebral hemispheres. DAI of the corpus callosum is almost always seen in association with lesions in the lobar white matter. DAI in the most severe cases involves the dorsolateral aspect of the midbrain and upper pons in addition to the lobar white matter and corpus callosum (see Brain Stem Injury).
Cortical contusions
are areas of focal brain injury primarily involving superficial gray matter. Patients with cortical contusions are much less likely to have loss of consciousness at the time of injury than are patients with DAI. Contusions are
also associated with a better prognosis than DAI. They are very common in patients with severe head trauma and are usually well seen on CT scans. Contusions characteristically occur near bony protuberances of the skull and skull base. They tend to be multiple and bilateral and are more commonly hemorrhagic than DAI. Common sites are the temporal lobes above the petrous bone or posterior to the greater sphenoid wing, and the frontal lobes above the cribriform plate, planum sphenoidale, and lesser sphenoid wing (
Fig. 3.17A
). Less than 10% of lesions involve the cerebellum (
23
). Contusions can also occur at the margins of depressed skull fractures.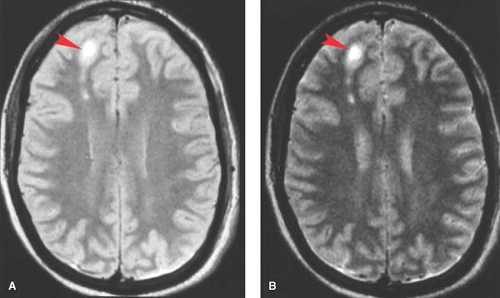 Figure 3.14.
The MR Appearance of Acute Diffuse Axonal Injury
. Proton-density (
left
) and T2-weighted (
right
) MR images show several adjacent foci of high signal (
arrowheads
) representing diffuse axonal injury in the right frontal parasagittal white matter. (Reprinted with permission from Gean AD. Imaging of Head Trauma. Philadelphia: Lippincott Williams & Wilkins, 1994:225.)
Premium Wordpress Themes by UFO Themes
WordPress theme by UFO themes