Esophageal Metastases and Lymphoma
Michael P. Federle, MD, FACR
R. Brooke Jeffrey, MD
Key Facts
Terminology





Lymphoma: Malignant tumor of lymphocytes
Imaging





Ulcerated/polypoid mass of gastric cardia extending into distal esophagus
Top Differential Diagnoses





Intramural benign esophageal tumor






Esophageal carcinoma






Esophageal varices
Clinical Issues





Most common signs/symptoms









Dysphagia, weight loss, hematemesis, or asymptomatic






Esophageal metastases









Direct, lymphatic, or hematogenous spread






Direct invasion most common: Stomach carcinoma accounts for 50% of cases






Chemotherapy, surgical resection of complicating lesions (obstruction, upper GI bleed)






Complications









GI bleeding, perforation, obstruction






Prognosis







Treatment









Chemotherapy






Surgical resection of complicating lesions (obstruction, upper GI bleed)
Diagnostic Checklist





Check for history of primary cancer; biopsy required






Overlapping radiographic features of esophageal metastases, lymphoma, and primary carcinoma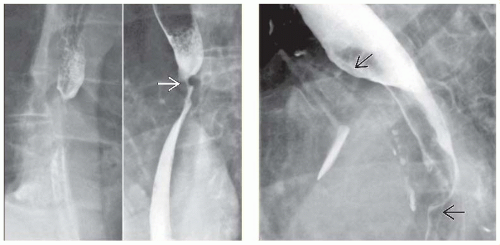 (Left)
Esophagram in a woman with known lung cancer and dysphagia shows a tight stricture

of the mid-esophagus at the level of the carina. The mucosa is intact, and tapered superior and inferior margins indicate extrinsic or intramural involvement rather than a primary process.
(Right)
Esophagram in a man with known lung cancer and dysphagia shows a widened mediastinum and a mass in the left hilum. Note the broad shelf-like indentation

along the anterior wall of the mid-esophagus.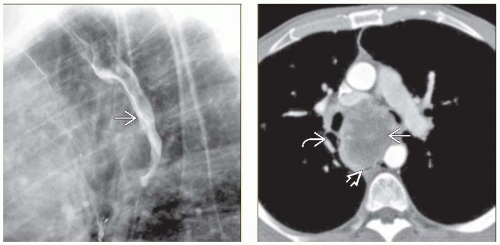 (Left)
Esophagram in a 70-year-old man with a history of known bladder carcinoma, now presenting with dysphagia, illustrates extrinsic or intramural involvement of the esophagus with eccentric narrowing of the lumen
Premium Wordpress Themes by UFO Themes
WordPress theme by UFO themes