Gastric Metastases and Lymphoma
Michael P. Federle, MD, FACR
R. Brooke Jeffrey, MD
Key Facts
Imaging





Best diagnostic clue









"Bull's-eye" lesions on imaging






Best imaging tool









Helical CT, barium (single/double) contrast studies
Top Differential Diagnoses





Gastric carcinoma






Gastric stromal tumor (leiomyosarcoma)






Gastritis (erosive type)






Pancreatitis (extrinsic inflammation)
Pathology





Classified into 2 types based on pathology









Low-grade MALT lymphoma






High-grade or advanced lymphoma
Clinical Issues





Complications









Upper GI bleeding and perforation in ulcerated lesions






Antral lesion + pyloric extension: Outlet obstruction






Treatment









Chemotherapy, surgical resection of lesions if upper GI bleed or perforation






Prognosis: Poor
Diagnostic Checklist





Check for history of primary cancer/

H. pylori

gastritis






Image interpretation pearls









Imaging important to suggest and stage malignancy, but biopsy often required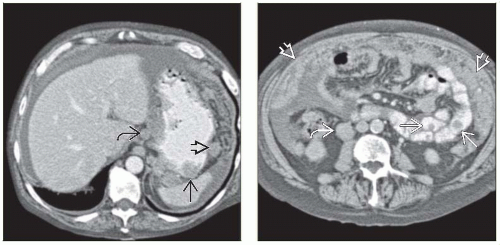 (Left)
Axial CECT in a 69-year-old man shows widespread metastases from the patient's known metastatic melanoma, including the gastric wall

, lymph nodes

, and omentum

.
(Right)
Axial CECT in the same patient again illustrates classic widespread metastases from melanoma, here involving the small bowel

, lymph nodes

, and omentum

, with both nodular and diffuse metastases seen. In addition, the left ureter was obstructed due to a ureteral/retroperitoneal metastasis.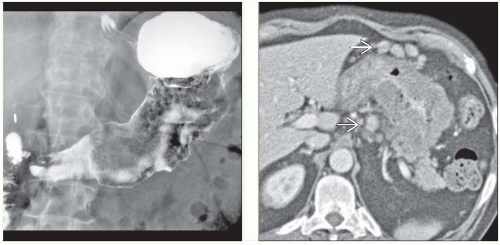 (Left)
Upper GI in a 70-year-old man with weight loss and dyspepsia reveals distortion and blunting of the gastric folds. In spite of what appears to be diffuse involvement of the stomach, there is no outlet obstruction, and the stomach is distensible.
(Right)
Axial CECT in the same patient shows massive thickening of the gastric wall of soft tissue attenuation. Note the extensive regional lymphadenopathy and omental tumor deposits

. These findings are typical of gastric lymphoma.
TERMINOLOGY
Definitions





Gastric metastases from primary cancer






Lymphoma: Malignant gastric tumor of B lymphocytes
IMAGING
General Features





Best diagnostic clue









"Bull's-eye" lesions on imaging
Fluoroscopic Findings





Fluoroscopic-guided barium study









Malignant melanoma metastases









Solitary/multiple discrete submucosal masses






"Bull's-eye" or "target" lesions: Centrally ulcerated submucosal masses






"Spoke-wheel" pattern: Radiating superficial fissures from central ulcer






Giant cavitated lesion: Large collection of barium (5-15 cm) communicating with lumen






Small or large lobulated masses






Breast carcinoma metastases









Lobular breast cancer: Linitis plastica or "leather bottle" appearance (loss of distensibility of antrum and body + thickened irregular folds)

Full access? Get Clinical Tree