Abstract
This chapter contains information on the common nuclear medicine gastrointestinal imaging techniques. These include liver-spleen colloid imaging, blood pool agents, localization of ectopic gastric mucosa, hepatobiliary function, and gastrointestinal motility.
Keywords
technetium sulfur colloid, hepatoma, gastrointestinal bleeding, hepatobiliary imaging, cholecystitis, Meckel diverticulum, gastrointestinal motility

Liver-Spleen Imaging
Computed tomography (CT), magnetic resonance imaging (MRI), and ultrasound offer better anatomic display of liver and spleen architecture than does radionuclide liver-spleen imaging, which is rarely performed. However, there remain a few indications for technetium-99m ( 99m Tc) colloid liver-spleen scans, such as the confirmation or evaluation of suspected hepatocellular diseases, hepatomegaly or splenomegaly, and the confirmation of specific space-occupying lesions such as hepatic focal nodular hyperplasia. Although this section is primarily directed toward these applications, as with the interpretation of any examination, it is prudent to have an understanding of other important entities that may be present incidentally, as well as their scintigraphic appearance.
Hepatic Blood Pool Imaging
Although hemangiomas and cysts are usually occult, asymptomatic lesions, ultrasound can reliably distinguish between cysts (which are hypoechoic) and hemangiomas (which are hyperechoic). CT with intravenous contrast is more specific, usually demonstrating characteristic progressive enhancement toward the center of a hemangioma. Cavernous hemangioma is highly likely when a defect seen with 99m Tc-sulfur colloid imaging shows increased activity after administration of a 99m Tc blood pool agent, such as 99m Tc-RBC, owing to labeling of the blood pool in the lesion. To allow equilibration of the hemangioma blood pool with the labeled RBCs, delayed imaging (sometimes over several hours) may be necessary when planar imaging is used. Dynamic or immediate blood flow images frequently show normal or decreased perfusion of the lesions. Use of SPECT or SPECT/CT in the setting of suspected hepatic hemangioma increases the sensitivity of the study, especially when lesions are deep or less than 5 cm in diameter ( Fig. 7.6 ). SPECT provides nearly 100% sensitivity for detection of hemangiomas larger than 1.5 cm in diameter; sensitivity is 50% or less for lesions smaller than 1.0 cm in diameter.
Splenic Imaging
Normal Spleen Scan
On the posterior and anterior views of a technetium colloid scan, the normal spleen exhibits homogeneous activity equal to or less than that of the liver. The organ is ovoid in configuration, with occasional thinning of the anterior aspect. The normal length of the spleen on a posterior scan is about 10 ± 1.5 cm and should not exceed 13 cm. When imaging the spleen with colloid, routine anterior, posterior, and lateral liver-spleen scan views are obtained. Left anterior oblique and left posterior oblique views at varying degrees of obliquity also may be useful. Occasionally a right posterior oblique view may be needed to separate the left lobe of the liver from the spleen. After surgery or trauma, there may be questions about splenic remnants or accessory spleens. Historically, these were imaged with heat-damaged RBCs; however, for most purposes, use of 99m Tc-sulfur colloid is adequate ( Fig. 7.7 ).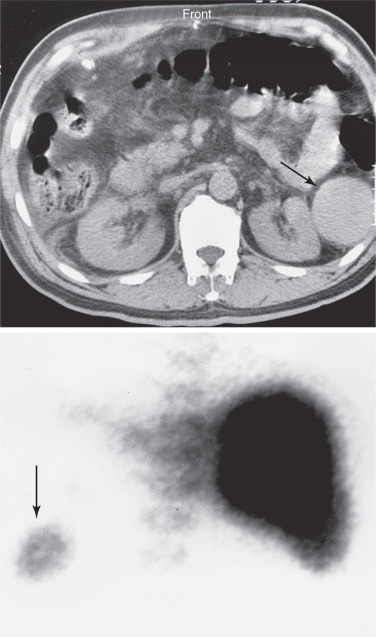 Gastrointestinal Bleeding Studies
Technetium-99m in vitro labeled RBCs are the radiopharmaceutical of choice in the investigation of gastrointestinal (GI) hemorrhage, especially in cases of intermittent or slow bleeding, with a sensitivity for active bleeding of greater than 90%. Because the agent remains in the intravascular space, imaging may be performed over 24 hours. Any free technetium that is not bound to RBCs is excreted by the kidneys and gastric mucosa and passes into the bladder, small bowel, and colon. This latter problem is mitigated by use of in vitro labeling techniques, which allow for a high degree of RBC tagging and therefore a lower percentage of free technetium. With RBCs, most bleeding sites show an initial focus of activity, which increases and changes position and/or configuration with time. If the activity remains in the same location, static vascular abnormalities, such as an aneurysm or angiodysplasia, should be suspected. When delayed imaging is necessary to identify a bleeding site, there may be uncertainty with respect to the site of origin.
If the extravasated intraluminal agent is not identified shortly after its deposition, it may move to a more proximal or distal site during any prolonged intervals between images, especially with the increased peristalsis present in most patients with GI bleeding. However, establishing the mere presence of slow bleeding into the bowel remains possible, and therefore, the study is undoubtedly of value in many patients. The sensitivity is significantly greater than with angiography for the detection of lower GI bleeding, with the added advantage of being noninvasive. Because of significant background activity in the upper abdomen and the diagnostic efficacy of endoscopy in the GI tract, nuclear imaging techniques are most advantageous in evaluating lower GI bleeding, although active small bowel, duodenal, and distal gastric hemorrhage are routinely detected when proper timing and technique for imaging are used. The accuracy of endoscopy in making the diagnosis of upper GI bleeding exceeds 90%.
The common causes of lower GI bleeding in adults are diverticular disease, angiodysplasia, neoplasms, and inflammatory bowel disease. Preoperative localization of a bleeding site permits a more rational, tailored approach to angiography and surgical intervention. Because bleeding from these causes is frequently intermittent, chances of detecting the site of hemorrhage are enhanced by a radiopharmaceutical with a long intravascular half-life, such as labeled RBCs. Angiography may be negative in patients with intermittent bleeding or bleeding rates below 1.0 mL/min. With radionuclide techniques, bleeding rates on the order of 0.2 mL/min are reliably detected, and the sensitivity has been reported to be good even for bleeding rates as low as 0.04 mL/min, although a total volume of 2 to 3 mL of blood is necessary. These techniques are best applied to patients who are bleeding acutely. Patients with chronic, low-volume blood loss presenting with guaiac-positive stools or chronic anemias seldom benefit from the examination. Details of the technique are presented in Appendix E .
If 99m Tc-RBCs are unavailable or if time does not allow for the labeling procedure, 99m Tc-sulfur colloid has been used as a GI hemorrhage imaging agent, although this is not as accurate.
Interpretation
A positive scan shows a focal site of increased activity within the abdomen or pelvis, which progresses distally in the bowel ( Figs. 7.9 and 7.10 ; Box 7.6 ). Once bleeding is identified, multiple sequential images aid greatly in establishing its origin by recording the pattern of progression of the radionuclide within the bowel. Optimally, the images are viewed in cine mode. Because blood is an irritant to the intestine, movement of activity is often rapid and can be bidirectional. This is often true in the small bowel where a rapid serpiginous course of the labeled RBCs from the left upper abdomen to the right lower quadrant is characteristic. The earlier in a study that the bleeding is seen, the more accurate is the localization. Because the main purpose of the examination is to localize the site of bleeding, the study should be continued for a sufficient length of time to follow the progress of the labeled blood and permit mapping of bowel anatomy, which may vary somewhat from patient to patient. An area of activity that remains fixed in location over time should raise the suspicion of causes other than intraluminal bleeding. Occasional confusion of bladder activity with a rectosigmoid bleed can usually be resolved on postvoid views or lateral pelvic images. Interfering genital activity is usually identified by its location on anterior oblique or lateral pelvic views. Carefully performed labeled RBC studies show a high degree of sensitivity (> 90%), with a low false-negative results rate. In addition to providing evidence of active GI bleeding and its location, the examination may also be used as a guide for selective abdominal arteriography and to assess the results of interventional therapy.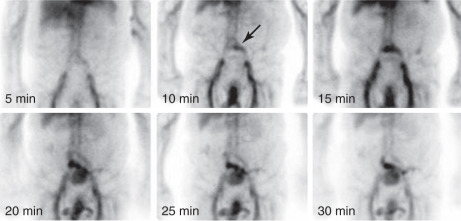 Premium Wordpress Themes by UFO Themes
WordPress theme by UFO themes