Do you have trees in your yard? If you see a diseased area on a branch of a dogwood tree, you will likely also look up and down that branch to see the extent of the process. Then you are probably going to look at the other branches to see if there are other areas involved. And because whatever is in the ground or air that resulted in the disease could also affect your other dogwood trees, you'll probably look around the yard to see if they might also be having a problem.
YES! You found a highly suspicious lesion on mammography. Nice work! But wait—there's more. Our work is not done here. After identifying a lesion on imaging that is very suggestive of breast cancer, our job shifts from detection to evaluating the extent of disease and the staging of the cancer. Let's thoroughly evaluate the patient so that we make the surgeon's job easier. Oh, and don't forget about that other breast!
For women with a very suspicious (BI-RADS 4C) or highly suspicious (BI-RADS 5) finding on mammography or ultrasonography (US), evaluation of the extent of disease and the staging can occur at the initial diagnostic appointment. If biopsy of a less suspicious lesion results in a cancer diagnosis, then imaging evaluation of the extent of disease and the staging should be performed prior to surgical intervention. In women with recently diagnosed breast cancer, the incidence of contralateral cancer is 0.1% to 2% on mammography and 3% to 5% by magnetic resonance imaging (MRI), so careful review of the mammogram and consideration of breast MRI are important.
Imaging contributes to patient care by guiding surgical management and providing information about staging. Surgical management of the breast is determined by accurate assessment of the size and location of the cancer, and identification of multifocal or multicentric disease. Imaging affects staging by identifying invasive tumor for women with ductal carcinoma in situ (DCIS), accurately measuring tumor size, evaluating regional lymph nodes, and identifying skin or chest wall involvement. Imaging to identify systemic disease is also important in staging, but will not be reviewed here.
Evaluating Regional Lymph Nodes
Lymph from the breast drains mostly to the axillary lymph nodes, though some drains to the internal mammary lymph nodes. About one third of breast cancers will have metastasized to the regional lymph nodes or other surrounding tissues at the time of diagnosis.
Axillary lymph nodes are divided into levels with relationship to the pectoralis minor muscle. Lymph nodes that are lateral, posterior, or medial to the pectoralis minor muscle are level I, II, and III, respectively. Lymph nodes located in the space between the pectoralis major and minor are interpectoral (Rotter) nodes and are managed as level II lymph nodes.
Level I axillary lymph nodes are seen on mammography, US, and breast MRI (see Fig. 17-9 ). Level II and III axillary and supraclavicular lymph nodes are seen to varying degrees on US and breast MRI. Internal mammary lymph nodes are most commonly found in the second or third intercostal spaces and can be identified on US or MRI ( Fig. 17-13 ). Small normal internal mammary lymph nodes may occasionally be seen on MRI. If seen on US, an internal mammary lymph node is usually abnormal.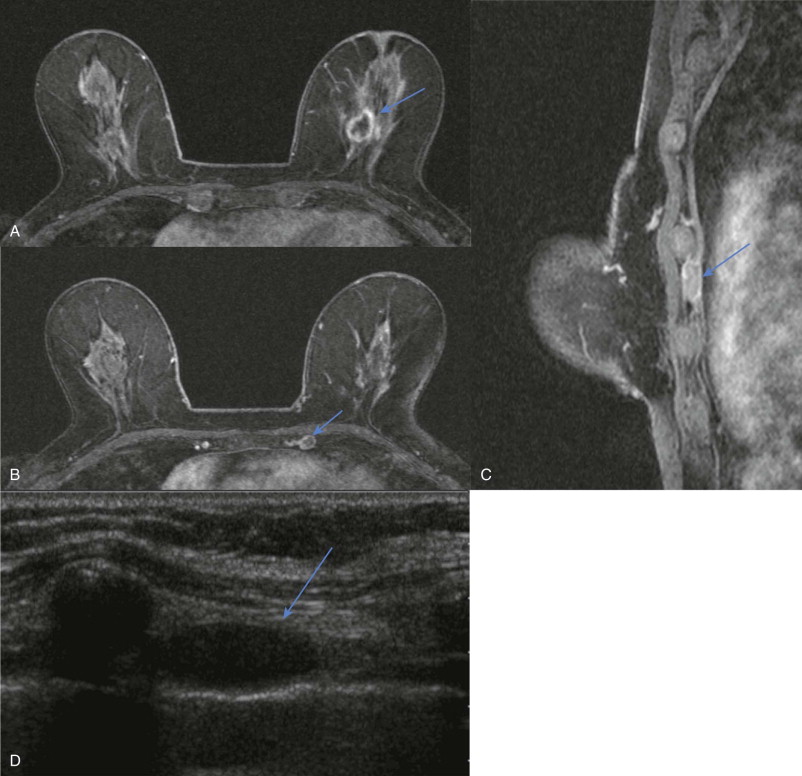 Premium Wordpress Themes by UFO Themes
WordPress theme by UFO themes