Introduction
Interstitial lung disease (ILD) refers to a broad category of diffuse parenchymal lung diseases characterized by inflammation and/or fibrosis of the lungs. Patients invariably present with dyspnea of varying time course and severity. Patients are often hypoxemic, and pulmonary function tests typically demonstrate a restrictive pattern, with reduced diffusing capacity. The term interstitial lung disease is somewhat of a misnomer because many ILDs also involve the alveolar spaces. To date, more than 150 ILDs have been described. Imaging, particularly high-resolution computed tomography (HRCT), plays a pivotal role in the evaluation, diagnosis, and monitoring of ILD. In this chapter, we begin by discussing the imaging modalities and techniques used to evaluate ILD. We then describe the idiopathic interstitial pneumonias (IIPs), which are a subset of ILDs of unknown cause but with distinct clinicopathologic descriptions. Of the various IIPs, we spend the most time discussing usual interstitial pneumonia because it is the most common IIP and has the most detailed diagnostic criteria. Other common ILDs, including sarcoidosis, hypersensitivity pneumonitis (HP), pneumoconioses, and ILDs associated with collagen vascular diseases, are discussed elsewhere in this text. Finally, we conclude with a brief summary of emerging knowledge on the genetics of pulmonary fibrosis.
Usual Interstitial Pneumonia
Usual interstitial pneumonia (UIP) is a chronic fibrosing interstitial pneumonia in which there is a spatially and temporally heterogeneous distribution of normal lung, interstitial inflammation, fibrosis, and honeycomb change ( Fig. 19.4 ). A characteristic histologic lesion is the fibroblastic focus, which represents an aggregate of proliferating fibroblasts and myofibroblasts. UIP represents the histopathologic pattern associated with idiopathic pulmonary fibrosis (IPF). UIP/IPF is the most common IIP, accounting for 50% to 60% of cases. It is important to make the diagnosis of UIP because IPF has a poor prognosis, with a median survival of less than 5 years after the time of diagnosis. Unlike other ILDs, IPF does not respond to conventional corticosteroid and/or immunomodulator therapy. Moreover, given recent US Food and Drug Administration (FDA) approval of medications shown to slow functional decline in IPF patients, accurate diagnosis is paramount.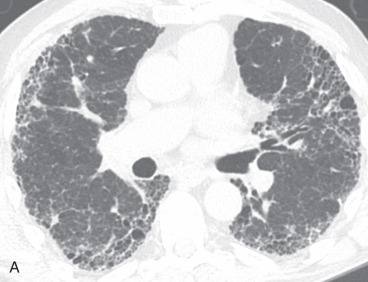 Premium Wordpress Themes by UFO Themes
WordPress theme by UFO themes