Intramural Pseudodiverticulosis
Michael P. Federle, MD, FACR
Key Facts
Terminology





Rare benign disorder characterized by esophageal diverticulosis-like outpouchings






Caused by dilation of excretory ducts of deep mucous glands






Associated with esophagitis stricture ± motility disorders
Imaging





Barium esophagram more sensitive than endoscopy






Innumerable, tiny, barium-filled outpouchings









In longitudinal rows parallel to long axis of esophagus






Flask-shaped, 1-4 mm






Incomplete filling may erroneously suggest lack of communication with esophageal lumen






Intramural tracks: Bridging between adjacent pseudodiverticula









More likely to occur with diffuse form of intramural pseudodiverticulosis






Stricture: Pseudodiverticula often extend above and below level of stricture









Stricture could be benign or malignant
Top Differential Diagnoses





Esophagitis









Multiple discrete ulcers associated with various types of esophagitis






True ulcers communicate directly with lumen






Ulcers, strictures, and pseudodiverticula can occur together
Diagnostic Checklist





Periodic surveillance of patients with IPD for esophageal carcinoma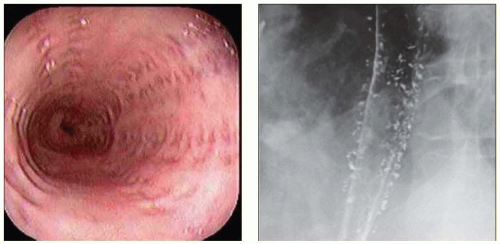 (Left)
Endoscopic photograph shows the opening of innumerable pseudodiverticula, many arranged in orderly, longitudinal rows.
(Right)
Spot film from a barium esophagram demonstrates the classic findings of innumerable tiny collections of barium within the esophageal wall. Decreased primary peristalsis and tertiary contractions were also evident on fluoroscopy.
(Left)
Two views from a double contrast esophagram reveal innumerable tiny, flask-shaped outpouchings along the entire length of the esophagus, findings pathognomonic of pseudodiverticulosis.
(Right)
Film from a barium esophagram demonstrates a small hiatal hernia

and a short peptic stricture
Premium Wordpress Themes by UFO Themes
WordPress theme by UFO themes