•




Large-vessel vasculitides are a broad spectrum of diseases that can affect the aorta and its main branches.




•




Multimodality imaging plays an essential role in the diagnosis and management of large-vessel vasculitides.




•




Morphologic imaging with cross-sectional techniques such as US, CCTA, and MRI/MRA allow for the assessment of the detailed anatomic changes of the vessels, such as vessel wall thickening, mural enhancement, and luminal changes including stenosis or aneurysmal dilation.




•




FDG PET/CT has emerged as a unique modality for the assessment of disease activity in patients with large-vessel vasculitides and to monitor response to antiinflammatory therapy.
Introduction
Vasculitis (vasculitides) comprises a large group of heterogeneous diseases characterized by the inflammation of the blood vessel wall. Broadly, this entity can be dichotomized into inflammatory/noninfectious and infectious vasculitis. Inflammatory/noninfectious vasculitides are largely thought to have an autoimmune pathobiology. Nevertheless, understanding of the exact pathophysiology remains unclear. Consequently, the classification of vasculitides is based largely on the size of affected vessels. The large vessels include the aorta and its main branches, the medium vessels include the main visceral arteries and initial branches, and the small vessels include intraparenchymal vessels or capillaries and analog veins. Inflammatory vasculitides have been categorized as large-, medium-, small-, or variable-vessel vasculitis and vasculitis limited to a single-organ (single-organ vasculitis [SOV]), such as central nervous system vasculitis or isolated aortitis. Collectively, these categories are known as primary (or idiopathic ) vasculitides . Although categorization based on vessel size is practical, there is a significant amount of overlap among the vasculitis categories. For example, large-vessel vasculitis (LVV) predominantly involves large vessels but can also affect medium- or small-size vessels. Similarly, medium-vessel vasculitis can extend into the small vessels. Variable-vessel vasculitis does not have any vessel predominance and can involve any vessel throughout the body, including the large vessels. Vasculitides associated with systemic disease or with a probable etiology are considered a type of secondary vasculitis. These secondary vasculitides can also involve large vessels, such as in rheumatoid or sarcoid aortitis. Fig. 30.1 summarizes the widely adopted nomenclature and categorization of vasculitides. In contrast, infectious vasculitis of the large vessels is caused by a pathogen from either direct invasion of the adjacent structure or that is spread via the bloodstream into the vessel wall.
Although the LVVs characteristically consist of Takayasu's arteritis (TAK) and giant cell arteritis (GCA), in this chapter, we have expanded to cover all vasculitides that affect the large vessels (i.e., aorta and main branches). We will discuss all available imaging modalities in the diagnosis and management of LVVs and illustrate the aforementioned vasculitides via image-rich case vignettes.
Multimodality imaging of large-vessel vasculitides
Tissue biopsy of large vessels is not feasible. Therefore, imaging plays an important role in the diagnosis and management of large-vessel vasculitides. Currently available modalities for anatomic or morphologic vascular assessment include ultrasound (US), computed tomography angiography (CTA), high-resolution cranial magnetic resonance imaging (MRI) of the superficial arteries, magnetic resonance angiography (MRA), and functional and molecular imaging positron emission tomography (PET)/CT. Invasive or catheter-based imaging is a part of the diagnosis and is still included in the ACR diagnostic criteria. Nevertheless, this technique assesses only the luminal changes and does not provide information about the vessel wall; therefore, it is reserved for treatment purposes only (e.g., balloon angioplasty/stenting of stenotic arterial segments). Each modality can be used individually or in combination, based on clinical questions, and they can provide unique information regarding the extent and severity of vascular abnormalities, which are helpful in tracking response to therapy.
Molecular/metabolic imaging
Fluorodeoxyglucose positron emission tomography/computed tomography
As described in Chapter 23 , FDG accumulates in inflammatory cells, particularly in the monocytes and macrophages, because of high glycolytic activity. Therefore inflammatory cells in the thickened and inflamed vessel wall from vasculitis can accumulate FDG and be used in PET/CT imaging. FDG PET/CT for LVV was first introduced in the late 1990s as an accidental discovery in patients with fever of unknown origin. Since then, it has emerged as a promising imaging modality in the diagnosis of LVVs. Patient preparation includes 6 hours of fasting before the tracer injection and limiting strenuous exercise before the study. In patients with suspected aortic root or coronary involvement, it is necessary to suppress FDG uptake in normal myocardium, as described in Chapter 23 . Delayed image acquisition (at 180 minutes after tracer injection) is beneficial for vasculitis patients. Recently, FDG PET/CT has been used to diagnose head and neck vessels, particularly temporal arteries, and thus c-GCA. ,
Classic imaging findings of FDG PET/CT in patients with inflammatory vasculitis include segmental intense FDG uptake along the aorta and main branches ( Fig. 30.9 ). FDG PET/CT is also a valuable modality for the diagnosis of PMR as a type of inflammation around the joint/synovium, given its overlap with GCA and often coexistence in the same patient ( Fig. 30.10 ). Combining CCTA or MRA with FDG PET can help assess luminal narrowing or complications associated with active versus chronic vasculitis. , The absence of mural thickening on CCTA or MRA does not exclude the presence of vasculitis and should not limit the use of FDG PET/CT, especially when there is high clinical suspicion. Lastly, FDG uptake in patients with LV-GCA is associated with later aortic dilatation; therefore, close follow-up of these patients should be considered. Infectious vasculitis displays focal FDG uptake associated with mycotic aneurysm and adjacent infectious structures (see Fig. 30.4 C).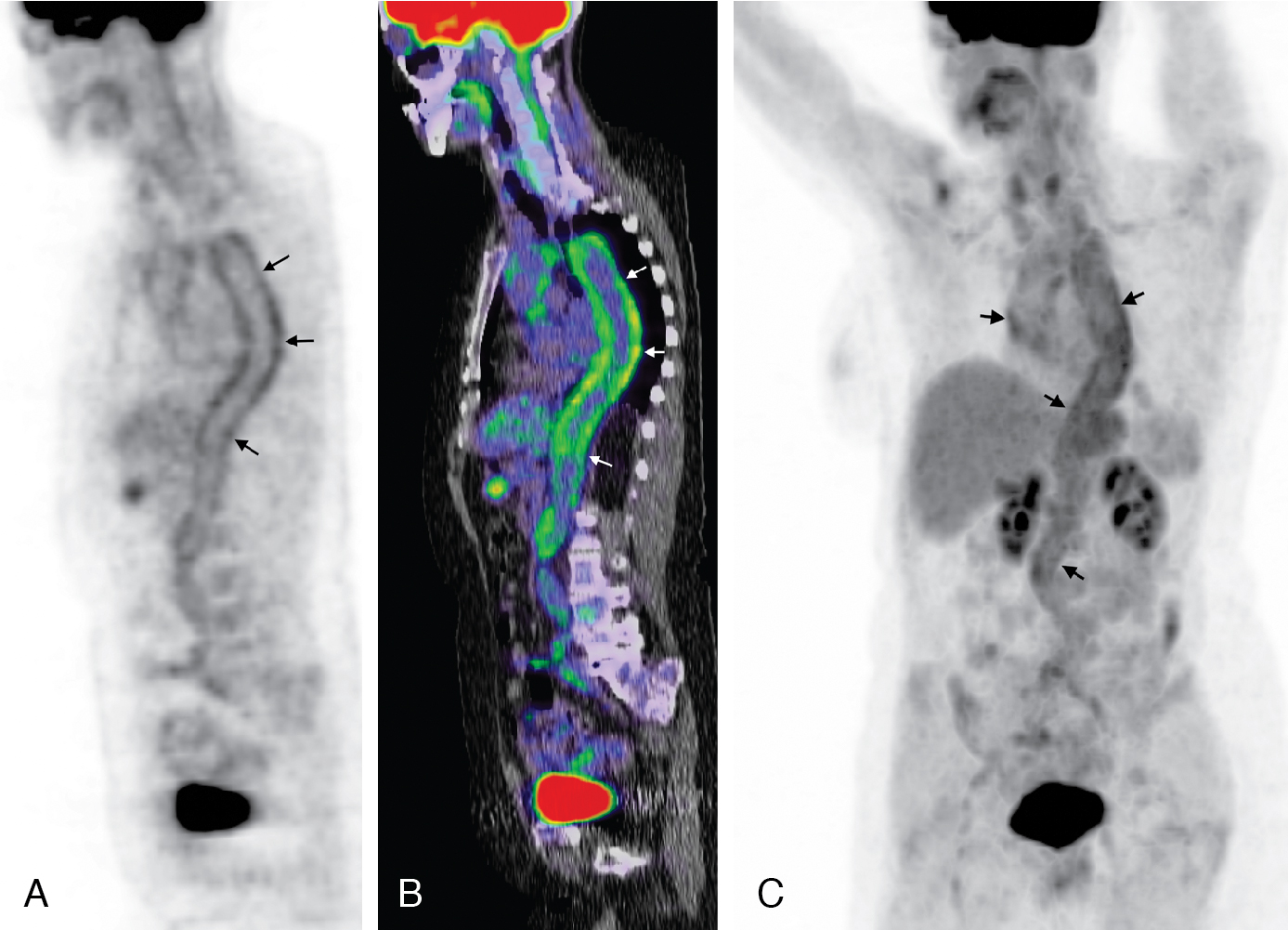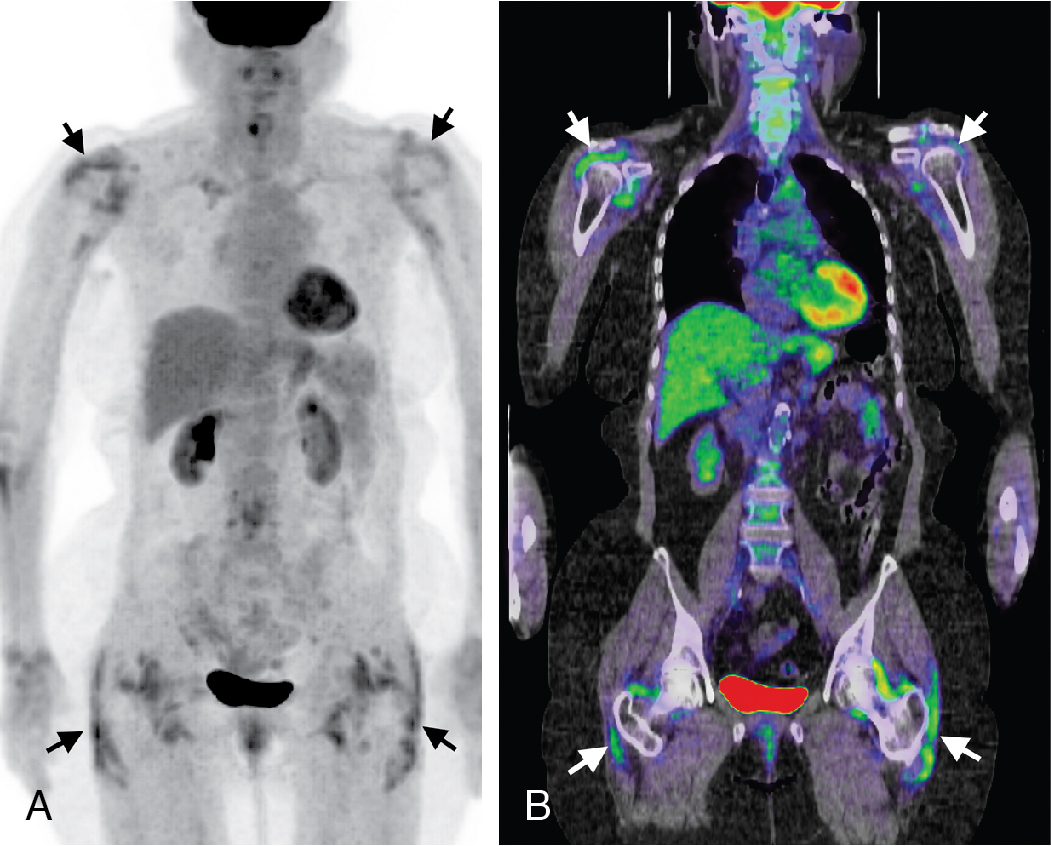 Various interpretation criteria have been proposed, including visual interpretation and semiquantitative techniques. The Society of Nuclear Medicine and Molecular Imaging and the European Association of Nuclear Medicine proposed visual interpretation in routine clinical settings. With this technique, vascular FDG uptake is compared with the liver using a four-point grading system ( Fig. 30.11 ):



•




Grade 0 = no uptake (< mediastinal or blood pool uptake),




•




Grade 1 = low-grade uptake (< liver),




•




Grade 2 = intermediate-grade uptake (= liver),




•




Grade 3 = high-grade uptake (> liver).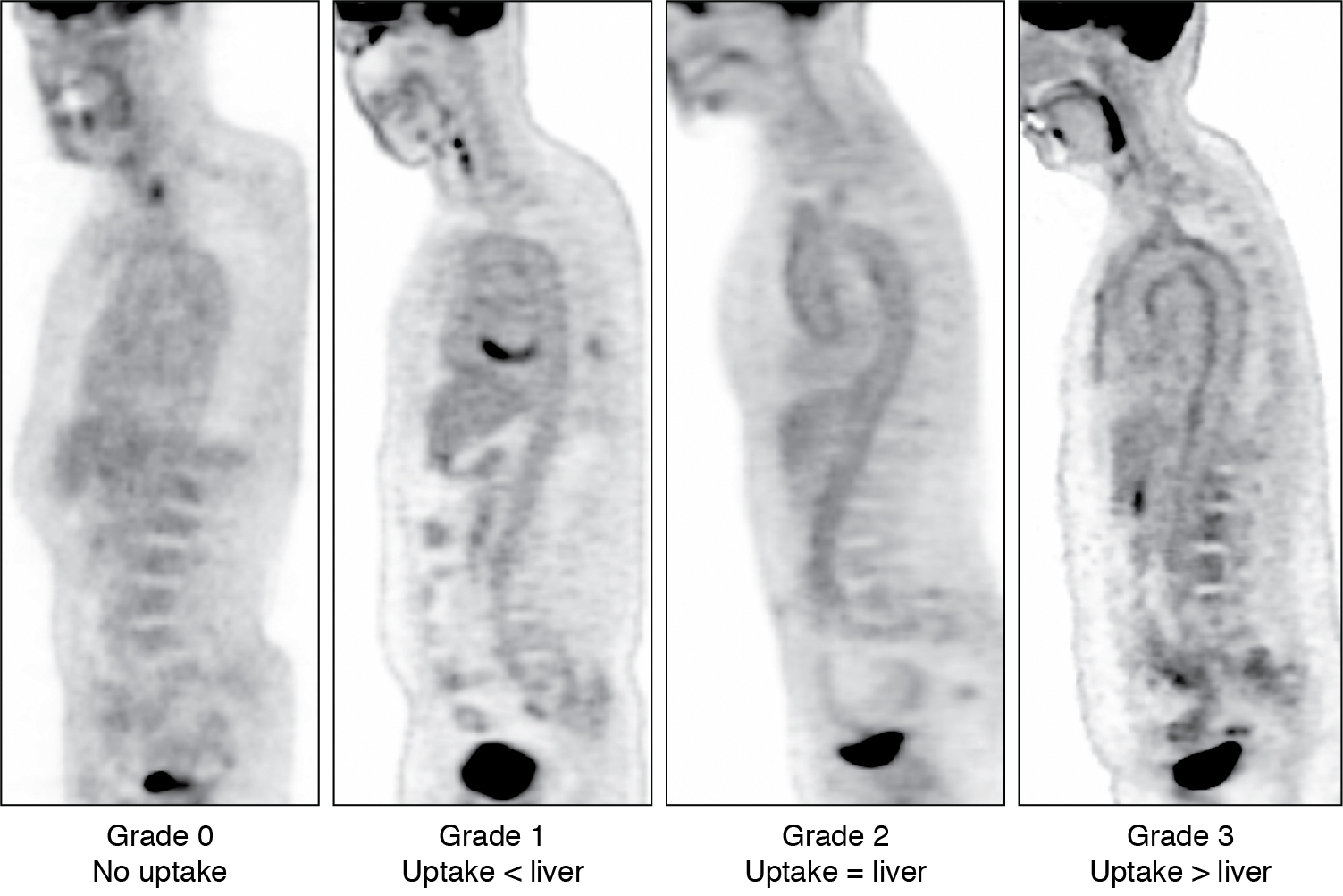 Premium Wordpress Themes by UFO Themes
WordPress theme by UFO themes