Liver, Biliary Tree, and Gallbladder
Liver
Imaging Methods
. CT, MR, and US all produce high-quality images of the liver parenchyma. Dynamic bolus contrast-enhanced MDCT is the current method of choice for most hepatic imaging. Fast imaging techniques that control motion have increased the role of MR as a problem-solver and often as the primary hepatic imaging modality. US is used as a screening method for patients with abdominal symptoms and suspected diffuse or focal liver disease. Color flow and spectral Doppler are used to assess hepatic vessels and tumor vascularity. Radionuclide imaging is used in the characterization of cavernous hemangiomas and focal nodular hyperplasia.
MDCT of the liver is performed using a three-phase or four-phase protocol of multiple scans of the entire liver (
1
). Initial noncontrast images are followed by rapid bolus IV contrast injection by a mechanical injector. Immediate images are optimally obtained during peak hepatic arterial enhancement phase to detect hypervascular tumors and other lesions supplied primarily by the hepatic artery. Arterial phase-enhancing lesions, such as hepatocellular carcinoma (HCC), are high attenuation on a background of lower attenuation, minimally enhanced, parenchyma. Maximum enhancement of the liver is attained during portal venous phase to demonstrate hypovascular lesions as low-attenuating masses on a background of brightly enhanced parenchyma. Because about two-thirds of the hepatic blood supply comes from the portal vein, maximum enhancement of the liver parenchyma occurs at 60 to 120 seconds following hepatic arterial enhancement. Further delayed images are obtained several minutes after contrast injection to document late-contrast fill-in of hemangioma and delayed enhancement of cholangiocarcinoma.
Hepatic MR imaging is performed with a broad array of fast spin-echo, breath-hold gradient recall, short-time inversion-recovery, fat-suppressed, and in-phase/out-of-phase pulse sequences (
1
). The goal is to maximize lesion detection by using the striking contrast resolution of MR while minimizing motion artifact by rapid scan breath-hold sequences. Dynamic contrast enhancement is achieved with MR by repeating full liver scans multiple times in the first minutes following gadolinium injection. Two major classes of gadolinium-based contrast agents are in use. Extracellular agents, such as gadopentetate dimeglumine (Magnevist®), are akin to iodine-based contrast agents used in CT. Liver-specific contrast agents such as gadoxetate disodium (Eovist®) have conventional properties of the extracellular agents as well as being taken up by hepatocytes, which improves the detection and characterization of small lesions (
2
,
3
). Diffusion-weighted MR has emerged as a method of hepatic lesion detection and characterization in patients who cannot receive IV contrast (
4
). MR spectroscopy is used for quantitation of liver fatty infiltration and other diffuse hepatic diseases (
5
).
US is used as a rapid screening modality to detect diseases of the liver, biliary tree, and gallbladder. Hepatic US imaging is reviewed in
Chapter 35
.
Radionuclide imaging of the liver is inferior to CT, MR, or US for lesion detection but offers functional information in characterizing lesions such as focal nodular hyperplasia. Radionuclide blood pool imaging is very useful for definitive diagnosis of cavernous hemangioma. Hepatic radionuclide imaging is reviewed in
Chapter 58
.
Fine-needle aspiration for cytology and core needle biopsy for histology, guided by US or CT, are popular and safe methods to obtain tissue diagnoses.
Anatomy
Couinaud Segments
. The vascular anatomy that defines the surgical approach to lesion resection is the anatomy most relevant to liver imaging. A numbering system developed by Couinaud (pronounced "kwee-NO") is commonly used internationally and provides standardized identification of hepatic segments (
Fig. 26.1
) (
Table 26.1
). The eight Couinaud segments have separate vascular inflow, outflow, and biliary drainage and can each be resected without damaging the remaining segments. Division of the liver into eight segments is based on a concept of three longitudinal planes and two transverse planes. A longitudinal plane through the middle hepatic vein, inferior vena
cava (IVC), and gallbladder fossa divides the liver into right and left lobes. A longitudinal plane through the right hepatic vein divides the right lobe into anterior (VIII and V) and posterior (VII and VI) segments. A longitudinal plane through the left hepatic vein divides the left lobe into medial (IVa and IVb) and lateral (II and III) segments. A transverse plane through the left portal vein divides the left lobe into superior (IVa and II) and inferior (IVb and III) segments. An oblique transverse plane through the right portal vein divides the right lobe into superior (VIII and VII) and inferior (V and VI) segments. Segment I is the caudate lobe that extends between the fissure of the ligamentum venosum and the IVC. Hepatic venous drainage from the caudate lobe is directly into the IVC via small veins.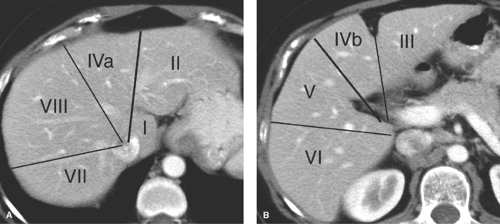 Figure 26.1.
Couinaud Liver Segments. A
. Superior portion of the liver.
B
. Inferior portion of the liver. CT scans illustrate the Couinaud classification of the numbering of liver segments. The longitudinal plane of the right hepatic vein divides VIII from VII in the superior portion of the liver and V from VI in the inferior portion of the liver. The longitudinal plane of the middle hepatic vein through the gallbladder fossa separates IVa from VIII in the superior liver and IVb from V in the inferior liver. The longitudinal plane of the left hepatic vein and fissure of the ligamentum teres separates IVa from II in the superior liver and IVb from III in the inferior liver. The axial plane of the left portal vein separates IVa superiorly from IVb inferiorly and II superiorly from III inferiorly in the left lobe. The axial plane of the right portal vein separates VIII and VII superiorly from V and VI inferiorly in the right lobe. The caudate lobe (segment I) extends between the fissure of the ligamentum venosum anteriorly and the inferior vena cava posteriorly.
Blood supply
to the liver is approximately two-thirds via the portal vein and one-third via the hepatic artery. When IV contrast is administered as a bolus during rapid CT scanning, the maximum liver parenchymal enhancement will be delayed by 1 to 2 minutes following initiation of injection. This delay reflects the transit time of contrast agent through the GI tract and spleen before accessing the liver through the portal vein. Tumors, which are supplied primarily by the hepatic artery, will enhance maximally during the early hepatic arterial phase, whereas the liver parenchyma enhances maximally during the portal venous phase.
Table 26.1 American and International Nomenclature for Anatomic Segments of the Liver




▪ AMERICAN


▪ INTERNATIONAL


▪ NUMBER



Caudate lobe


Caudate lobe


I



Left lobe



Lateral segment

Medial segment


Left lateral superior subsegment
Left lateral inferior subsegment
Left medial subsegment


II
III
IVa



Right lobe




IVb



Anterior segment

Posterior segment


Right anterior inferior subsegment
Right anterior superior subsegment
Right posterior inferior subsegment
Right posterior superior subsegment


V
VIII
VI
VII



Adapted from Dodd GD. An American's guide to Couinaud's numbering system. Am J Roentgenol 1993;161: 574–575.
Perfusion abnormalities
are seen on post-IV contrast CT and MR because of variations in the hepatic arterial and portal venous blood supply to various areas of the liver (
6
). This dual blood supply has a compensatory relationship: arterial flow increases when portal venous flow decreases and increased portal venous flow compensates for decreased hepatic arterial flow.
Transient enhancement differences are seen during either arterial phase imaging or portal venous phase imaging on MDCT and dynamic MR. These abnormalities have been termed "THADs" (transient hepatic attenuation differences) or "THIDs" (transient hepatic intensity differences) (
7
,
8
,
9
). Portal venous flow may be altered by (
1
) portal blockade by tumor or thrombus; (
2
) extrinsic compression caused by ribs or diaphragmatic slips, or tumors on the liver capsule; or (
3
) "
third inflow
" from systemic veins in the pericholecystic, parabiliary, and epigastric–paraumbilical venous systems (
Fig. 26.2
). Systemic venous blood drains into hepatic sinusoids altering normal intrahepatic blood flow. This results in focal areas of increased or decreased enhancement during the various phases of parenchymal enhancement. Hepatic arterial flow may also be increased by (
1
) focal hypervascular lesions, (
2
) inflammation of adjacent organs (cholecystitis and pancreatitis), or (
3
) aberrant hepatic arterial supply. Regional differences in blood supply related to these factors explain the patterns of enhancement abnormalities as well as altered patterns of diffuse liver disease such as focal fatty deposition and focal fatty sparing in diffuse fatty infiltration.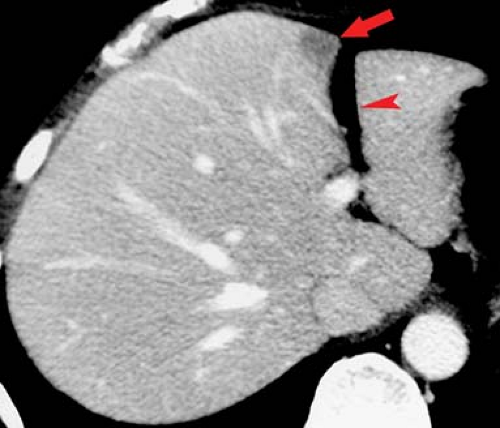 Figure 26.2.
Perfusion Defect
. A common perfusion defect (
arrow
) is seen in segment IVb adjacent to the fissure of the ligamentum teres (
arrowhead
). This perfusion defect is related to "third inflow" from paraumbilical systemic veins. Focal fatty infiltration is commonly seen in this location. Importantly, this normal variant must not be mistaken for a neoplasm.
On CT, the attenuation of normal liver parenchyma is equal to or greater than the attenuation of normal spleen parenchyma on unenhanced images. Following bolus IV contrast administration, the normal parenchymal enhancement is less than that of the spleen during arterial phase and equal to or greater than that of the spleen during portal venous phase.
On MR T1WI, the normal liver is of slightly higher signal intensity than the spleen, and most focal lesions appear as lower-intensity defects. With T2WI, the normal liver is less than or equal to the spleen in signal strength, and most lesions appear as high-intensity foci.
Diffuse Liver Disease
Characteristic features of fatty deposition on all modalities include lack of mass effect (no bulging of the liver contour or displacement of intrahepatic blood vessels) and angulated geometric boundaries between involved and uninvolved parenchyma. Areas of fat deposition may be multifocal with interdigitating fingers of normal and abnormal parenchyma. Fatty changes can develop within 3 weeks of hepatocyte insult and may resolve within 6 days of removing the insult. Patterns of fatty infiltration are strongly related to hepatic blood flow.
US demonstrates heterogeneous parenchyma with coarsening of the echotexture and decreased visualization of small portal triad structures. High-frequency detailed scanning of the liver surface reveals fine nodules. Echogenicity of the liver parenchyma is not significantly increased unless fatty deposition is also present.
MR shows heterogeneous parenchymal signal on T1WI and T2WI. High-signal fibrosis on T2WI is the predominant cause of the heterogeneous appearance.
In the acute stage of Budd–Chiari syndrome, MR shows in the periphery of the liver a moderately low signal on T1WI, a moderately high signal on T2WI, and a decrease in enhancement on both early and late postcontrast images. In subacute and chronic stages, MR shows increasing heterogeneity of the liver periphery on both T1WI and T2WI with the comma-shaped venous collaterals.
Long-standing hemochromatosis places the patient at risk for cirrhosis, HCC, and colorectal carcinoma.
Liver Masses
A major challenge of liver imaging is to differentiate common and benign liver masses, such as cavernous hemangioma and simple hepatic cysts, from malignant masses such as metastases and hepatoma. US can definitively characterize hepatic cysts; however, benign and malignant solid masses overlap in sonographic appearance. CT can characterize most cysts and cavernous hemangiomas but only with optimal technique and multiphase contrast administration. On MR, simple cysts and hemangiomas are hypointense on T1WI and extremely hyperintense on T2WI. These benign masses are typically homogeneous and have sharp outer margins. Malignant lesions on MR tend to be inhomogeneous with unsharp outer margins, peritumoral edema, and central necrosis. Most focal lesions are hypointense on T1WI and hyperintense on T2WI. Hyperintensity of focal lesions on T1WI may be due to the presence of fat, blood, proteinaceous material, or melanin in melanoma metastases (
Table 26.4
). Diffuse hypointensity of liver, due to diffuse edema or iron overload, may make any lesion appear relatively hyperintense. Hypointensity on T2WI is commonly due to acute fibrosis (
Table 26.5
). Dynamic postcontrast CT and MR are utilized to provide the most definitive characterization of hepatic masses by assessing tumor blood flow during arterial, portal venous, delayed, and equilibrium phases of contrast enhancement (
23
,
32
).