Assessment of the hepatic vasculature is essential for tumor staging, surgical planning, and understanding of liver disease. Technological advances have made contrast-enhanced magnetic resonance (MR) imaging comparable to multidetector-row computed tomography for diagnostic vascular imaging with respect to spatial resolution. Unenhanced MR angiographic sequences enable reasonable clinical assessment of vessels without contrast agents in patients with contraindications or renal insufficiency. Furthermore, MR angiography may be used to provide directional information through manipulation of the signal intensity of flowing blood. A major limitation to consistent contrast-enhanced MR angiography is the timing of MR image acquisition with arrival of the contrast bolus in the structures of interest. In this article, the authors discuss currently available techniques for imaging of the hepatic vasculature.
Routine hepatic magnetic resonance (MR) imaging provides an excellent assessment of the hepatic vasculature. Automated contrast detection methods in combination with fast breath-hold sequences allow reproducible capture of the arterial, portal venous, and delayed phases of enhancement. This reproducible capture enables improved vascular lesion detection and characterization. Sequences can also be dedicated to focus on specific aspects of the hepatic blood vessels, including the demonstration of flow physiology. High-resolution, 3-dimensional, gadolinium-enhanced imaging, including fat suppression and multiphasic reconstructions, can be used routinely without exposing patients to ionizing radiation. MR imaging is able to provide an accurate assessment of the hepatic vascular anatomy. This accurate assessment is essential for patients who are being considered for surgery, such as liver resection or transplantation. In addition, MR imaging can also provide a road map to guide radiological intervention, which can reduce procedural times and improve safety ( Fig. 1 ). For diagnostic evaluation, relatively noninvasive techniques such as MR angiography and computed tomography (CT) angiography have largely replaced digital subtraction angiography (DSA).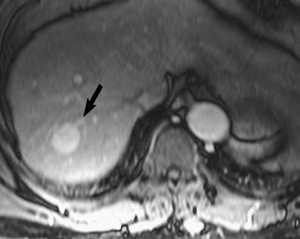 Multidetector row CT (MDCT) angiography provides excellent detail of the hepatic arteries and their branches and is a robust, quick method for vascular assessment before surgery. MDCT also has the advantage of being readily accessible in most institutions. However, a significant advantage of contrast-enhanced MR angiography is the ability to assess the liver without irradiation. Both CT and MR imaging contrast agents have some associated risk of contrast-induced nephropathy as well as other adverse effects, including rare but potentially lethal reactions such as anaphylactic shock. More recently, there has been increased awareness of nephrogenic systemic fibrosis as a potential complication in patients with severe chronic renal insufficiency or acute renal failure who undergo gadolinium-enhanced MR imaging. A further advantage of MR imaging compared with MDCT is the ability to selectively visualize the hepatic vasculature using noncontrast-enhanced MR angiography. Doppler ultrasonography also allows for such noninvasive imaging of vessels without ionizing radiation or contrast agents, but visualization may be limited for various reasons such as overlying bowel gas or large body habitus.
Historically, an important limitation of MR angiography compared with DSA and CT angiography has been lower spatial resolution. However, there have been recent significant improvements in the achievable spatial resolution owing to the introduction of newer image reconstruction algorithms and dedicated contrast agents. These developments have enabled MR angiography to achieve higher spatial resolution and better image quality. The combination of multichannel, high field-strength MR systems, and the development of multielement angiography receiver coils has also helped to substantially improve the clinical utility of MR angiography.
Premium Wordpress Themes by UFO Themes
WordPress theme by UFO themes