10.1055/b-0036-138077
4 Posterior Fossa Malformations
4.1 Introduction
A wide variety of malformations of the posterior fossa can occur, including well-known characteristic conditions, misunderstood conditions, and missed (or misdiagnosed) conditions. Attention to the cerebellum in every imaging study is helpful, for detecting abnormalities that cannot be detected by a gestalt method, and for familiarizing oneself with normal anatomic appearances and development patterns of the cerebellum.
4.2 Chiari Type I Malformation
It is hard to know whether it is easier to miss or to overdiagnose a Chiari type I malformation in a child because both are easy to do. A Chiari type I malformation can be defined according to the two different criteria, either by anatomic features or physiologic alterations.
The anatomic description of a Chiari type I malformation is that of elongated cerebellar tonsils extending a specific distance below the plane of the foramen magnum (as approximated by a line connecting the basion to the opisthion on midsagittal images) (Fig. 4.1). In adults it is said that tonsils extending 5 mm below the plane of the foramen magnum reflect a Chiari type I malformation, but in children less stringent criteria are used because ectopia of up to 6 mm (or even 7 mm) below the plane of the foramen magnum can be normal (Fig. 4.2).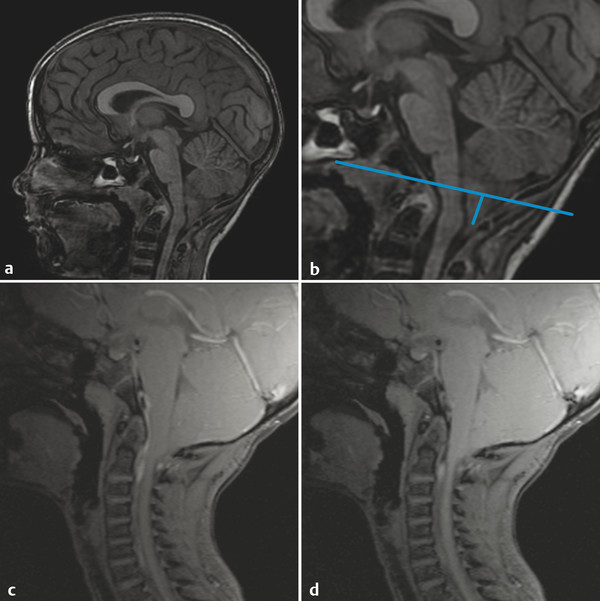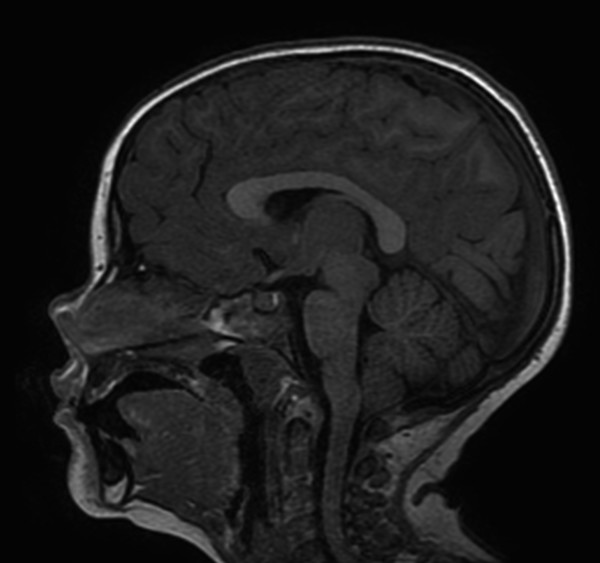 The term "peg-like" tonsils is sometimes used in the literature to describe the appearance of the cerebellar tonsils in a Chiari type I malformation, but this does not make sense to me and I do not use this term; I find "elongated" to be a sufficiently appropriate description for such tonsils. Making this determination requires familiarity with "normal" tonsillar morphology, which can be obtained only by attention to tonsillar morphology in every study of the cerebellum.
The other way of defining a Chiari type I malformation is a physiologic one, wherein there is a symptomatic impairment of the dynamics of cerebrospinal fluid (CSF) flow through the plane of the foramen magnum, resulting from effacement of the CSF space surrounding the cervicomedullary junction (junction of the brainstem and the spinal cord) as a consequence of cerebellar tonsillar ectopia. This definition is probably the more correct of the two, but it requires more than measurement of a single anatomic feature. Impaired transit of CSF traversing the plane of the foramen magnum can result in clinical symptoms, typically consisting of headaches, but also including dysphagia, vertigo, tinnitus, and other brainstem-related symptoms.
Ultimately, the diagnosis of a Chiari type I malformation is not a binary assessment, as 4.9 mm and 5.1 mm of ectopia are for all practical purposes identical, and the difference does not suddenly constitute a Chiari malformation.
Alterations of CSF flow dynamics can result in an enlargement of the central canal of the spinal cord, with this enlargement commonly referred to as a syrinx. Dilation of the central canal of the spinal cord, with an intact ependymal lining, is more appropriately called hydromyelia. A fluid accumulation within parenchymal tissue of the spinal cord that lacks an ependymal lining represents syringomyelia. When the fluid collection becomes sufficiently large, it cannot be differentiated from syringomyelia, and the catchall term "syringohydromyelia" is used to describe it.
A phase-contrast magnetic resonance imaging (MRI) study of CSF flow across the plane of the foramen magnum can be used to evaluate CSF flow dynamics. Appropriate levels of encoding for fluid-flow velocity must be selected, typically with a value of approximately 10 cm/sec for evaluating a Chiari type I malformation. Midsagittal imaging is most commonly used for such evaluation, with flow ventral to the brainstem being characteristically decreased as the result of effacement of the CSF space. Note that narrowing of the CSF space will result in increased flow velocities before there is a loss of flow. Axial CSF flow imaging can help in seeking turbulent and/or hyperdynamic flow ventrolateral to the cord at the level of the foramen magnum, which presents as aliasing at appropriate levels of velocity encoding, helping to further confirm the altered CSF flow dynamics caused by a Chiari type I malformation (Table 4-1). This is of particular interest in presurgical planning for borderline Chiari type I malformations in patients without syrinx/hydromyelia. A patient who has a syrinx can be assumed to have evidence of altered CSF flow physiology regardless of the findings in a CSF flow study. A pre-existing shunt catheter may alter CSF dynamics.
| | | | |
| --- | --- | --- | --- |
| | Dorsal CSF flow | Ventral CSF flow | Ventrolateral CSF flow |
| Normal | Pulsatile, minimal, or absence of flow can be normal | Pulsatile, bidirectional | Normal |
| Mild | Minimal to no flow | Pulsatile, bidirectional | Normal |
| Moderate | Typically no flow | Hyperdynamic, bidirectional | Normal to hyperdynamic |
| Severe | Typically no flow | None | Hyperdynamic |
A syrinx in the absence of a Chiari type I malformation mandates a contrast-enhanced MRI scan of the entire neural axis (brain and total spine). Some sources advocate for a contrast-enhanced evaluation of the neural axis at baseline, even in the presence of a Chiari malformation, to ensure that a concomitant neoplasm is not the true cause of a syrinx.
Surgical treatment of a Chiari type I malformation involves enlarging the foramen magnum through a suboccipital decompressive craniectomy. If there is hypoplasia of the posterior neural arch of C1, it may be decompressed as well. After osseous decompression, there may still be effaced CSF spaces due to the configuration of the dura, and duraplasty may be performed to remodel the cisterna magna. Postoperative imaging of a patient with a Chiari type I malformation must include study for a restoration of pulsatile CSF flow across the foramen magnum and decrease and/or resolution of hydromyelia when the latter is present. Additionally, the site of duraplasty must be evaluated for a possible pseudomeningocele. Extradural fluid in the early postoperative period is not uncommon; it is probably related to the surgical decompression of the cerebellum done through craniectomy and does not necessarily indicate a pseudomeningocele.
As many as 50% of patients with a Chiari type I malformation will have associated craniocervical osseous abnormalities. Among the most commonly found abnormalities of this type are a retroflexed odontoid process (Fig. 4.3) and a hypoplastic clivus. There may also be hypoplasia of one or both occipital condyles, assimilation of an occipital condyle with the lateral mass of C1, and basilar invagination. Attention should be given to these areas in all studies of patients with a Chiari type I malformation because the presence of these abnormalities can alter surgical management.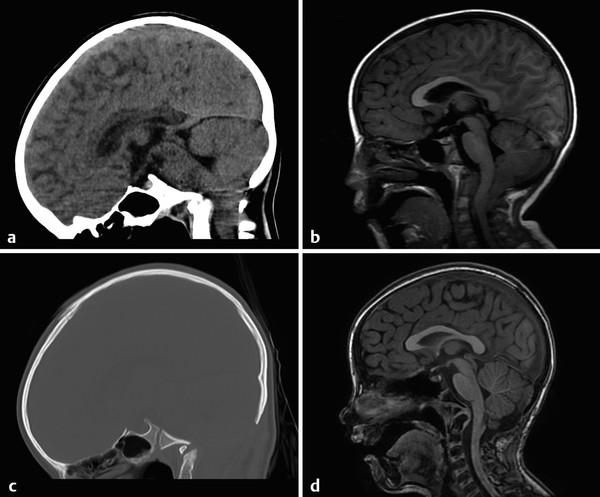 Full access? Get Clinical Tree