PETROUS APEX CHOLESTEROL GRANULOMA/CHOLESTEROLOSIS, MUCOCELE, AND EPIDERMOID CYST

KEY POINTS


Magnetic resonance imaging can make the definitive diagnosis of cholesterolosis and mucocele of the petrous apex, especially when combined with typical computed tomography findings.

Computed tomography is useful in treatment planning, including various surveillance strategies, depending on the extent of disease and patient desire for treatment versus watchful waiting.
INTRODUCTION
Etiology
Cholesterol granuloma of the petrous apex is an acquired sterile inflammatory reaction to blood breakdown products resulting from cyclical bleeding and accumulation of cholesterol crystals into a pneumatized petrous apex. The bleeding may be from inflamed mucosa and/or leakage from the vascularized skull base marrow space (Figs. 11.9–11.11 and 113.1–113.4 and Chapter 11). This is now the most commonly diagnosed cystic expansile lesion of the petrous apex.
A mucocele occurs due to obstruction of an air cell tract leading to the petrous apex (Fig. 113.1). Continued secretions from the mucosa will lead to expansion of the petrous apex without bleeding. The obstruction may occur early in life since the slowly expansile, "cystic mass" appears to enlarge over a timetable measured in years (Figs. 113.5 and 113.6).
The main differential consideration is between these conditions and epidermoid cysts; the latter are discussed in detail in Chapter 8 (Figs. 8.7 and 113.7).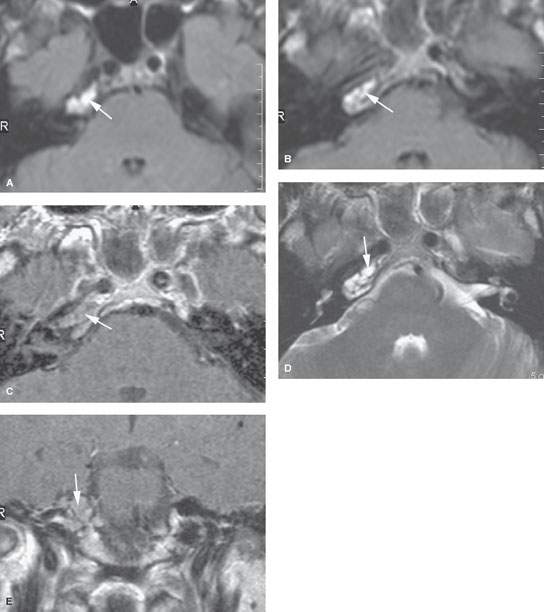 Prevalence and Epidemiology
Cholesterolosis and mucoceles are sporadic conditions with no known predisposing conditions except that the petrous apex must contain air cells and at some point there would need to have been an initial inciting insult. That initial event is typically not established by the patient history. Epidermoid cysts are developmental.
Clinical Presentation
Patients may present with otalgia and headaches leading to magnetic resonance imaging (MRI) or computed tomography (CT). The headache is typically retro-orbital or at the vertex. Occasionally, acute changes such as hemorrhage will produce a fifth or, more likely, sixth cranial nerve deficit (Fig. 11.11) in the absence of acute pyogenic infection. Secondary infection has not occurred in the experience of the authors. Also, hearing loss, vertigo, and tinnitus can occur. Petrous apex cholesterol granulomas, mucoceles, and epidermoid cysts may also be discovered on MRI studies of the brain done for possibly unrelated symptoms.