Michael P. Federle, MD, FACR
Key Facts
Terminology





Annular, inflammatory, symptomatic narrowing of normal lower esophageal mucosal or "B" ring
Imaging





Most likely results from reflux esophagitis






Classification based on ring diameter









Ring < 13 mm in diameter: Symptomatic






Ring 13-20 mm: Occasionally symptomatic






Ring > 20 mm in diameter: Asymptomatic






Single-contrast barium esophagram









Thin (2-4 mm in height), web-like constriction at gastroesophageal junction






Margins: Smooth and symmetric






Fixed, anatomic, nondistensible, transverse ring with constant shape






Sliding hiatal hernia seen below ring






Schatzki ring best visualized









In prone right anterior oblique position






During suspended deep inspiration and Valsalva






With lumen distended with barium
Top Differential Diagnoses





Reflux esophagitis






Esophageal webs






Esophageal carcinoma






Muscular or contractile or "A" ring
Clinical Issues





Recurrent dysphagia: Mechanical disruption of ring by









Endoscopic rupture, bougienage, pneumatic dilation






Electrocautery incision, rarely surgery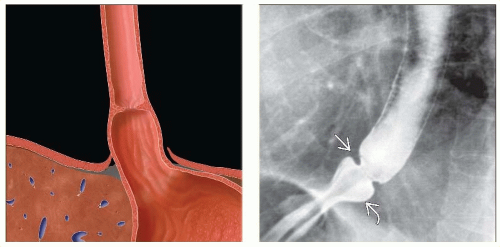 (Left)
Graphic shows a small hiatal hernia and an annular ring-like narrowing at the gastroesophageal junction.
(Right)
Film from a barium esophagram demonstrates a small hiatal hernia

and a Schatzki ring

with a luminal diameter of only 5-7 mm. Symptomatic narrowing of the "B" ring, which constitutes the Schatzki ring, probably results from reflux esophagitis.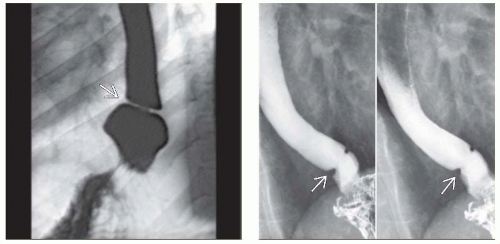 (Left)
Film from a barium esophagram demonstrates a ring-like narrowing
Premium Wordpress Themes by UFO Themes
WordPress theme by UFO themes