Introduction
In 1965, Miyazaki and Kato first reported the use of continuous-wave Doppler ultrasound for the assessment of extracranial cerebral vessels. Despite its rapid development in other medical fields, this technique was not applied to the intracranial vessels until 1982. At that time, Aaslid and colleagues developed a transcranial Doppler (TCD) device with a pulsed-wave sound emission of 2 MHz that could successfully penetrate the skull and accurately measure blood flow velocities in the basal arteries and the circle of Willis. With the introduction of TCD, it became possible to record intracranial blood flow velocity directly, and TCD became an important noninvasive method for assessing cerebral hemodynamics and for evaluating intracranial cerebrovascular disease. The continuous development and refinement of ultrasonography during the past two decades led to a broad spectrum of clinical TCD applications. The introduction of transcranial color-coded duplex sonography (TCCS) into clinical use was an important technical refinement. TCCS combines B-mode imaging with frequency-based color flow imaging and Doppler sonography. By means of TCCS, direct online visualization of the basal cerebral arteries and their flow directions became possible, allowing for angle-corrected measurements of blood flow velocities at defined depths. Subsequently, power-based and three-dimensional TCCS were added, and ultrasound contrast agents were introduced, further enhancing the diagnostic capability of this innovative technique. Transcranial B-mode sonography also offers insights into alterations in the brain parenchyma seen in patients with movement disorders.
Ultrasound contrast agents have likewise provided the opportunity to detect right-to-left cardiac shunts and to perform perfusion studies of the brain parenchyma based on indicator dilution principles.
The detection of high intensity transient signals (HITS) or microembolic signals (MES) by means of TCD constitutes another developmental landmark by allowing the noninvasive estimation of microemboli reaching the intracranial arteries.
The therapeutic use of ultrasound-assisted thrombolysis (sonothrombolysis) offers an alternative to endovascular arterial recanalization during an evolving stroke.
This chapter provides an overview of the main technical and clinical aspects of intracranial ultrasonography and briefly introduces the latest technical and clinical developments.
Diagnostic Parameters for Specific Clinical Applications
Intracranial stenosis and occlusion
The detection of CS stenosis using TCD was first reported in 1986 by Spencer and Whisler, who used similar criteria to those used for carotid bifurcation disease. Since then, a number of authors have reported similar findings for the CS and have extended TCD applications to other brain arteries.
Definition of stenosis with transcranial Doppler
The following are typical TCD features of circumscribed stenosis of a large basal cerebral artery ( Fig. 10.12 ): (1) increased flow velocity; (2) disturbed flow (spectral broadening and enhanced systolic and low-frequency components); and (3) covibration phenomena (vibration of vessel wall and surrounding soft tissue). It is unclear whether the PSV (>120 to 160 cm/s) or the mean systolic velocity (>80 to 120 cm/s) should be used as a threshold value. When detecting intracranial stenoses with a diameter of 50% or more with a mean velocity value of 100 cm/s, a sensitivity of 100%, a specificity of 97.9%, as well as positive and negative predictive values of 88.8% and 94.9% were reported. For the vertebrobasilar system, a threshold of more than 2 kHz peak-systolic Doppler shift showed a sensitivity of 80% and a specificity of 97% in detecting stenoses of 50% or more. Most authors agree that, in comparison with the contralateral vessel segment, a relative increase in PSV of more than 30% is suspicious for hemodynamically significant stenosis and a relative increase of more than 50% indicates a definite intracranial artery stenosis.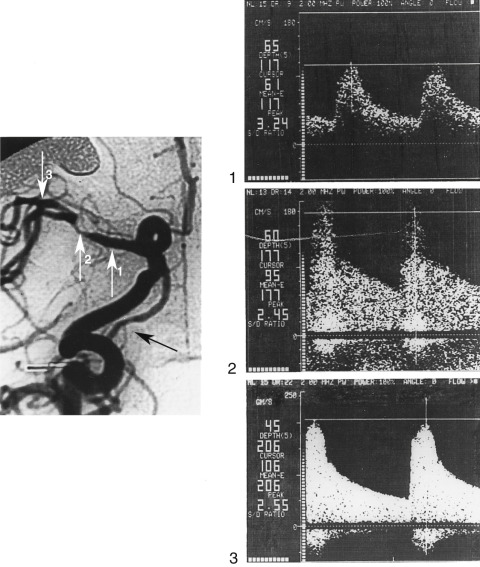 Definition of occlusion with transcranial Doppler
Basal cerebral artery occlusion can be detected by three observations: (1) the absence of arterial signals at an expected depth; (2) the presence of signals in vessels that communicate with the occluded artery; and (3) altered flow in communicating vessels, indicating collateralization. For example, occlusion of the MCA is diagnosed from the lack of an MCA signal in the presence of Doppler signals from other vessels (i.e., the PCA, the ACA, or the distal CS). This combination of findings also confirms that the temporal window is satisfactory. TCD has shown a sensitivity of 83% and a specificity of 94.4%, with an overall accuracy of 91.6%, in the detection of intracranial vessel occlusion. Using coronary angiography-based Thrombolysis in Myocardial Infarction (TIMI) criteria as a model, Demchuk and colleagues have proposed Thrombolysis in Brain Ischemia (TIBI) criteria for the TCD-based classification of the MCA status during and after thrombolysis. The TIBI scale, ranging from 0 (MCA occlusion) to 5 (normal MCA), is given in Table 10.4 . The TIBI criteria were found to be accurate in the prediction of the clinical outcome in acute stroke patients undergoing thrombolytic therapy.
TABLE 10.4




TIBI Score


Status of the MCA Flow


TCD Criteria




0


Occlusion







1


Near occlusion or minimal residual flow








•




Early systolic low-flow signal




•




No diastolic flow signal




2


Strongly reduced








•




Reduced systolic and diastolic velocity




•




Flattened early systolic increment




•




Pulsatility index <1.2




3


Moderately reduced








•




Normal systolic increment




•




Pulsatility index >1.2




•




Relative reduction of blood flow velocity of >30% as compared with the contralateral side




4


Stenotic signal








•




Mean blood flow velocity >80 cm/s or relative increase of velocity >30% as compared with the contralateral side




•




Detection of turbulent flow




5


Normal signal








•




Side-to-side difference of blood flow velocity <30%




•




Comparable values of pulsatility index
Premium Wordpress Themes by UFO Themes
WordPress theme by UFO themes