10.1055/b-0035-122527
11 Pediatric Intestinal Ultrasonography
Ultrasonography (US) is the imaging modality of choice for the initial evaluation of intestinal diseases in children for many reasons:





It is relatively inexpensive.






It is patient-friendly.






It lacks radiation and motion artifacts.






The small size of the child compensates for the limited penetration of sound waves.






The small size of the child facilitates the use of high-frequency transducers.






US involves direct contact with the patient, offering a unique opportunity to ask specific questions and perform additional physical examination, emphasizing the role of the radiologist as a clinician.






Flow studies are possible with the Doppler mode.






Real-time imaging allows visualization of movements (e.g., peristalsis).
Actually, US has become the most important imaging technique in children and can be considered the workhorse of pediatric radiology.
Initially, US of the stomach and intestines was not popular for obvious reasons: bowel gas has the annoying characteristic of reflecting all sound waves or creating artifacts because of its abnormally low acoustic impedance. However, increased knowledge, improved technique (e.g., graded compression), improved hardware (high-frequency transducers), and improved software (adaptive imaging, compound imaging) have changed this concept. Nowadays, it is impossible to imagine US without intestinal US, especially in pediatrics!
The hallmark of intestinal ultrasonography is the "gut signature." This is the characteristic appearance of the layers of the gut ( Table 11.1 ; Fig. 11.1 ). The wall of the intestine is considered stratified when the submucosal echogenicity is present and the mucosa, submucosa, and muscularis propria are separately visible. Nonstratification means indistinctness of the mucosa and submucosa or of all layers.
| | |
| --- | --- |
| Layer | Echogenicity |
| Mucosal surface | Hyperechoic |
| Mucosa | Hypoechoic |
| Submucosa | Hyperechoic |
| Muscularis propria | Hypoechoic |
| Serosal surface | Hyperechoic |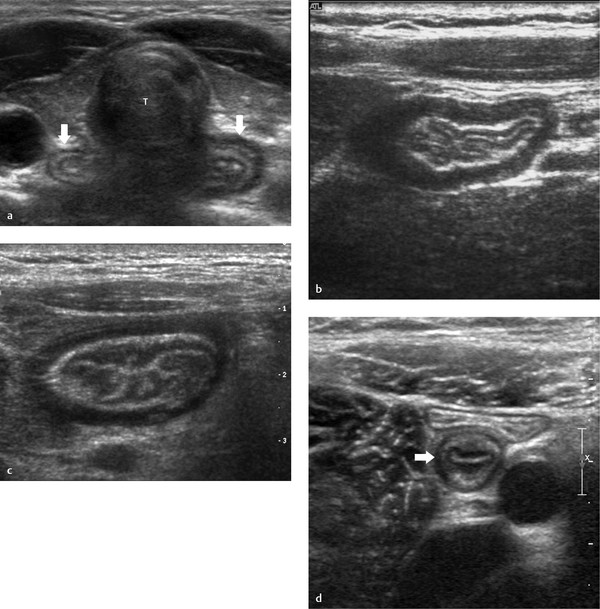 Here are some practical tips for a successful intestinal ultrasonographic examination:





Have patience. Infants have limited sympathy for the workload of a pediatric radiologist.






Use graded compression whenever necessary, always realizing that children are not as delicate as porcelain ( Fig. 11.2 ; Video 11.2). If they can withstand vaginal delivery, they can tolerate serious graded compression.

Fig. 11.2 a, b Juvenile polyp in the descending colon. Without compression, a normal descending colon is seen filled with gas (a). Mild compression reveals a juvenile polyp (between arrows, b).






Use warm ultrasound gel. It is almost unimaginable how a peacefully sleeping infant can be turned into a raging beast solely by administering cold gel to its belly.






Take advantage of domestic sedation whenever possible. A pacifier with a few drops of syrup will do the trick. The infant will stop crying and relax the abdomen. We have syrup in every US room. Some parents object to the administration of nonsterile, cariogenic, obesity-inducing drugs that inevitably will lead to overindulgence. For these reluctant parents, sterile sucrose (24%) is available in the neonatal intensive care unit in single-patient twist cap vials for the same purpose and the same results at a greater expense ( Fig. 11.3 ).

Fig. 11.3 a, b Syrup (not diluted!) and pacifier (a) and a single-patient vial of 24% sucrose (b) for annoying infants.






Start the examination with a structure that always will be recognized—the descending colon. That will give you confidence.






A small amount of peritoneal fluid at the base of the cecum and behind the bladder is physiologic in children.






Try to hold the transducer still for a while, and try to appreciate the bowel movements (or absence of peristalsis) and the passage of gas bubbles through vessels or a fistula. Gentle compression of the transducer at a fixed position will reveal fluctuation of unexpected pus.






Make liberal use of color Doppler US. It may reveal the solid nature of hypoechoic infiltrates or lymph nodes (simulating fluid) and the avascularity of an apparently normal bowel loop.






Observe at least the following: length of the affected segment, wall thickness, degree of stratification, vascularity, presence of peritoneal fluid (and its clarity), and peristalsis.






Be aware of hyperechoic islands of mesentery or omentum with hypoechoic surroundings ( Fig. 11.4 ; Video 11.4). In our experience, they are virtually pathognomonic for infiltrative pathology (inflammatory or neoplastic).

Fig. 11.4 a, b Isolated hyperechoic islands of mesenteric or omental fat (arrowheads). a Patient with mesenteric Burkitt lymphoma and infiltrative invasion of the mesentery, best seen on the video. b Patient with peritonitis caused by necrotic and perforated intussusception. Note the slight dilatation of the appendix (open arrowhead). Only the base of the appendix was involved in the intussusception (see Video 11.4).






Always be aware of this: "An uncommon presentation of a common disease is more common than a common presentation of an uncommon disease" ( Fig. 11.48 and Fig. 11.49 ).
This chapter provides an overview of the diagnostic potential of pediatric gastrointestinal US.
Full access? Get Clinical Tree