Diagnosis:

Fracture through the surgical neck of the humerus

AP radiograph of the right shoulder demonstrates a slightly displaced transverse fracture (arrow) below the greater and lesser tuberosities (the surgical neck) of the proximal humerus.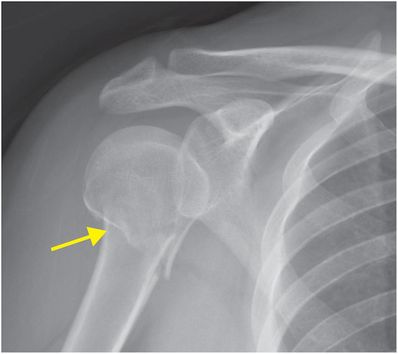 Discussion





Proximal humerus fractures most commonly occur as a result of a fall onto an outstretched hand, with the humeral head impacting the hard-packed bone of the glenoid, but can occur with a number of mechanisms.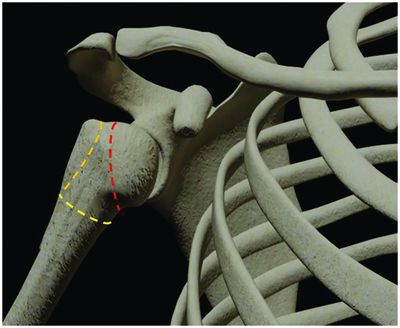 Classification of proximal humerus fractures





Imaging of proximal humerus fractures.






Proximal humeral fractures are most commonly classified according to the Neer classification system (discussed below), or alternately the Association for Osteosynthesis / Association for the Study of Internal Fixation (AO/ASIF) system (beyond the scope of this discussion). Differences in local institutional preferences may favor one system over the other.






The Neer classification is based on the number and location of large fracture fragments or displaced "parts." Humeral head fractures are classified as having up to four parts, with the four parts being the humeral head, greater tuberosity, lesser tuberosity, and humeral shaft. A part is considered separate if it is displaced by 1 cm or more or is angulated 45 degrees or more. For instance, a four-part fracture must have at least 1 cm of displacement or 45 degrees of angulation of each part. Conversely, it is possible to have a comminuted fracture that is classified as one-part if no individual fragment meets these criteria.
Imaging of proximal humerus fractures





Radiographs are sufficient for diagnosis in the majority of cases, with CT providing an adjunct role in classification of complex injuries and pre-surgical planning.






CT and/or CT angiogram may be required in cases of neurovascular compromise.






Fractures of the anatomic neck are associated with increased risk of avascular necrosis. The risk of avascular necrosis is increased with disruption of the medial periosteum of the proximal humeral metaphysis. Imaging findings suggestive of medial periosteal disruption include a short spur attached to the anatomic head measuring less than 8 mm or displaced by more than 2 mm.
Treatment issues





Determination of overall treatment strategy is complex, with clinical factors such as ultimate functional outcome, surgical risk, and comorbid medical conditions playing a significant role.






Early reduction is most beneficial, with failure of closed reduction often indicating open reduction in patients amenable to surgery.






One-part and minimally displaced two-part fractures with post-reduction stability may undergo conservative treatment.






Unstable or significantly displaced two-, three-, or four-part injuries will most often undergo surgical treatment.






Anatomic neck fractures and fracture or fragmentation of the humeral head are associated with poor outcomes relating to humeral head ischemia.
Spectrum of proximal humerus fractures
Greater tuberosity fracture
Isolated greater tuberosity fractures account for 20% of proximal humerus fractures and are associated with anterior glenohumeral dislocation. Up to two-thirds of fractures can be missed on initial radiographs. Nondisplaced or slightly displaced fractures are typically treated conservatively. Grashey radiograph of the left shoulder demonstrates a minimally displaced fracture of the greater tuberosity (arrow).