Figure 17.1
Lymph node map. From
2015
American Thyroid Association Management Guidelines for Adult Patients with Thyroid Nodules and Differentiated Thyroid Cancer: The American Thyroid Association Guidelines Task Force on Thyroid Nodules and Differentiated Thyroid Cancer. Haugen, Alexander, et al
.
, Thyroid. Jan 2016, 26(1): p. 30. Reprinted with permission from American Thyroid Association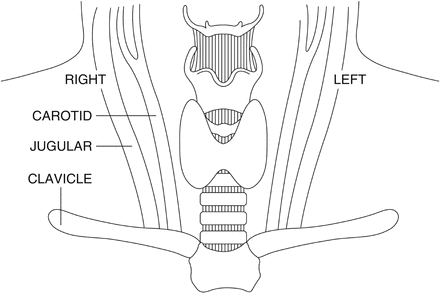 Figure 17.2
AACE ECNU cartoon
Parathyroid Glands
Because normal
parathyroid glands
are not typically seen with ultrasound, those that are seen enlarged likely represent pathology such as an adenoma, hyperplasia, cyst, or carcinoma. Parathyroid glands should be measured in three dimensions, lateralized right or left, and location noted (i.e., posterior to thyroid, intrathyroidal, in thyro-thymic ligament, etc.). State the echogenicity (almost always hypoechoic) and describe the vascularity, especially the presence or absence of a polar artery or vascular pedicle.
Additionally, see
Chap.
9
regarding the ultrasound characteristics of parathyroid glands.
Impression/Plan
One should not consider the impression as a restatement of the entire body of your report; it is a
diagnostic impression
. Keep it brief. Although a number of styles could be considered, consistency counts here. Numbered bullet points make a report easily readable and understood. Remember this is often the only portion of the report that will be read by others. Make it count!
Impression Bullet #1: Summation Statement
Some examples include:





"Prominent thyroid gland with a heterogeneous echotexture."






"Multinodular goiter with nodules seen in both lobes."






"Symmetrically enlarged, diffusely heterogeneous, densely hypoechoic, fibrotic, goiter, compatible with the clinical history of Hashimoto's thyroiditis with hypothyroidism."






"Symmetrically enlarged, diffusely heterogeneous, hypervascular goiter (suggestive of/consistent with the clinical diagnosis of) Graves' disease/hyperthyroidism"






"The thyroid gland is surgically absent compatible with the clinical history of thyroidectomy (± and subsequent I131 therapy) for papillary cancer."
Impression Bullet #2: Pathology Description





"Dominant right mid-lobe nodule, 1.8 cm."






"No discrete nodules are seen." A powerful, succinct description.






"Posterior to the right mid- to lower lobe is a significantly (or profoundly) hypoechoic nodule measuring 1.3 cm. By its anatomic location and appearance, this is likely a parathyroid gland consistent with the findings of the parathyroid sestamibi scan of XX/XX/XXXX from X hospital."






For nodules that have been biopsied previously:






"Right mid-lobe densely hypoechoic nodule, 2.5 cm. This nodule was previously biopsied with benign result on XX/XX/XXXX."
Impression Bullet #3: Lymph Node Comment





Describe any pathologic nodes seen.






"No significant cervical adenopathy is seen."
Premium Wordpress Themes by UFO Themes
WordPress theme by UFO themes