Median sensitivity (range)
Median specificity (range)
81% (48–90%)
53% (36–92%)
41% (27–59%)
94% [92–94%)
44% (26–73%)
89% (69–98%)
10% (2–17%)
94% (84–98%)
66% (33–100%)
43% (30–77%)
55% (17–84%)
80% (62–85%)
86% (78–91%)
48% (30–58%)
48% (33–84%)
92% (82–93%)
Echogenicity
Composition
Calcifications
Calcifications
may be present in up to 30% of nodules and can be divided into different categories.
Microcalcifications
appear as small, punctate echogenic foci, less than 1 mm, and are more specific (in some studies, up to 96%) than sensitive for thyroid cancer [
32
]. Microcalcifications, which are thought to represent aggregates of psammoma bodies, are found in about 40% of papillary thyroid cancers and much less commonly in benign nodules and
Hashimoto's thyroiditis
[
32
]. Due to the very small size of microcalcifications, they do not reflect the ultrasound beam sufficiently to cause distal acoustic shadowing, a feature dissimilar to larger or macrocalcifications. They most commonly are noted in nodules that have other malignant features such as all solid consistency, hypoechogenicity (often marked), and infiltrative margins, which help to distinguish them from other nonneoplastic and non-shadowing echoic foci in thyroid nodules (Fig.
7.7b
). The interobserver agreement for the identification of microcalcifications is quite good [
16
]. Coarse or dense calcifications are larger than 2 mm and cause posterior acoustic shadowing (Fig.
7.8
). Occurring within both benign and malignant nodules, these dystrophic calcifications are present in areas of fibrosis and tissue degeneration and necrosis. However, coarse calcifications, either associated with microcalcifications or appearing in the center of a hypoechoic nodule, may be worrisome for malignancy [
15
,
33
]. Calcifications may also occur along the periphery of a nodule and can be thin and regular, often called "eggshell" calcification
, which is most commonly noted in a benign nodule and less commonly in a malignancy [
32
] (Fig.
7.8c
). Irregular or interrupted calcification is more concerning for a malignancy, and a particular worrisome finding is the interruption of this rim calcification by a soft tissue component of the nodule indicating probable invasion by the cancer (Fig.
7.8d, e
).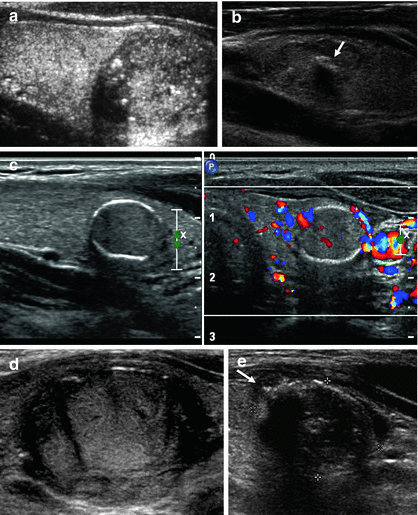 Figure 7.8
Macrocalcifications
. (
a
) Hypoechoic solid nodule with both micro- and macrocalcifications. The macrocalcifications demonstrate posterior acoustic shadowing which appears as a dark area distal to the calcification due to complete reflection of sound by the large calcification. FNA cytology is papillary thyroid cancer. (
b
) A central linear calcification (
arrow
) is noted in this nodule. FNA cytology is benign. (
c
) A smooth peripheral rim of "eggshell" calcification is noted as well as central flow. FNA cytology is follicular variant of papillary carcinoma. (
d
) Note the interruption of the anterior calcified border that corresponded with localized invasion into the surrounding thyroid. FNA cytology is follicular variant of papillary carcinoma. (
e
) Note the extension of hypoechoic soft tissue with microcalcification beyond the peripheral rim of calcification. FNA cytology is papillary carcinoma
Margins
Sonography performed with high-frequency, high-resolution transducers allows detailed assessment of the interface of thyroid nodules with the surrounding parenchyma. The
margins
of a nodule can be defined because of either a difference in echogenicity between the nodule and the thyroid parenchyma or a border that demarcates a nodule when it is similar in echogenicity to the background thyroid. If the thyroid parenchyma has a normal homogeneous hyperechoic appearance, a hypoechoic nodule is easily identified, but detection of a hypoechoic nodule can be more challenging if the parenchyma is heterogeneous such as with Hashimoto's thyroiditis. Certain margin features have been associated with thyroid malignancy. Infiltrative, spiculated, and/or jagged margins as well as lobular borders (Figs.
7.7b
and
7.9
) are concerning for an unencapsulated, invasive thyroid carcinoma. However, the distinction of infiltrative borders from indistinct borders is important because many small hyperplastic nodules will have poorly defined or indistinct margins at the interface between the nodule and the adjacent normal tissue, but these are not infiltrative and not considered to be a sign of a malignant growth pattern [
18
]. Interobserver variability for assessment of nodule margins carries the poorest agreement [
16
], likely reflecting the subtlety of this analysis. Additionally, studies did not distinguish between poor-defined and more aggressive margin features which may account for its reported lack of association with malignancy in several studies.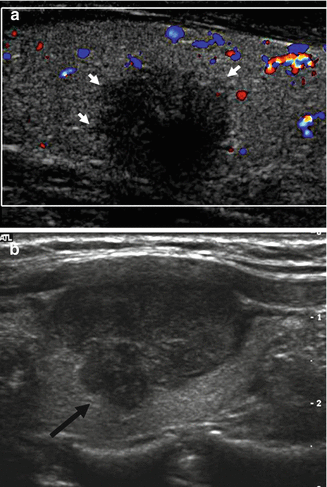 Figure 7.9
Nodule margins. (
a
) Hypoechoic solid nodule with jagged and spiculated margins (
arrows
) extending into the adjacent parenchyma. FNA cytology is papillary thyroid cancer. (
b
) Hypoechoic solid nodule with a lobulated margin (
arrow
). FNA cytology is papillary thyroid cancer
Nodules may also demonstrate the presence of a halo, defined as a sonolucent ring that surrounds a nodule. This generally forms the margin for iso- and hyperechoic nodules. Since benign hyperplastic nodules grow slowly and displace and compress the surrounding blood vessels as they expand, this may produce a thin halo, which demonstrates the nodule's peripheral vascularity on color flow Doppler, and is found in about half of benign nodules (Fig.
7.10a, b
). However, a halo can also be thick, irregular, and avascular [
11
] and may signify the presence of a fibrous capsule surrounding a neoplastic growth, either follicular or Hürthle cell, and is therefore more concerning (Fig.
7.10c
).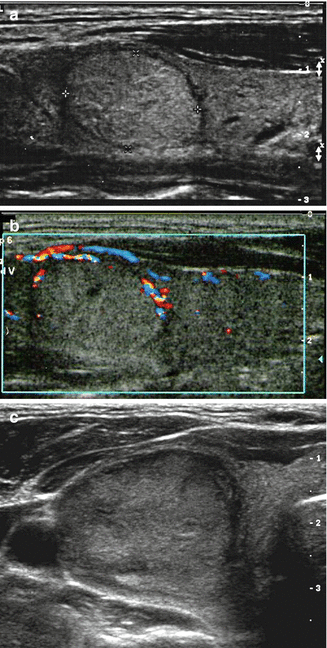 Figure 7.10
Halo. (
a
) Grayscale image of isoechoic nodule with thin regular halo. Cytology is benign. (
b
) Color flow Doppler image of the same nodule indicating the halo corresponds with peripheral vascularity. (
c
) Thick, irregular, and incomplete halo surrounding solid iso- to hyperechoic nodule. Histology is Hürthle cell cancer
When evaluating a known or potential thyroid malignancy, it is important to assess for invasion beyond the thyroid to the adjacent soft tissues. Ultrasound may detect extrathyroidal extension when the tumor growth extends through either the anterior or posterior thyroid capsule, which normally appears as a bright white outline surrounding the thyroid. In such instances, the margin of the tumor has an ill-defined edge that interrupts this capsule [
34
] (Fig.
7.11
). Only rarely is intratracheal growth demonstrated by sonography.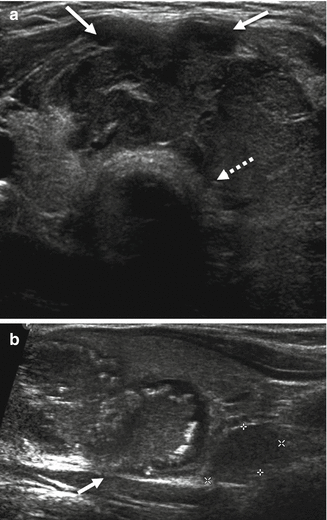 Figure 7.11
Extrathyroidal extension
. (
a
) This anaplastic carcinoma shows clear extrathyroidal extension anteriorly (
solid arrows
) with tumor extending through the anterior capsule. Posteriorly there is lack of a clear margin with the adjacent trachea (
dashed arrow
) which proved to be tracheal invasion during surgery. (
b
) Sagittal image of the thyroid shows a calcified papillary thyroid carcinoma occupying much of the lobe. Posteriorly, there is discontinuity of the posterior capsule (
arrow
) which proved to be extrathyroidal extension of the tumor at surgery. Additionally, a metastatic central compartment lymph node is present (marked by electronic calipers)
Premium Wordpress Themes by UFO Themes
WordPress theme by UFO themes