Abstract
The fetal biliary tract can give rise to congenital abnormalities, including biliary atresia, choledochal cysts, and gallstones. They are amenable to prenatal diagnosis but can be challenging to recognize. Billiary atresia is suspected on prenatal ultrasound when the gallbladder is absent. Choledochal cysts usually appear as an intrahepatic, fluid-filled mass.
Keywords
biliary atresia, choledochal cyst, fetal gallstones, kasai portoenterostomy

Introduction
The diagnosis and detection of some forms of bile duct disease have become possible with routine prenatal ultrasound. However, it remains difficult to offer a specific diagnosis or even prognosis in most cases. The most common finding is probably cystic dilatation of the biliary tree, mainly because of choledochal cysts or biliary atresia. In this chapter, biliary atresia, choledochal cysts, and gallstones will be discussed, as they are amenable to prenatal diagnosis.
The gallbladder and the cystic duct begin to form during the fourth week of embryonic development as a cystic diverticulum situated below the hepatic diverticulum at the level of the duodenum. As soon as development of the cystic diverticulum is completed, cell proliferation at the junction of the cystic and hepatic ducts lead to formation of the intra- and extrahepatic biliary tracts. Bile excretion starts around the 12th week of gestation. At around the same time, the gallbladder and the cystic duct are completely formed and the cystic duct joins the common hepatic duct to form the biliary duct. The biliary tract is patent allowing bile secretion into the intestinal tract.
The fetal gallbladder can be visualized from the 14th–16th week onward and it is seen in 65% to 82% of fetuses at 24–27 weeks' gestation. Its size increases continuously until 30–34 weeks' gestation and then remains unchanged until term.
On ultrasound, the gallbladder appears as a small, hypoechoic, oval cystic structure located at the lower border of the liver, close to the intestinal loops, and to the right of the intraabdominal umbilical vein. It is smaller than the stomach. Its shape and volume can vary from one fetus to another.
Choledochal Cysts
Definition
Choledochal cysts (CC) are rare congenital anomalies of the biliary tract that are the result of an abnormally long common pancreaticobiliary duct allowing reflux of pancreatic enzymes into the biliary ducts. It is four times more common in girls and considered a disease of infancy, with 40% to 60% of cases being diagnosed before the age of 10. The Todani classification is descriptive and distinguishes five types of CC ( Fig. 25.3 and Table 25.3 ). Type I is the most common type with a saclike dilatation of the common bile duct. Type V, also known as the autosomal recessive Caroli disease , shows cystic dilatations of the intrahepatic biliary duct.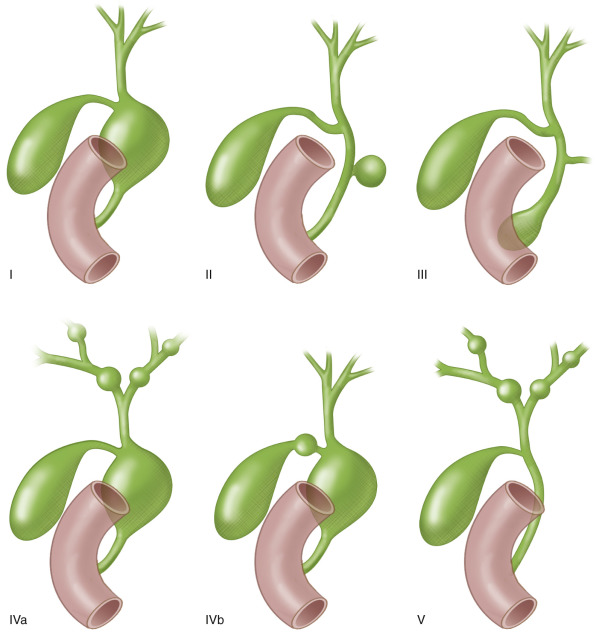 Get Clinical Tree app for offline access