Fig. 11.1
Fibrocystic changes . (a) Left mediolateral oblique (MLO) view shows numerous scattered oval circumscribed masses. (b, c) Ultrasound images of the left breast demonstrate corresponding cysts and clusters of cysts. (d) Ultrasound image of the contralateral right breast also demonstrates a cluster of cysts consistent with fibrocystic change
Fine Needle Aspiration (FNA)





Aspirates can show variable cytomorphology, depending on the proportion of fibrous tissue to cystic spaces.






Cyst contents: Characterized by macrophages, inflammatory cells, and proteinaceous material (Fig. 11.2a).






Adipose tissue (Fig. 11.2b).






Clusters of small ductal cells and apocrine metaplastic cells.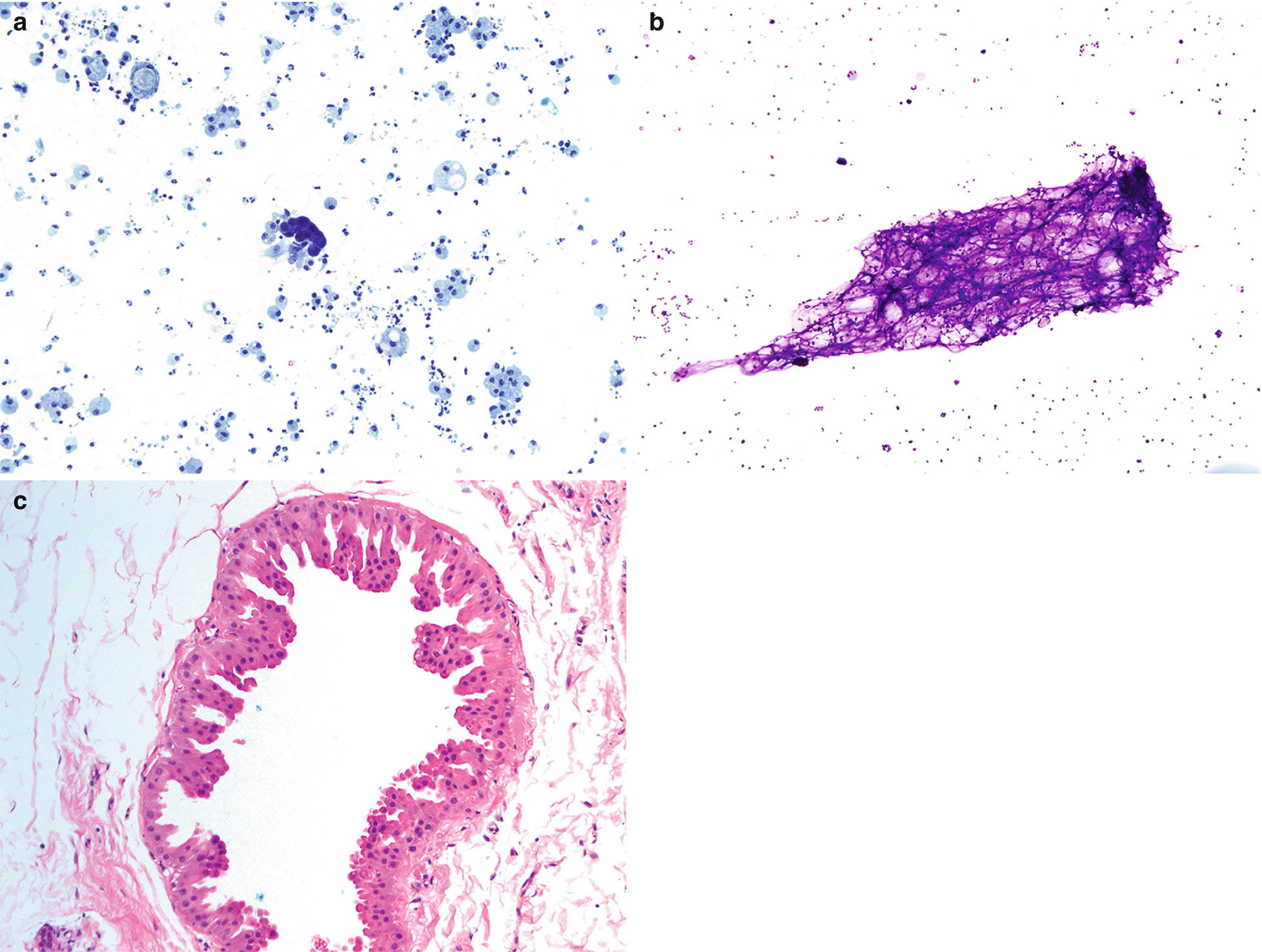 Core Biopsy





Dilated cysts lined by apocrine metaplastic cells with abundant granular eosinophilic cytoplasm, round nuclei, and prominent nucleoli. Intervening fibrotic stroma and adipose tissue (Fig. 11.2c).
Subareolar Abscess
Clinical





Painful nodule arising in the subareolar region; can be recurrent.






Aspiration could be performed for microbiology analysis to tailor antibiotic therapy.






Complete excision recommended to prevent chronic infection and development of sinus tracts [3].
Radiology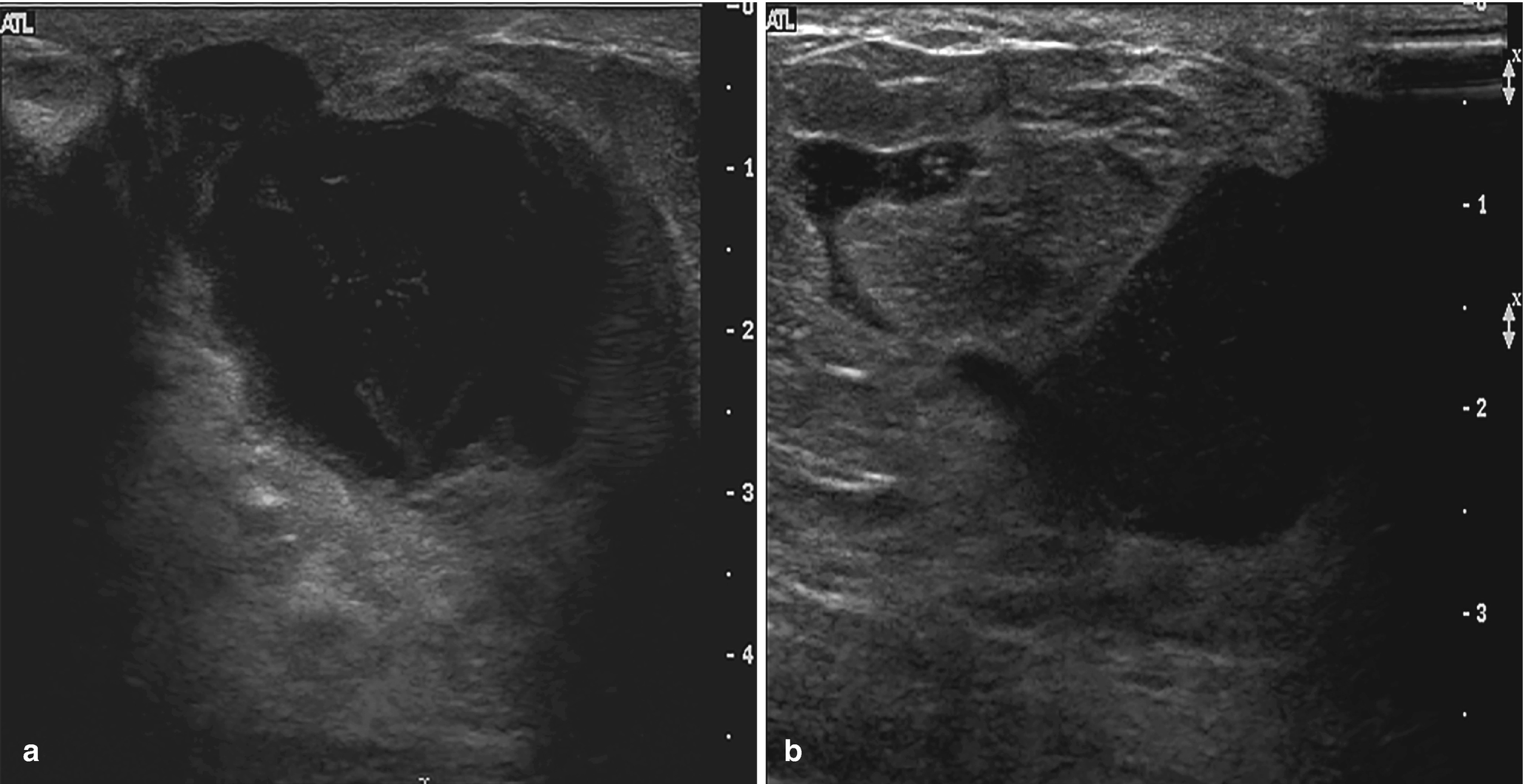 Fine Needle Aspiration





Numerous neutrophils and sheets of anucleated squamous cells (Fig. 11.10).






Histiocytes and giant cells.






Clusters of reactive ductal cells.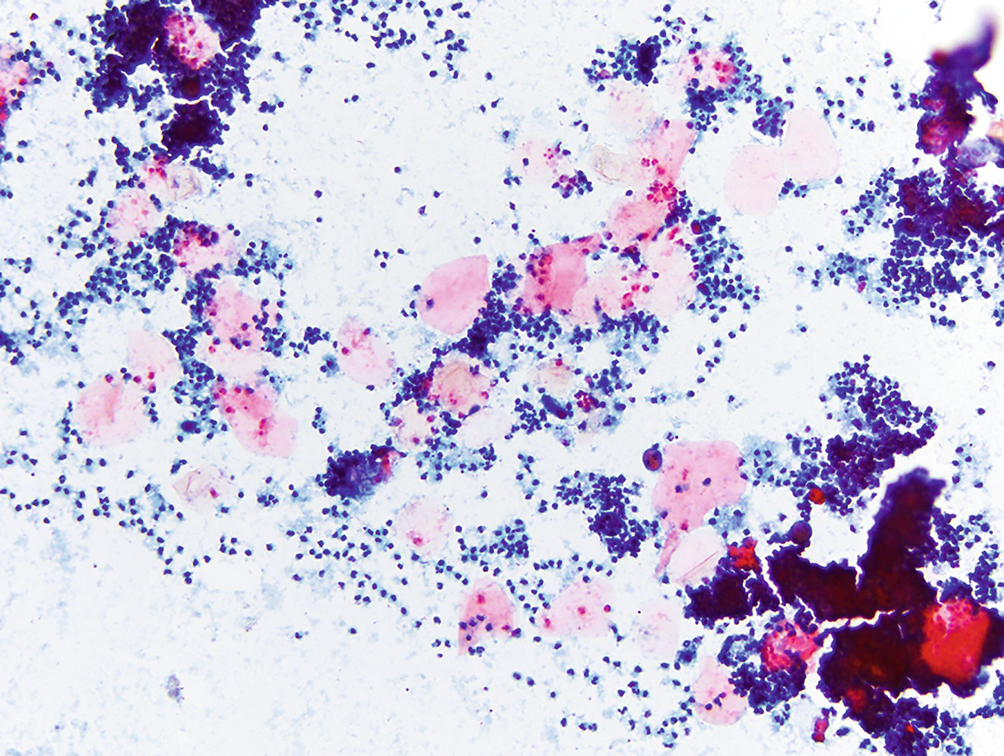 Gynecomastia
Clinical





Most common abnormality of the breast in men.






Enlargement of the breast can be diffuse or nodular and frequently is bilateral.






Can be caused by a number of factors, including low testosterone levels, liver failure, hyperthyroidism, aging, and certain medications, among other less common causes.
Radiology





Mammography






Fan- or flame-shaped density emanating from nipple, usually asymmetric (Fig. 11.11a).
Premium Wordpress Themes by UFO Themes
WordPress theme by UFO themes