Cardiac neoplasms are a diagnostic challenge on many levels. They are rare, their clinical presentation may mimic other much more common cardiac diseases, and they are at an uncommon intersection of oncologic and cardiac imaging. The pathology of primary cardiac neoplasms explains their varied imaging features, for example, calcification in primary cardiac osteosarcomas and T2 hyperintensity in myxomas. Integrating the imaging and pathologic features of cardiac tumors furthers our understanding of the spectrum of appearances of these neoplasms and improves the clinical imager's ability to confidently make a diagnosis.
Key points



•




Primary cardiac neoplasms are rare, and their clinical presentation may mimic more common nonneoplastic cardiac diseases.




•




The varied imaging appearances of primary cardiac neoplasms can be explained by their underlying pathology.




•




Primary considerations for the imaging diagnosis of primary cardiac neoplasms are location, tissue characterization, and clinical features such as age and associated syndromes.
Introduction
Cardiac neoplasms are a diagnostic challenge on many levels. They are rare, their clinical presentation may mimic other much more common cardiac diseases, and they are at an uncommon intersection of oncologic and cardiac imaging. Despite these obstacles, it is often possible to arrive at a favored diagnosis using advanced imaging techniques and knowledge of the pathologic basis of cardiac neoplasms. As with imaging tumors elsewhere in the thorax, a foundation in the pathology of cardiac neoplasms explains an entire spectrum of imaging appearances. Furthermore, knowledge of cardiac tumors ranging from imaging appearances to epidemiology informs the diagnostic approach to these lesions and ultimately their management. This work will explore the imaging approach to cardiac neoplasms with emphasis on the most common, clinically significant tumors and the relationship between their pathology and imaging manifestations.
An epidemiologic context is the first step to arriving at a clinically relevant diagnosis or a short differential diagnosis. Primary cardiac neoplasms are rare in both autopsy series and clinical practice, with metastatic disease being 40 to 100 times more common. This difference between the incidence of primary tumors and metastatic disease may be inconsistent with the clinical experience of cardiac imagers who frequently evaluate cardiac neoplasms. However, it should be noted that most epidemiologic data are derived from autopsy series or large clinical databases in which cardiac spread may be detected in the larger context of metastatic disease but not undergo further diagnostic evaluation.
Primary cardiac neoplasms occur at an incidence of 30 per 100,000 people per year. , Approximately 80% of primary cardiac tumors are benign. The World Health Organization has classified neoplasms of the heart into either benign tumors and tumorlike lesions such as myxoma, malignant lesions such as angiosarcoma, and pericardial tumors such as solitary fibrous tumors. In patients older than 16 years, the most common primary cardiac neoplasms are myxomas, lipomatous tumors, and papillary fibroelastomas. In patients younger than 16 years, the most common tumors are rhabdomyomas, teratomas, fibromas, and myxomas.
The most common presenting symptom of a cardiac tumor is dyspnea, but the manifestations of a neoplasm will depend on the location of the lesion and size. Even benign cardiac tumors may cause obstruction of blood flow, decreased cardiac output, arrhythmia, or heart failure, which can be fatal. , In addition, systemic manifestations such as fatigue, anorexia, and fever may also be seen.
Hemangioma
Clinical Considerations
Hemangiomas account for 5% to 10% of all benign cardiac neoplasms and can occur in any age group. Although patients are often asymptomatic, the most common symptom is dyspnea on exertion. Rarely patients may develop Kasabach-Merritt syndrome manifesting as recurrent thrombocytopenia and consumptive coagulopathy. These tumors can occur in any chamber of the heart but are most common in the ventricles.
Pathologic Features
At gross inspection, hemangiomas are red and hemorrhagic. On histology, there are 3 variants capillary, cavernous, and arteriovenous. The lesions are composed of a dilated mixture of mature vessels supported by fibrous connective tissue.
Imaging Features
Transthoracic echocardiography of a hemangioma reveals a solid vascular mass. On contrast-enhanced CT, hemangiomas are heterogeneous masses that may contain calcifications and avidly enhance. On MR imaging, hemangiomas are heterogeneous and hyperintense to myocardium on T2-weighted imaging and isointense to hypointense to myocardium on T1-weighted imaging ( Fig. 5 ). They enhance on first pass perfusion but may have variable enhancement on myocardial delayed imaging. Differentiation of hemangiomas from other vascular tumors, even malignant neoplasms such as angiosarcoma, can be difficult on MR imaging.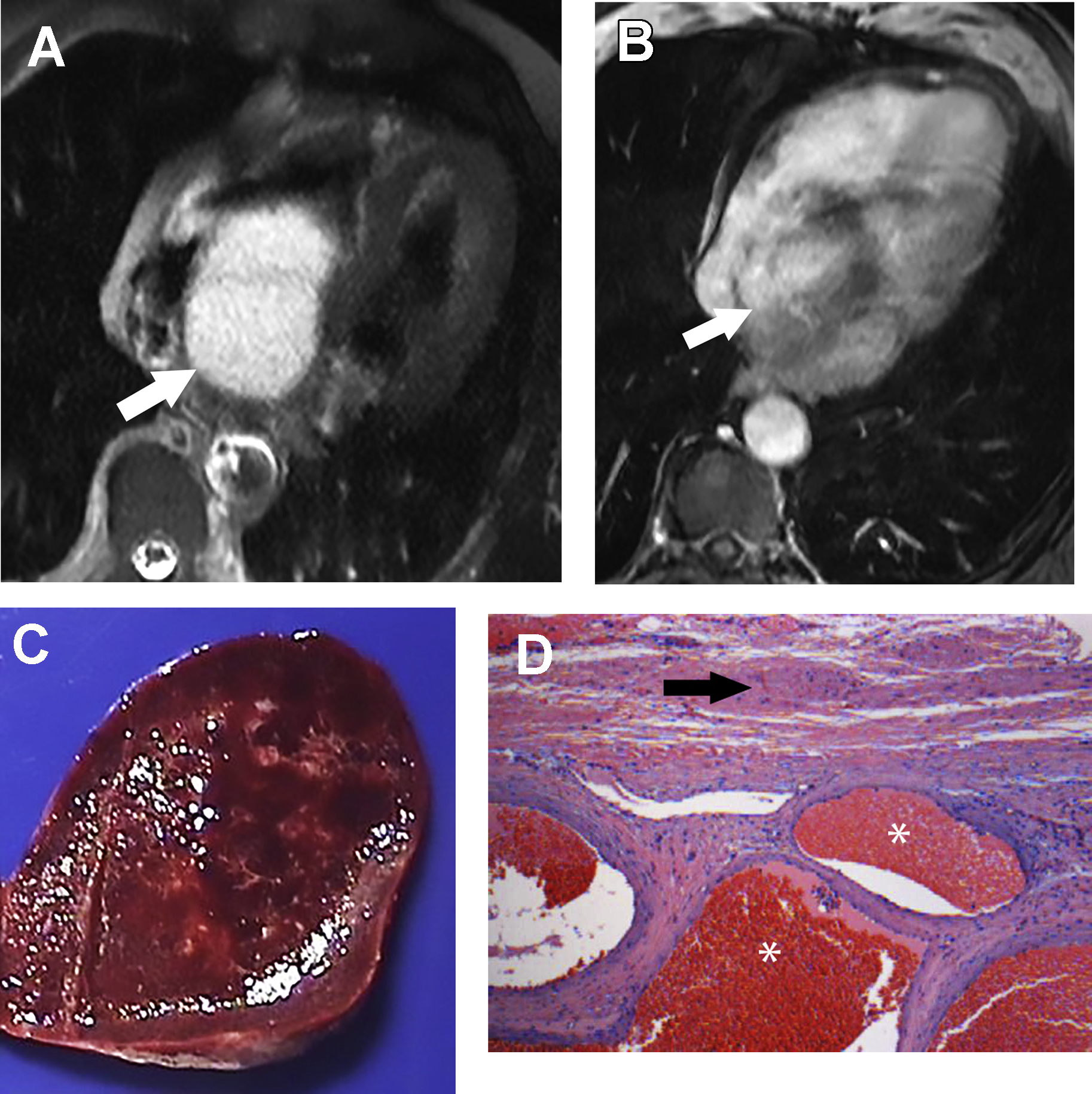 Premium Wordpress Themes by UFO Themes
WordPress theme by UFO themes