Chest USG can be done using suprasternal, parasternal, intercostal, subcostal, and subxiphoid approach; in supine, decubitus, and sitting position.
Pneumothorax is best visualized in anterior probe position.
Consolidation and effusions are best seen in posterior/lateral probe positions.
Two types of lines are seen:
A lines: Horizontal lines
B lines: Vertical lines
Interstitial lines with 7 millimeters spacing of interlobular septae.
Alveolar lines with 3 millimeters spacing of alveoli.
LUNG CONSOLIDATION (FIGURE 13.1)
Homogeneous, hypoechoic lung with echogenic punctate/linear branching structures (dynamic sonographic air bronchograms).
HEPATIZATION OF LUNG (FIGURE 13.2)
Echotexture of lung consolidation is similar to the liver in lobar pneumonia.
Compressed, collapsed lung seen as wedge-shaped echogenic lung.
PLEURAL EFFUSION (FIGURES 13.3 AND 13.4)
USG can detect as little as—3–5 milliliters of fluid in the pleural cavity. It is usually echo-free and changes its shape with respiration. Transudates are usually sonolucent; exudates may contain floating echoes, fibrin strands, septations, s/o inflammatory, or neoplastic etiology.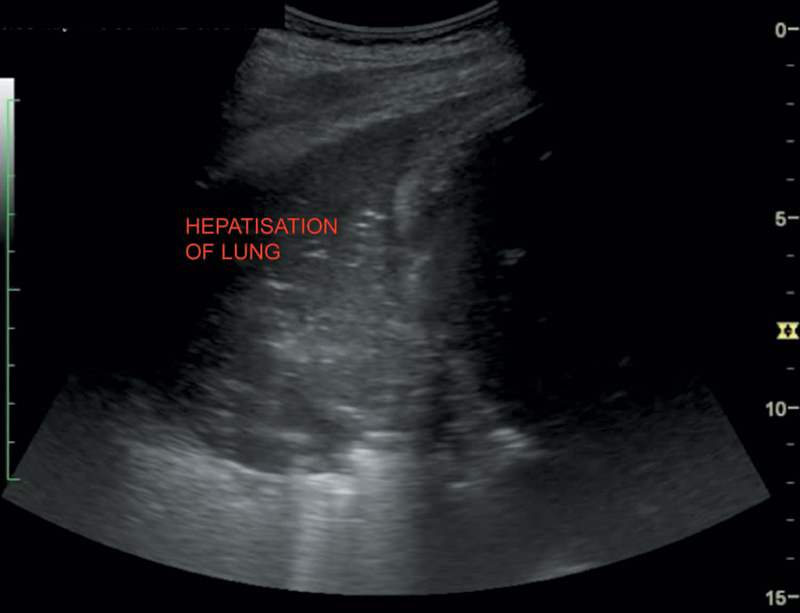 Only gold members can continue reading. Log In or
Register
to continue