Key Facts
Terminology





CSa, larynx: Cartilage-producing chondrocytic neoplasm with cellular atypia, bone destruction, or local invasion
Imaging





Expansile mass within laryngeal cartilage with intact mucosal surfaces, arc or ring-like Ca++






Most arise in cricoid > thyroid cartilage






CT: Ring-like or "popcorn" calcifications in expansile intracartilage mass









Not all tumors are calcified






Noncalcific component of mass hypodense to muscle






Cartilage/bone destruction or local invasion seen in aggressive lesions






MR: Hyperintense mass, best seen with T2 FS, STIR









T1WI C+: Heterogeneous enhancement
Top Differential Diagnoses





Chondroma









Cannot be reliably differentiated from CSa with imaging; particularly noncalcified lesions






Other sarcomas: Osteosarcoma bone forming









Synovial cell sarcoma, fibrosarcoma, malignant fibrous histiocytoma: No matrix
Pathology





Arise from hyaline cartilage: Cricoid (72%), thyroid (20%), and, very rarely, arytenoid cartilage






CSa of elastic cartilage (epiglottis) exceedingly rare
Clinical Issues





Dysphagia or palpable neck mass (with exophytic growth pattern), dysphonia, stridor






Symptoms often present for long duration, suggesting indolent process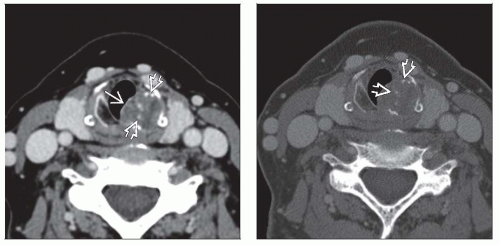 (Left)
Axial CECT in a 55-year-old woman with hoarseness shows a predominantly hypodense chondrosarcoma

arising from the left cricoid cartilage with internal calcifications

.
(Right)
Axial bone CT in the same patient shows more clearly the multiple internal calcifications

within the chondrosarcoma. Laryngeal chondrosarcoma arises from the cricoid cartilage approximately 70% of the time.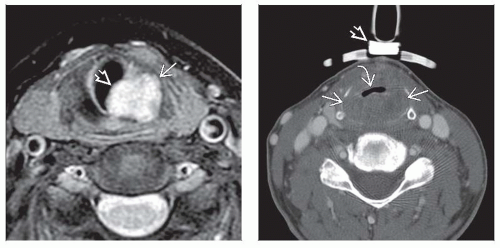 (Left)
Axial T2 fat-saturated MR in the same patient shows CSa as a hyperintense mass

impinging on the subglottic lumen

.
Lack of heterogeneity is surprising given the CT evidence of intramural calcifications.
(Right)
Axial bone CT in a different patient shows a noncalcified low-grade CSa

.
In such a case, imaging cannot differentiate chondrosarcoma and benign chondroma. Note the tracheostomy apparatus

,
necessitated by airway compromise

caused by the tumor.
TERMINOLOGY
Definitions





CSa, larynx: Cartilage-producing chondrocytic neoplasm with cellular atypia, bone destruction, or local invasion
IMAGING
General Features





Best diagnostic clue









Expansile mass arising within laryngeal cartilage with intact mucosal surfaces, arc or ring-like calcification






Location









In larynx, most arise in cricoid (posterior or posterolateral) > thyroid cartilage (inferolateral)









Cricoid cartilage: 72%, thyroid cartilage: 20%






Rare in arytenoid cartilage or epiglottis






Typically subglottic in location






Size









1-6 cm






Often large at presentation if airway is spared









Tumor growing away from laryngeal lumen






Morphology









Bulky, lobular mass






Chondroid matrix typical
Radiographic Findings





Radiography









Mass of variable density may be exophytic from laryngeal cartilage or grow inward thereby narrowing the laryngeal air column






Stippled calcifications
CT Findings





NECT









Ring-like or "popcorn" calcifications in expansile mass arising from cricoid or thyroid cartilage with smooth mucosal covering






Not all tumors are calcified









Noncalcific (soft tissue) tumor component hypodense to muscle