Computed tomography colonography (CTC) is a low-dose, cross-sectional imaging examination optimized for the detection of colorectal polyps and masses. As a result of advanced computer 3D postprocessing, a popular misperception is one of an imaging analogue to optical colonoscopy in which a 3D model is used to view the mucosal surface of the interior of the colon. However, CTC is fundamentally a different examination, using 2D images and 3D datasets in the interpretation of mucosa, deeper structures, and even processes beyond the colon. Since its introduction in 1994, CTC has matured into a clinically effective modality. Central to this transition are technologic advances in computer hardware and software that have allowed the easy acquisition and manipulation of large volumetric CT data sets. Performance in low polyp prevalent screening populations has now been validated in a number of prospective clinical trials, with a general consensus that CTC performs substantially better than double-contrast barium enema and is equivalent to optical colonoscopy for clinically relevant polyps and masses.
This chapter will provide a comprehensive overview of this modality. The technical components that comprise the examination, including bowel preparation, colonic distention, and image acquisition, as well as alternative CTC approaches such as noncathartic or laxative-free (previously mislabeled as "prepless") protocols, will be discussed. Interpretation will be covered in detail, including common strategies currently in use. The mechanics of interpretation will be highlighted, with coverage of the more common and important pitfalls that can affect the accuracy of this process. The indications and uses for CTC will be examined, outlining the optimal screening target and the polyp-carcinoma sequence that forms the underlying rationale of the selective polypectomy strategies for CTC-based screening. In addition to screening, diagnostic applications for CTC and the evaluation of colorectal cancer (CRC) staging will be covered. Finally, pertinent issues central to CTC will be examined, including radiation dose, complications, and extracolonic (incidental) findings.
Technical Components
CT colonography is a multicomponent examination that is undertaken over several days. The major technical components include bowel preparation, colonic distention, and image acquisition. A programmatic or team approach is favored because it allows each portion of the procedure to be optimized for reproducible, high-quality examinations. Thus, a nurse program coordinator can answer patient questions on bowel preparation in the days prior to the scan to minimize preparation failure, and the technologist can optimize the bowel distention while the patient is on the scanner table. The radiologist can interpret the examination and forward the results for further coordination of care to be undertaken by the program nurse. Such division of labor allows the radiologist to concentrate totally on interpretation. Without a team approach, the technical components are often addressed in a less complete fashion. A breakdown in any study component ultimately limits the potential impact of the overall examination.
The traditional approach to CT colonography involves a fully cleansed and tagged colon. Alternate methods have been investigated, including laxative-free techniques, but large multicenter validation studies remain to be done. Once the colon has been prepared, it is distended with gas (carbon dioxide or room air) and finally imaged with a low-dose, thin collimated technique in a minimum of two patient positions. The following sections outline the principles and major strategies in use for the technical components of the examination. In addition, common problems that may arise will be addressed. The protocol at the University of Wisconsin (UW) is highlighted as one specific solution.
Interpretation
Once the technical aspects of the CTC examination are complete, the datasets can be networked to a workstation to allow 2D and 3D review. The main objective of interpretation is to identify soft tissue polyps and exclude pseudopolyps, typically related to retained feces or thickened folds. There is general consensus that an unavoidable learning curve exists for CTC. CTC interpretation requires the traditional cross-sectional skills from CT as well as additional CTC-specific skills for accurate interpretation. Two major strategies were initially proposed, defined in terms of detection: (1) a primary 2D approach with 3D problem solving; and (2) a primary 3D approach with 2D confirmation. Most recently, a combined approach has been favored. All detection strategies ultimately use a common characterization pathway, and the process of interpretation (regardless of specific detection approach) can be broken down into two major tasks, as described here.
There are two general tasks of interpretation with CTC. The first is one of detection, in which focal intracolonic structures that potentially represent a polyp are identified (with 2D or 3D review). Once a list of possible polyps is established, the second task is characterizing each of these possible polyps—the soft tissue polyps are confirmed and the pseudopolyps are excluded. It is this step in interpretation in which the true skill in interpretation resides (i.e., achieving high specificity is more challenging than high sensitivity). If this cannot be done well, too many patients are sent on to colonoscopy for false-positive CTC examination results from pseudopolyps. Young and colleagues have shown that nonradiologists can detect potential polyps with similar sensitivities to radiologists at the 8-mm threshold but at the expense of specificity (78% vs. 92.2%, respectively). This suggests that nonradiologists do not have critical cross-sectional characterization skills.
The property of polyp coating from tagging agents is an important phenomenon that has now been recognized. It positively affects detection and characterization, perhaps most importantly for flat polyps. As noted earlier (see "Bowel Preparation"), tagging agents adhere to true polyps while are washed away from the normal mucosa. This serves to draw attention to possible polyps, particularly on the 2D view, and helps increase confidence that a polyp is real (by demonstrating this property). One pitfall is not to mistake poorly tagged stool or adherent plaques of tagged stool as coated polyps (see later, "Characterization").
Detection
Regarding detection, there had been a heated debate in the literature about the optimal method, a primary 2D approach or primary 3D approach. A primary 2D approach consists of interrogating a stack 2D dataset, typically in the transverse plane ( ). The mechanics are similar to viewing a standard CT, in which the reader scrolls interactively through a stack of images in polyp window settings (2000 W, 0 L). The colon is traced from rectum to cecum with the intent of detecting focal soft tissue projections into the colonic lumen. The difficulty of this approach is distinguishing between a focal polyp and colonic haustral fold. On a single image, a colonic fold can present as a focal polyp; it requires scrolling through to ascertain its elongated nature ( Fig. 53-6 ). Once experienced, the reader can be very effective at quickly detecting polyps by this approach. However, it requires sustained concentration, which can be somewhat tedious. The 2D search pattern is analogous to detecting pulmonary nodules on a chest CT and distinguishing them from pulmonary vessels.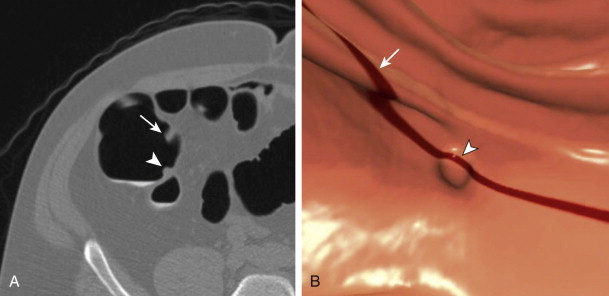 A primary 3D approach uses postprocessing of the 2D dataset into a 3D perspective. The reading mechanics are completely different and involves traveling through a tubular 3D environment, typically on a preprogrammed course (see ). When needed, the reader can then break off this fly-through to interact freely in this 3D environment and visualize an area of concern from any angle. The 3D approach holds the advantage that differentiating potential focal polyps from colonic folds is easily done from this perspective (see Fig. 53-6 ). The mental translation into a 3D structure that is needed for a primary 2D approach has been undertaken by a computer. Whereas from a 2D perspective, a haustral fold can appear polyp-like until assessed in detail, such is not the case at 3D where they are instantly recognizable as different entities. A disadvantage of this approach is that 3D relies on surface morphologic cues only as compared to the 2D approach, which uses morphologic and attenuation cues simultaneously. Thus, any retained stool, despite its tagged status, would appear as a polyp at 3D and require evaluation of the 2D source data for confirmation. Also, areas of colonic collapse or segments with residual fluid are not well evaluated with a 3D approach, and the reader may not be aware of their existence on that series. Typically, however, 3D evaluation is possible on the complementary series as fluid moves away and gas distends these areas on the second series.
The standard 3D viewing option is an endoluminal perspective. Traditionally, a fly-through consists of passage from the rectum to the cecum and then from the cecum to the rectum to allow both sides of the colonic folds to be visualized. Often, the field of view is widened at 120 degrees. In addition to the standard endoluminal view, there are alternate advanced 3D displays in use, including the filet view, unfolded cube, and band view ( Fig. 53-7 ). These increase visualization (behind folds) and thus speed of interpretation, but at the cost of increased spatial distortion.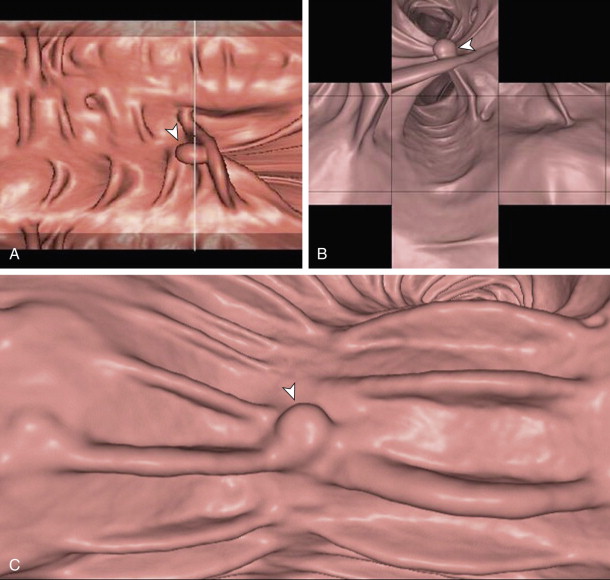 Despite the prior controversy regarding detection ap­proaches, there is now general consensus that a combination of 2D and 3D is required for optimal polyp detection. In practice, it has become obvious that the approaches are complementary; polyps or masses that are difficult to visualize by one perspective are easily seen by the other. For the 2D approach, there are some polyps that project off the colonic mucosa or off the end of the fold at an angle relative to the axial plane that are difficult to detect because the reader perceives the polyp as a fold or an extension of the fold ( ). In addition, polyp shape at 2D can cause difficulties in detection ( ). Both situations are not problem areas at 3D. For 3D, polyps submerged in the polyp pool can be missed ( ). In addition, underdistended areas can make the determination of lesions difficult because the walls become irregular as a result of their partially collapsed state. Focal areas of collapse related to an annular cancer with the 3D approach can be misinterpreted and missed if not evaluated with a 2D approach ( Fig. 53-8 ). By combining 2D and 3D detection, the complementary nature of the approaches allows a polyp to be seen when not evident by one perspective. In addition, the added redundancy of interacting with the imaging dataset multiple times during a combined approach further decreases the possibility of missing polyps.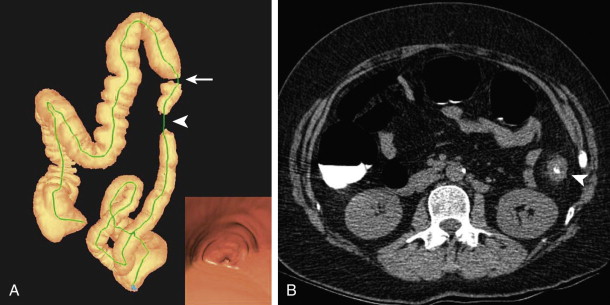 Premium Wordpress Themes by UFO Themes
WordPress theme by UFO themes