Before the development of mammography, the detection of abnormalities in the breast was largely based on visual inspection and palpation. This has dramatically changed in the last half of the 20th century. The successive development of mammography, ultrasound, and breast magnetic resonance imaging (MRI) has made imaging of the breast indispensable. Moreover, the development of image-guided needle biopsy has virtually obviated the need for surgery of benign breast lesions.
Using Conventional Breast Imaging in Clinical Practice
The type and amount of breast imaging used is highly dependent on the clinical scenario and the questions to be answered. In general, four categories can be discerned: (1) screening of asymptomatic women, (2) assessment of patients with breast findings, (3) staging and monitoring of patients with proven breast cancer, and (4) follow-up of treated patients. The latter basically returns to the first situation (i.e., surveillance is a form of screening). In each setting the demands of imaging differ, and consequently the respective roles of the different imaging modalities vary.
BI-RADS Scores
Assessment of images should lead to a clear evaluation that can easily be understood by others, and that heralds the next steps in the evaluation program. There are several systems around that try to summarize the findings in a number that is simple to interpret. By far, the most commonly used approach is the BI-RADS score, which runs from 0 to 6. BI-RADS scores and their meaning are given in Table 2.1 .
Table 2.1
| | | |
| --- | --- | --- |
| BI-RADS 0 | Incomplete | Additional imaging necessary |
| BI-RADS 1 | Negative | No abnormalities |
| BI-RADS 2 | Benign | 0% likelihood of malignancy |
| BI-RADS 3 | Probably benign | <2% likelihood of malignancy |
| BI-RADS 4 | Suspicious for malignancy | 2%–94% likelihood of malignancy |
| BI-RADS 5 | Highly suggestive of malignancy | >95% likelihood of malignancy |
| BI-RADS 6 | Known biopsy-proven malignancy | |
BI-RADS 4 is further subdivided in 4 A (2%–9%), 4B (10%–49%), and 4 C (50%–94%). In essence, BI-RADS scores 4 and 5 imply that a lesion should be biopsied. For lesions interpreted as BI-RADS 3, short-term follow-up may be recommended. However, to downgrade a lesion from BI-RADS 3 to BI-RADS 2 requires 2 years of negative follow-up, and many women prefer biopsy over this extensive surveillance.
Screening of Asymptomatic Women
In 1968 the World Health Organization listed criteria that should be applicable when offering screening for a disease. These criteria are listed in Table 2.2 and are still applicable generally.
Table 2.2



•




The condition should be an important health problem.



•




There should be a treatment for the condition.



•




Facilities for diagnosis and treatment should be available.



•




There should be a latent stage of the disease.



•




There should be a test or examination for the condition.



•




The test should be acceptable to the population.



•




The natural history of the disease should be adequately understood.



•




There should be an agreed policy on whom to treat.



•




The total cost of finding a case should be economically balanced in relation to medical expenditure as a whole.



•




Case-finding should be a continuous process, not just a "once and for all" project.
There is no doubt that breast cancer is an important health problem, considering the fact that in 2018 almost 700,000 women died from this disease, despite the presence of a treatment. Screening for breast cancer is built on the paradigm that breast cancer–specific survival increases because earlier treatment is more effective. It should be realized that this is not necessarily true. When breast cancer is in general already metastasized from its onset, then earlier treatment of the disease locally will not make a difference. Moreover, when tumor stage at detection neither affects survival nor the selection/aggressiveness of therapy, the screening paradigm will be broken. However, currently, this is far from reality.
Randomized controlled trials performed with mammography in the second half of the 20th century proved that the screening paradigm was valid. Average tumor size in most studies decreased, and with it the breast cancer–specific mortality decreased. In meta-analysis of these studies, the invitation to screen leads to a mortality reduction of approximately 20%. This says little about the actual effect of screening, but it also takes the acceptability of the screening test for the population into account. Case-control studies in which women actually screened are compared with those who are not screened report a much higher reduction of mortality due to mammographic screening on the order of 40%. Current international recommendations uniformly recommend screening in women between the ages of 50 and 70. Variations occur due to differences in the age groups invited (range roughly 40–75) and the frequency at which the screening test is offered (annually or once every 2–3 years). These variations are based on the expected efficiency of the screening test in the population and the value attributed to early cancer detection relative to the negative values attributed to the downsides of screening.
Apart from having to undergo the screening test, screening comes with two typical disadvantages. The first is overdiagnosis, which refers to the detection of cancers that would never become symptomatic in the woman's lifetime. This defines the upper age limit to which screening is useful, because after that age earlier detection of breast cancer is unlikely to contribute to better survival (i.e., the fraction of overdiagnosis goes up with increasing age).
The second disadvantage is the detection of false positives. This refers to a situation in which the screening test points to a possible abnormality that might or might not be breast cancer but that turns out to be benign after further workup. In essence, "false positive" is a misnomer, as screening is aimed to separate women who are most likely cancer-free from those who may or may not have breast cancer. For the latter group, the investigation is simply not finished but requires additional imaging tests or even image-guided biopsy before a final verdict can be given (see Fig. 2.6 ). Nonetheless, such supplemental studies have been shown to temporarily increase the stress women experience and should thus be limited as much as possible. False-positive findings occur more frequently when the screening test is repeated more frequently, and thus they are affected by the screening frequency. However, by comparing the new screening examination to prior studies, the number of false positives can be strongly reduced (depending on the country and the recall policy, between 2% and 10%).
The biggest shortcoming of mammographic screening is not in its findings, however; rather, it is the underdiagnosis of relevant cancers (i.e., the lack of findings in women who actually do have significant breast cancer). This is evident in the fact that even in women screened, a significant fraction of cancers presents with symptoms in between two screening rounds (i.e., interval cancers), and also from the fact that a significant fraction of cancers detected through screening are over 2 cm in size and/or already have lymph node metastasis at the time of detection. Consequently, there is a strong need to improve breast cancer screening.
In the last decade, much effort has been put into evaluation of tomosynthesis as an alternative screening test. Several large case-control studies showed increased cancer detection with tomosynthesis over mammography, usually on the order of 1 to 2 in 1000 screens. In the United States, where recall rates are traditionally high, the use of tomosynthesis leads to an increase in specificity. However, in Europe, where recall rates are traditionally much lower, the effect is reversed, and the increased detection of cancer with DBT also slightly reduces the specificity. Overall, the cancers detected with DBT are similar to those observed on mammography, both in size and nodal status. However, follow-up on several of these studies now seems to show an overall reduction of interval cancers, with reported values ranging from 0% to 40%. Thus DBT seems to be somewhat better than mammography for screening purposes. However, this comes at a price that is mainly problematic in population-based screening programs. Reading tomosynthesis takes on average about twice the time that is required for assessing a mammogram and therefore would require a strong increase in the number of evaluating radiologists in such programs. This is not so much an issue in the United States, where screening is mainly hospital based; therefore DBT has been largely embraced as the new screening modality in the United States, whereas it is not commonly used within Europe for screening.
Ultrasound is not commonly used as a first-line screening technique but rather as a supplement to mammographic screening. Although the sensitivity of ultrasound for breast cancer is likely higher than that of mammography, it is much harder to document the entire breast with ultrasound. A structured assessment of both breasts is reported to take approximately 21 minutes and requires a skilled operator. Because only abnormalities are structurally documented, it is also much harder to compare new ultrasound acquisitions to prior images, which adds to the already high false positive rates. Still, in women with dense breasts, ultrasound is commonly used as a supplemental screening technique. Reported supplemental cancer detection rates after negative mammography range between 1 and 7 in 1000 screens. In direct comparison to tomosynthesis, the yield is approximately double. The use of ultrasound as a supplemental screening technique was reported to reduce the interval cancer rate by 50%. However, reported false-positive rates are up to 25%, which seriously hampers the implementation. In practice, the recall rate is usually lowered by only including clearly solid suspicious lesions and leaving out all probably benign lesions. Consequently, the increase in cancer detection is much lower than in the prospective studies. For example, Lee and colleagues reported no increase in cancer detection in women screened with mammography and ultrasound over mammography alone (5.4/1000 vs. 5.5/1000) but did report a strong increase in false-positive findings leading to biopsy (52/1000 vs. 22/1000). This implies that the use of ultrasound for screening is somewhat questionable even when it is undoubtedly true that ultrasound can show cancers that are not visible on mammography.
Breast MRI has been tested as a supplemental screening modality since the start of this century, and its role has been ever expanding. MRI is primarily used in populations with a high likelihood of developing breast cancer, in which conventional screening with mammography and DBT is particularly poor. Based on a number of large comparative multicenter studies, which showed that breast MRI roughly doubles the sensitivity of mammography, in 2007 the American Cancer Society issued guidelines to define who to screen with breast MRI. They concluded that combined mammography and MRI screening was indicated in women with hereditary breast cancer, including those with BRCA1, BRCA2, PTEN, and STK11 mutations that all lead to a lifetime risk of more than 50% to develop breast cancer. Moreover, screening in these women should start at the age of 25, as they are prone to breast cancer development much earlier than the general population. This list was later supplemented with other genetic mutations that also lead to increased risk for the development of breast cancer, such as CDH1, PALB2, and ATM. Apart from these groups of women with hereditary gene mutations, also women with a personal history of chest irradiation during puberty (usually for lymphoma/leukemia) were deemed eligible for MRI screening, as their risk is more or less similar. Reported positive predictive values of breast MRI in a screening setting range between 20% and 40%; these are generally comparable to those from mammography and much better than those reported for ultrasound. Still, it should be realized that this leads to somewhat higher absolute numbers of false-positive findings, as the number of cancers detected is higher.
Although the American Cancer Society also recommended to screen women with a lifetime risk of between 20% and 50% based on family history with supplemental MRI screening, this recommendation was followed less often due to concerns about cost-effectiveness. However, this was recently shown to be both effective and cost-effective ( Fig. 2.7 ). In the last decade, research on the value of breast MRI for screening focused mostly on women in such intermediate risk groups and even in women at average risk. It was shown that breast MRI has far higher sensitivity than mammography in women with a personal history of breast cancer, women with lobular carcinoma in situ, atypical ductal hyperplasia, and other epithelial atypias on biopsy. Also, MRI outperforms mammography in women with extremely or heterogeneously dense breasts on mammography, and even in women at average risk in general. In a landmark randomized controlled trial in women with extremely dense breasts (Dense Tissue and Early Breast Neoplasm Screening [DENSE]), supplemental cancer detection after a negative mammogram was 16.5 in 1000. It was shown that breast MRI reduces the rate of interval cancers by approximately 85% and causes a major stage shift that leads to all cancers detected in follow-up screening rounds to be stage 0 or 1 and all node negative.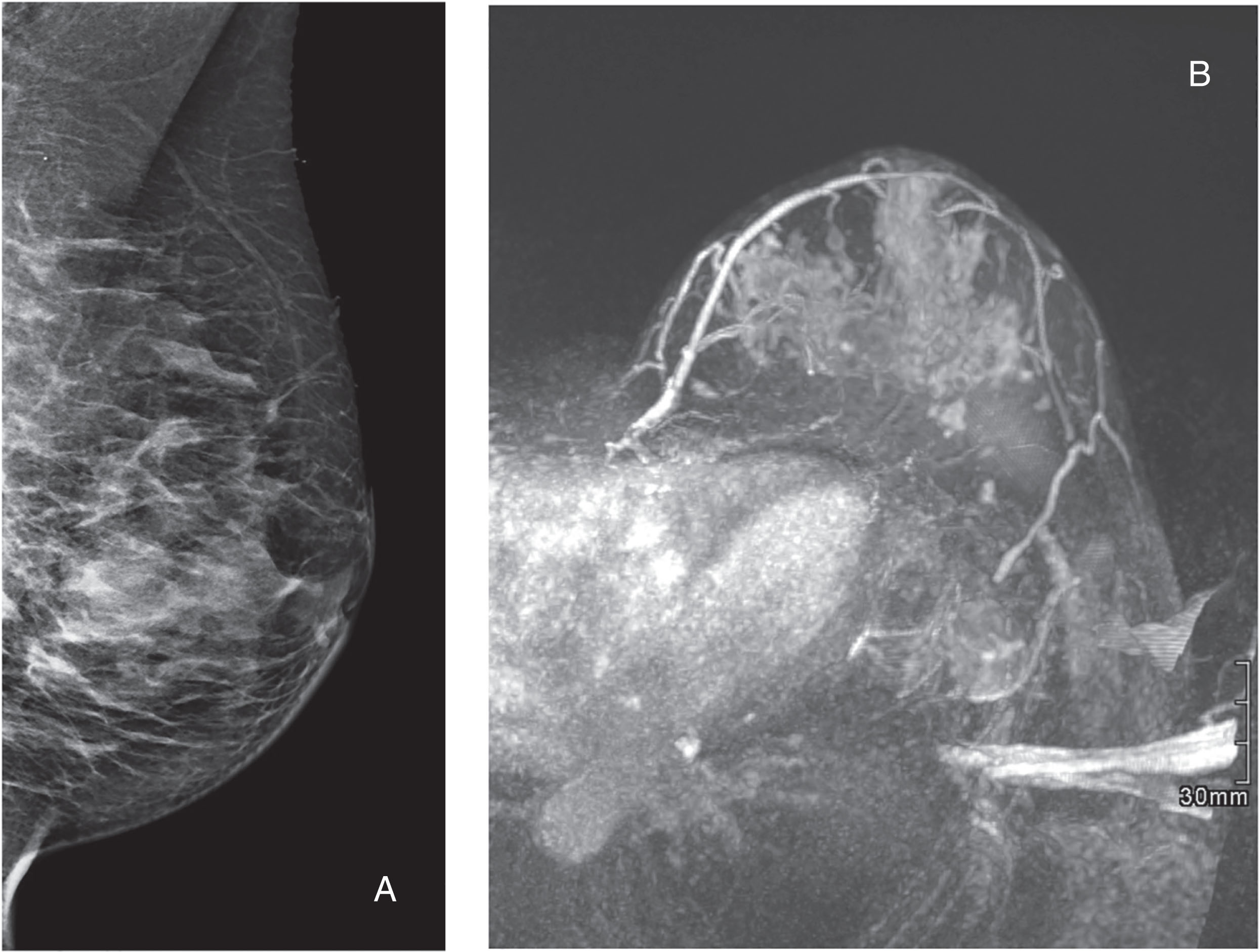 Get Clinical Tree app for offline access