Core Examination
Currently, eligible trainees can sit for the Core Examination following completion of 36 months of residency training. The Core Examination is computer based and image rich and covers 18 subspecialty and modality areas. Examinees must pass all categories to receive a passing result.6
Certifying Examination
Radiologists can sit for the Certifying Examination no sooner than 15 months following completion of residency training and only after receiving a passing result on the Core Examination. Unlike the Core Examination, which examines all subspecialties and modalities, the Certifying Examination allows examinees to select the areas in which they wish to be examined on the basis of training, experience, and practice emphasis. Up to three subspecialty areas can be selected. The Certifying Examination also includes a module in noninterpretative skills such as quality and safety, professionalism, and ethics, as well as an "Essentials of Diagnostic Radiology" module that focuses on "basic knowledge that every radiologist should know, such as recognizing child abuse, pneumothorax, shock bowel, and subdural hematoma."7
Board Eligible and Board Certified
Upon successful completion of residency training, radiologists are deemed "Board Eligible" by the ABR and have six full calendar years from the end of training to receive certification in diagnostic radiology from the ABR. Upon successful completion of both the Core Examination and the Certifying Examination, diplomates are "Board Certified" by the ABR.5
Subspecialty Certificates
The ABR offers subspecialty certificates (formerly certificates of added qualification) in pediatric radiology, neuroradiology, vascular and interventional radiology, nuclear radiology, and hospice and palliative medicine. These certificates are intended for radiologists who have undergone additional training in these areas. Certification and maintenance of certification (MOC) in these subspecialties are integrated into the overall certification and MOC processes.
Maintenance of Certification
The ABMS mandates that all member specialty boards require MOC for their respective diplomates. Up until 2002, the ABR issued lifetime certificates in diagnostic radiology, and holders of these certificates retain their lifetime board certification. Beginning in 2002, all diplomates in diagnostic radiology were issued time-limited (10 years) certificates by the ABR. Holders of time-limited certificates are required to enroll in the ABR's MOC program. In 2012, the ABR transitioned from a 10-year MOC cycle to Continuous Certification, in which new and renewed certificates no longer have "valid-through" dates but rather state, "Ongoing validity of this certificate is contingent upon meeting the requirements of Maintenance of Certification."8
MOC consists of four parts, the requirements of which must be met in order for diplomates to maintain their board certified status with the ABR (Table 12.2). These four parts evaluate the six core competencies designated by the ACGME and ABMS (Table 12.3). The ABR uses a three-year look back to determine whether or not a diplomate is meeting MOC requirements.9 In 2012, ABMS began reporting on its public website whether or not each physician certified by the 24 ABMS member boards is meeting MOC requirements. The ABR reports publically on its own website and includes radiologists with lifetime certificates who are not required to participate in MOC.
Part 1: Professional Standing—Diplomates must maintain active, current, valid, and unrestricted medical licenses relevant to all locations of practice.
Part 2: Lifelong Learning and Self-Assessment—Diplomates must complete 75 AMA PRA Category 1 Credits, of which at least 25 must be self-assessment–continuing medical education (SA-CME) credits, every 3 years.
Part 3: Cognitive Expertise—Diplomates must pass an ABR MOC or initial certification examination within the last 10 years. The MOC exam is computer based and image rich and consists of four modules, one in noninterpretative skills and three in up to three different subspecialty areas based on the diplomate's reported practice profile.
Part 4: Practice Quality Improvement (PQI)—Diplomates must complete at least one PQI project in the previous 3 years. PQI projects can be individual or group projects, but each diplomate must report his own participation to the ABR. Diplomates can design their own PQI projects or select from a variety of projects sponsored by professional societies. Alternatively, diplomats can engage in other quality-related activities such as regular participation in multidisciplinary conferences, serving on a quality committee, or participating in a root cause analysis.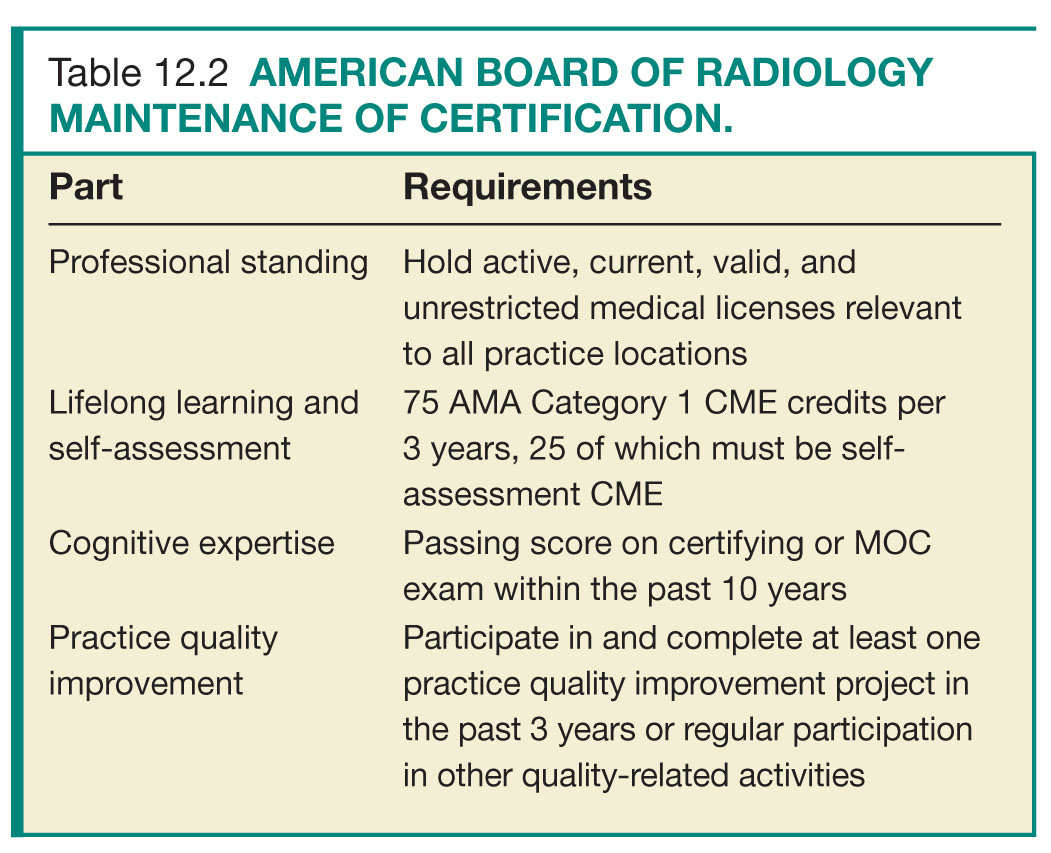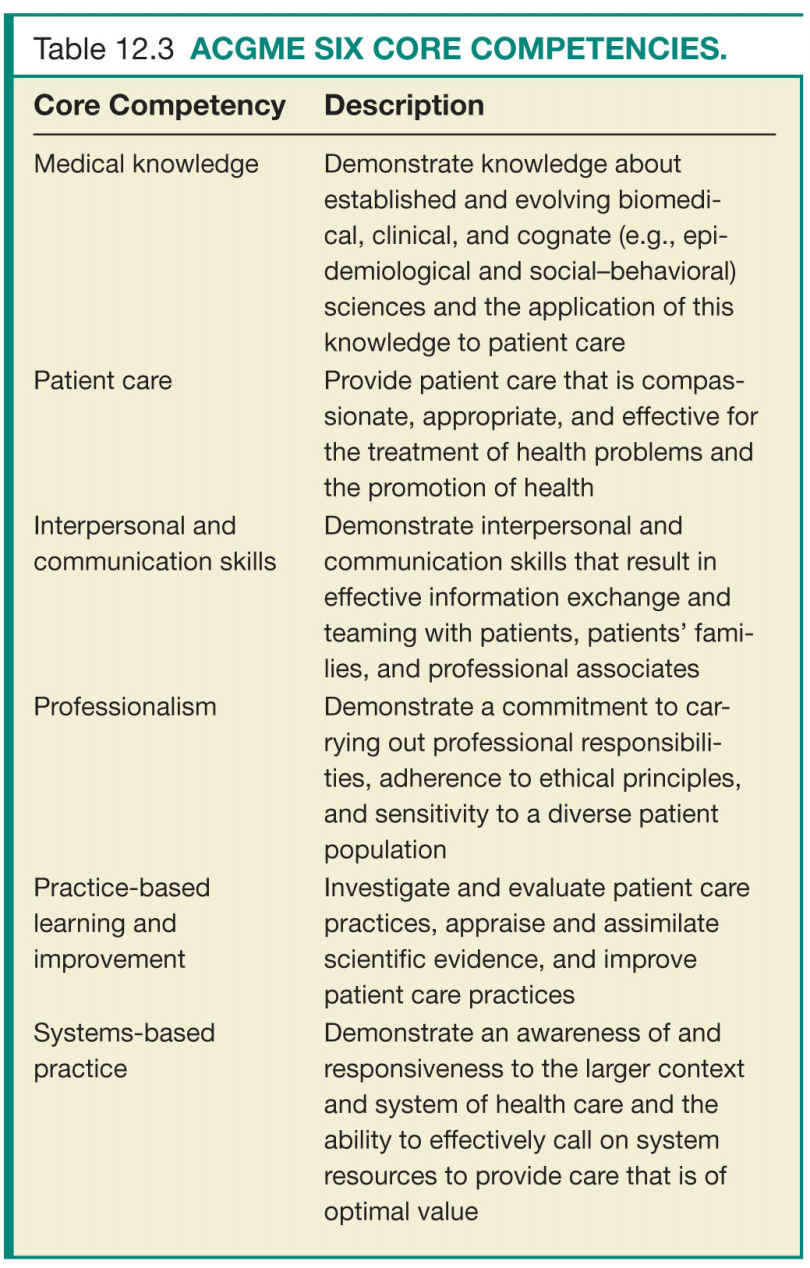 Focused Practice Recognition