Genital Tract and Bladder Ultrasound
Female Genital Tract
US is the primary imaging modality for the evaluation of the female genital tract and pelvis (
1
). Indications for pelvic US examination include infertility, pelvic pain, disorders of menstruation, abnormal or limited physical examination, suspicion of mass or infection, and localization of intrauterine contraceptive device (IUD) (
2
). US is used as an adjunct to physical examination to confirm the presence or absence of a pelvic mass; evaluate its size, contour, and character; determine the organ of origin; evaluate for involvement of other organs; and detect the presence of ascites, hydronephrosis, and metastases. The US examination is usually initiated with a transabdominal approach using the distended urinary bladder as a window to the pelvis. The transvaginal US is performed with the bladder empty and provides the most detailed evaluation. Color flow US is used to identify pelvic blood vessels, identify vascular lesions of the pelvis, and to demonstrate tumor vascularity. Saline infusion sonohysterography (SHG) utilizes real-time US imaging of the uterus during injection of the uterine cavity with sterile saline to detect and characterize abnormalities of the uterus and endometrium (
3
).
Uterus
The causes of thickening of the endometrium include the following:
The precise diagnosis is determined by endometrial biopsy. Pregnancy must never be forgotten as a possibility.
Ovaries and Adnexa
Normal US Anatomy
. The term adnexa refers to the ovaries, fallopian tubes, broad ligament, and ovarian and uterine
vessels, all of which may be involved in pathological conditions. US demonstrates the ovaries as oval soft tissue structures with multiple small cystic follicles. The ovaries average 4 × 3 × 2 cm in size, with a maximum of 5 cm in any one dimension. The maximum ovarian volume for an adult woman, calculated by the standard formula (length × width × height × 0.52), is 22 cc. The ovaries show characteristic morphological changes with the menstrual cycle. Following menstruation, the ovaries are at their smallest, with the follicles measuring less than 5 mm. During the estrogen phase, follicles enlarge to 10 to 15 mm size, with one dominant follicle attaining 20 to 30 mm size by midcycle (
Fig. 36.14
). Rupture of the dominant follicle releases the ovum and the
corpus luteum
forms at the site of the dominant follicle. Ovulation releases fluid which pools in the cul-de-sac. All remaining follicles normally involute following ovulation. Hemorrhage into the corpus luteum or any follicle produces a
hemorrhagic functional cyst
. The ovaries vary widely in location, but usually lie in a shallow ovarian fossa in the angle between the external iliac vessels anteriorly and the ureter posteriorly, with the fallopian tubes draped over and around them. The fallopian tubes are not visualized unless enlarged; however the broad ligament is clearly seen when it is outlined by fluid in the pelvis.
Postmenopausal ovaries
are atrophic, lack follicles, and are often difficult to visualize. Mean ovarian volume decreases from 8 cc at age 40 to 44 years to less than 1.0 cc at age 70 years. Maximum ovarian volume in a postmenopausal woman is 6 cc. In infants up to 24 months of age, the ovaries are small with a mean volume of 1 cc and a maximum volume of 3 cc. Focal
calcifications
in otherwise normal appearing ovaries are a common and benign finding.

Figure 36.12.
Uterine Arteriovenous Malformation (AVM). A
. Gray-scale US reveals a cystic-appearing mass (
arrow
) in the anterior wall of the uterus.
B
. Color Doppler US image in the same longitudinal plane demonstrates the bright network of tangled blood vessels that make up an AVM.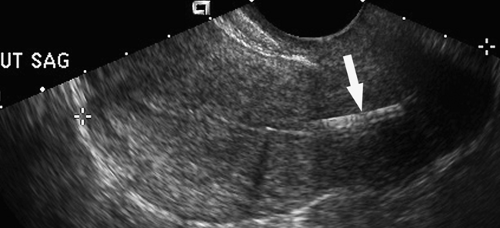 Figure 36.13.
Intrauterine Contraceptive Device (IUD) Low in Position
. Sagittal plane transvaginal image of the uterus shows the IUD (
arrow
) aberrantly positioned in the lower uterine segment. The IUD is seen as a bright linear echo with reverberation artifact. An IUD in this position is ineffective as a contraceptive.
Follicles
are normal physiologic structures on the ovary. Follicles are thin walled, contain anechoic fluid, and are arranged around the periphery of the ovary (
Fig. 36.14
). Normal follicles range up to 15 mm size, whereas the dominant follicle may be 30 mm in diameter just prior to ovulation. Follicles should be called follicles and should not be called cysts because "cyst" implies a pathologic finding (
16
).
Normal corpus lutea
are formed by rupture and collapse of the dominant follicle during ovulation. The corpus luteum functions secreting progesterone and estrogen. It initially appears as solid, vascular portion of the ovary (collapsed cyst appearance) (
Fig. 36.15
). It forms a small cystic mass (<3 cm) often with internal echoes, fluid levels, or meshlike internal structure (hemorrhagic cyst appearance). Its walls are typically thicker than the wall of normal follicles. Color Doppler shows an intensely vascular "ring of fire." If pregnancy does not occur, the normal corpus luteum involutes. If it fails to involute, or if hemorrhage occurs, it enlarges to 4 to 5 cm to become a functional ovarian cyst or a hemorrhagic ovarian cyst. If pregnancy occurs, the corpus luteum persists as a physiologic cystic structure through 16 to 18 weeks gestation.
Functional ovarian cyst
is the most common ovarian mass (
Table 36.2
). Small cysts, up to 3.0 cm, should generally be considered to be normal follicles (
17
). Pathologic
follicular cysts
up to 20 cm result from excessive accumulation of fluid or internal hemorrhage. They basically represent follicles or corpus lutea that fail to regress. Functional cysts may rupture or undergo torsion. Diagnosis is made by the demonstration of a round, smooth, usually unilocular ovarian cyst (
Fig. 36.16
) that resolves on follow-up examination after one or two menstrual cycles. Anechoic thin-walled cysts (simple cysts) that fail to resolve after two menstrual cycles may be neoplasms (cystadenomas or benign cystic teratomas); however they are extremely unlikely to be malignant. The Society of Radiologists in Ultrasound recommends yearly follow-up of "simple" adnexal cysts greater than 5 cm (
17
).
Hemorrhagic ovarian cysts
result from hemorrhage into a follicle or the corpus luteum. Patients present with pelvic pain, often abrupt in onset, pelvic mass, or may be asymptomatic. Hemorrhagic ovarian cysts are common in premenopausal women and very rare in postmenopausal women unless they are taking hormone-replacement therapy. US shows a broad spectrum of findings (
18
): (
1
) the key finding is a cystic mass with internal echoes; (
2
) accentuated through-transmission reflects its cystic nature; (
3
) wall thickness is variable (2 to 20 mm); (
4
) blood flow in the wall is commonly prominent
and does not differentiate hemorrhagic cyst from tumor; (
5
) internal echogenicity depends upon the physical state of the hemorrhage; (
6
) the cyst may appear solid, but color flow US shows no internal blood vessels; (
7
) retracting clots adherent to the wall mimic neoplastic papillary projections but lack blood flow; (
8
) a web-like pattern of lacy internal echoes representing fibrin strands is characteristic (
Fig. 36.17
). Particulate matter within hemorrhagic cysts may demonstrate
acoustic streaming
described as the movement of particulate matter in fluid in the direction of the sound beam away from the transducer. Endometriomas, which may otherwise appear identical to hemorrhagic cysts, do not show acoustic streaming. Rupture of a hemorrhagic cyst causes acute pain and results in hemoperitoneum. Follow-up US usually shows complete resolution within two menstrual cycles.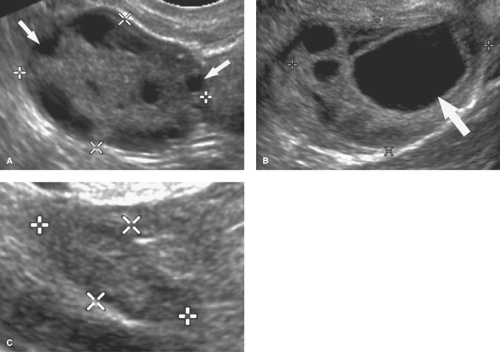 Figure 36.14.
Normal Ovaries. A
. Transvaginal US shows a normal ovary (between
cursors
, x, +) with follicles (
arrows
) in a woman of childbearing age. Follicles are normal physiological structures that serve as US landmarks for the identification of the ovary.
B
. This ovary (between
cursors
, x, +) contains an enlarging dominant follicle (
arrow
). Dominant follicles may be up to 3 cm size.
C
. A normal ovary (between
cursors
, x, +) in postmenopausal women is smaller and lack follicles.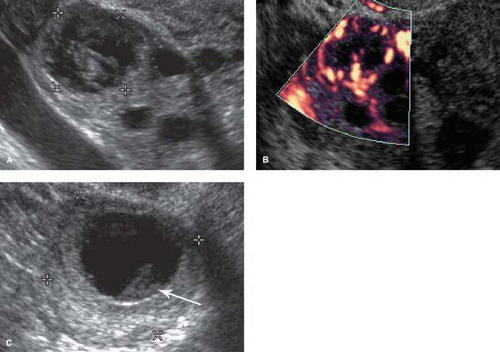 Figure 36.15.
Normal Corpus Lutea. A
. A normal corpus luteum (between
cursors
, x, +) appears as a partially solid mass with fluid components.
B
. Power Doppler image of the same ovary reveals the intense vascularity of the normal corpus luteum.
C
. In a different woman, the corpus luteum (between
cursors
, x, +) has reformed as a cyst. Echogenic material (
arrow
) within the cyst is a small blood clot.
Table 36.2 Causes of an Ovarian Mass
| ▪ CYSTIC OVARIAN MASS | ▪ SOLID OVARIAN MASS |
| --- | --- |
| Functional ovarian cyst | Fibroma (benign) |
| Hemorrhagic ovarian cyst | Brenner tumor (nearly always benign) |
| Endometrioma | Thecoma/fibrothecoma (benign) |
| Cystic teratoma (97% benign) | Pedunculated leiomyoma |
| Serous cystadenoma/cystadenocarcinoma (60% benign) | Dysgerminoma (malignant germ cell tumor) |
| Mucinous cystadenoma/cystadenocarcinoma (85% benign) | Granulosa cell tumor (85%–90% benign) |
| Clear cell carcinoma | Sertoli–Leydig tumor (80%–90% benign) |
| Endometrioid carcinoma | Metastasis |
| Necrotic metastasis | |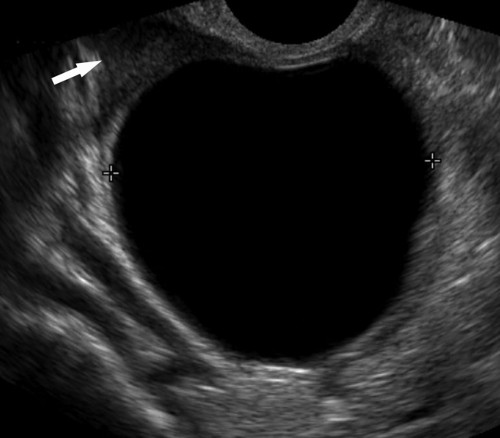 Figure 36.16.
Functional Ovarian Cyst
. Transvaginal US demonstrates a well-defined, thin-walled, anechoic ovarian cyst (between
calipers
, +) in a 36-year-old woman. A small portion of the ovary (
arrow
) is visible on this image. The appearance is typical of functional ovarian cyst. On follow-up US examination 10 weeks later, the cyst had resolved.
Postmenopausal ovarian cysts
are benign serous inclusion cysts found in 15% of asymptomatic postmenopausal women. US features are (
1
) small size less than 5 cm, (
2
) smooth thin walls of uniform thickness less than 3 mm, (
3
) anechoic fluid contents, and (
4
) absence of septations, nodules, or any soft tissue component. Over time, these cysts commonly change size or disappear. Cysts with these characteristics in postmenopausal women are extremely unlikely to be malignant. The Society of Radiologists in Ultrasound recommends yearly follow-up of postmenopausal cysts greater than 1 cm (
17
).
Pelvic inflammatory disease (PID)
refers to acute or chronic inflammation of the fallopian tubes, ovaries, and pelvic peritoneum (
19
). Patients are usually in their teens and twenties and present with pain, fever, and vaginal discharge. Causes of PID include gonococcus, chlamydia, anaerobic bacteria, and tuberculosis. The disease runs a spectrum from endometritis to salpingitis to hydrosalpinx and tubo-ovarian abscess. In acute PID, US demonstrates a complex ill-defined adnexal mass that often includes a dilated, pus-filled fallopian tube, swollen ovary, and adhesions to adjacent structures (
Fig. 36.18
). Echogenic, purulent, fluid is usually present in the cul-de-sac. Chronic PID manifests as hydrosalpinx or peritoneal inclusion cyst.