Abstract
The specialty of diagnostic radiology is particularly well suited to take advantage of the rapidly progressing technologic advances of the information age. This chapter discusses new and established uses of Internet technologies, social media, and various mobile and desktop applications by the radiology community. Reviewed use cases are organized into the following categories: communication and connection, community, collaboration, continuing education, and consultation.
Keywords
CME, communication, education, social media, Technology

Introduction
The Digital Revolution began in the latter half of the 20th century with the first uses of digital computers and data storage. The 1970s saw the development of the first microprocessor, Intel's 4004, which marked the advent of the rapidly doubling processor speeds predicted by Moore's Law. These exponential increases in computing power have since drastically changed how businesses and individuals interact by leading to an almost instant sharing of information.
The healthcare industry has been no exception, and the specialty of Diagnostic Radiology has been particularly well suited to take advantage of the many improvements brought about in the continuing Information Age. This is most readily seen in the improvement of industry technologies involving image display and transfer through the use of the Digital Imaging and Communication in Medicine (DICOM) standard and has facilitated digital image processing, instant image manipulation, and the widespread use of picture archiving and communication systems.
Given their penchant for eagerly adopting these new technologies, it is no surprise that radiologists, both in practice and in training, find a wide variety of uses for consumer technologies as well. They are skilled in advanced uses of the Internet, developing social media technologies, and mobile and desktop applications. This chapter specifically discusses uses of these technologies throughout the specialty in the following ways:





Communication and connection: Interpersonal communication technologies and the dissemination of news and information






Community: Technology use involving groups, such as subspecialty societies and meetings






Collaboration: Working with others to complete educational and research projects






Continuing education: Online opportunities for earning continuing medical education (CME) credit






Consultation: Using online encyclopedic resources for self-directed learning and real-time diagnostic assistance
Communication, Connections, and Community
Electronic Messaging
Perhaps the most ubiquitous communication technology in use today is email. It is used as the primary mode of nonurgent communication for many individuals in the developed world. However, with increasing security concerns regarding the transmission of protected health information, physician use of email for the purposes of discussing specific patients has been discouraged. Various solutions have been implemented, including bolstering security of existing email systems. An important recent solution to this problem has been the implementation of messaging systems housed within the electronic medical record (EMR) itself. Not only has this provided additional robust security for confidential interphysician case discussions but it also has the benefit of adding those messages directly to the patient's chart so that they may be viewed by all healthcare personnel involved in that patient's care. This is of particular importance to the radiologist, who is often faced with the task of combing through the EMR in search of an adequate context for an order with inadequate history. These cataloged conversations often provide insight into the thought processes of the patient's primary physicians, physician extenders, and nursing staff.
There has also been recent development of Health Insurance Portability and Accountability Act (HIPAA) secure text and electronic message systems and applications for use in the hospital setting ( Fig. 30.1 ). These services directly connect ordering clinicians with the entire clinical team, including radiologists, allowing for real-time messaging within a secure environment. These messages can obviate the need for pagers in many cases, which can often result in delayed communication and interaction between members of the healthcare team. Companies include Vocera, TigerText, and Everbridge, which provide mobile applications for popular smartphone operating systems. These applications maintain the security of the messaging information often by routing it through their HIPAA-compliant secure communications servers. Often, these services also offer integration with EMR systems of a hospital or health system as well.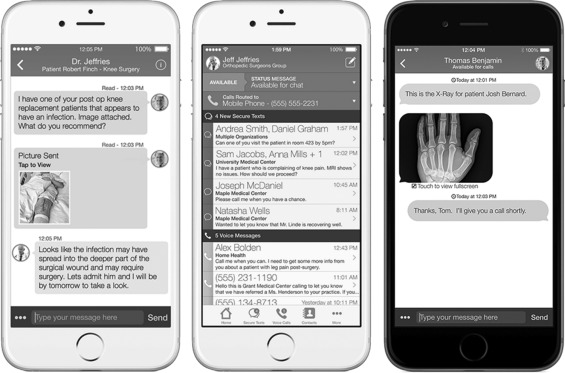 Social Media
Twitter: Website, Mobile and Desktop Apps
Launched in 2006, Twitter is a unique social networking service that consists of short messages of 140 characters or less. These comments submitted by users are termed "tweets." Tweets are readily accessible to the user's "followers," who are other registered users that subscribe to receive them on their user page, termed a "feed." Tweets submitted by users can also be viewed on the submitting user's home page as well. One of the defining aspects of this service, though, is the "hashtag," denoted by the pound (#) symbol. Words immediately following the # symbol complete the hashtag (i.e., "#radiology") and become part of a pool of messages that contain that same tag. This is commonly employed by users to add their comments or questions to a given topic that is popular at the time, a phenomenon known as a "trending" topic. Tweets can also be replied to by "tagging" the author within a tweet to bring a message to his or her attention by prefacing his or her username with the "@" symbol (i.e., "@RSNA").
All of the aforementioned mechanics can be combined in multiple ways for many different purposes by many different types of radiology groups and users. For example, it is most commonly used as a simple news delivery service, as seen with the AuntMinnie.com twitter account, which notifies radiologists of important news relevant to their practice ( Fig. 30.2 ).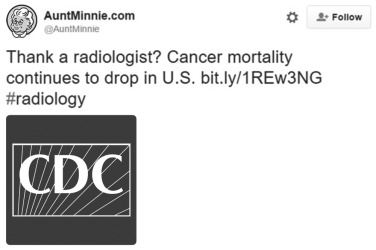 The radiology community might leverage its power most effectively, though, during societal and subspecialty meetings. For example, during the annual meeting of the Radiologic Society of North America (RSNA) in 2015, the meeting organizers, attendees, and industry professionals used the hashtag "#RSNA15" to keep all tweets relevant to the meeting under one easy-to-find trending topic ( Fig. 30.3 ).

Facebook: Website, Mobile Apps
Facebook (launched in 2004) is an incredibly popular social networking service widely used by individuals and businesses for communication. In contrast to Twitter, this service is focused more on interactive discussion, with each user or business establishing a page on which posts are made. Users are then able to add their own comments and questions to any post to which they have access, encouraging an ongoing dialogue. Users are also able to "like" a post, signifying their interest in or support of a post without adding any text. Recent updates have brought the hashtag to Facebook as well, though it is not nearly as ubiquitous as it is on Twitter.
Its use is similar to Twitter in that a large portion of its radiology user base uses the service for news and announcements ( Fig. 30.4 ). Many companies from the radiology industry have also created Facebook pages to provide announcements about new products and events. Users can join a group or "like" an organization's page to subscribe to posted updates. They can also expand their own social network by mutually agreeing to be "friends" with other users. The user will then see a series of posts on their home page as a "feed," consisting of updates from "friends" and pages that they have "liked."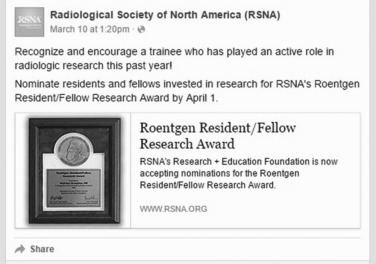 LinkedIn: Website, Mobile Apps
Founded in 2002, LinkedIn is a social networking service specifically designed for business professionals and has a structure similar to Facebook. Each user or company has a page on which they post, and comments are then added to that post. This service provides additional details about those with whom you are connected as a user and indicates the number of connections between you and people you might want to contact. The service can also provide information on people who have similar skills and previous work locations to suggest new potential contacts to grow your network ( Fig. 30.5 ). Users can subscribe to news and information in ways similar to Facebook as well. LinkedIn is also useful because it connects businesses that have job openings with those people who may be qualified for them.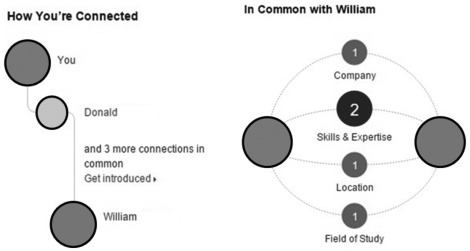 Premium Wordpress Themes by UFO Themes
WordPress theme by UFO themes