Fig. 12.1
Schematic illustration of the RE and IRE
Among the uses for reversible electroporation is most importantly electrochemotherapy allowing for higher doses of chemotherapeutic agents to enter the cells. The occurrence of IRE during RE procedures was considered an unwanted treatment side effect. In recent years interest turned to IRE as a tumor ablation modality resulting in the development of commercially available medical equipment [
3
].
IRE has shown to effectively ablate tumor cells in vitro, in small and large animal experiments and in several safety and efficacy studies on the IRE of focal liver, pancreas, lesser pelvis, kidney, and lung tumors [
4
–
6
]. Tumor ablation experiments have shown that connective tissue structure could be preserved, and there is minor damage to associated blood vessels, neural tissue, or other vital structures [
7
–
9
].
The IRE lesions show a sharp demarcation between ablated and non-ablated tissue, whereas concurrent thermal ablation techniques often show a transitional zone of partially damaged tissue where insufficient temperatures were reached for definitive ablation [
10
].
Device
An IRE system consists of two major components, a low-energy direct current (LEDC) generator and the needle electrodes. The system is a commercially available technological platform based on the principles of irreversible electroporation (IRE) and is intended for applications that require the ablation of tissue that is primarily cellular. As a result, the potential applications are extremely broad [
11
].
The system is manufactured and distributed by AngioDynamics, Inc., under the trade name of NanoKnife™ and is approved by the regulatory authorities in Europe and meets several international recognized standards. The system and probes have been cleared for marketing by the US Food and Drug Administration and carry the CE mark for cell membrane electroporation in Europe. All cleared components are indicated for the surgical ablation of soft tissue.
IRE in Prostate Cancer
The major side effects of current prostate cancer treatments are incontinence, erectile dysfunction, bleeding, and bowel injury. The relatively high incidence (ranging 30–90 %) of erectile dysfunction is due to damage of the neurovascular nerve bundle and/or blood flow to the penis. The incidence of incontinence has been reported to be as high as 57 % and is due to damage of the distal urethral smooth muscle sphincter, the puboprostatic ligaments, and striated muscle along the length of the urethra. IRE has been shown to have an advantage over surgical and other ablation techniques of, the aforementioned, sparing surrounding tissue and vital structures such as blood vessels and nerve bundles (Table
12.1
). It is therefore postulated that this advantage may help reduce or avoid these side effects [
12
].
Table 12.1
Advantages of IRE compared to current treatment options
Small needle electrodes with radiology guidance
Very short high-voltage pulses create permanent pores in cell membranes
Fast treatment
Rapid disappearance of targeted cells
No residual cavity or distortion
Almost no postoperative pain
Sparing of supporting and vital structures and consequently offers an alternative when thermal ablation and surgery are precluded
Procedure
The procedure will be performed under general anesthetic and full paralysis using rocuronium (dose 1 mg/kg). The procedure done under general anesthetic is a minimally invasive treatment [
13
].
A trigger can be used to supply the pulses at a cardiac autosynchronous rate to decrease the risk of cardiac arrhythmias. The patients are placed in the extended lithotomy position and sterile-draped, and a transurethral catheter is inserted (Fig.
12.2
). The treated area will be destroyed under ultrasound (US) image guidance and the tumor cells by disrupting the cell membrane with short-duration, high-voltage direct current [
14
].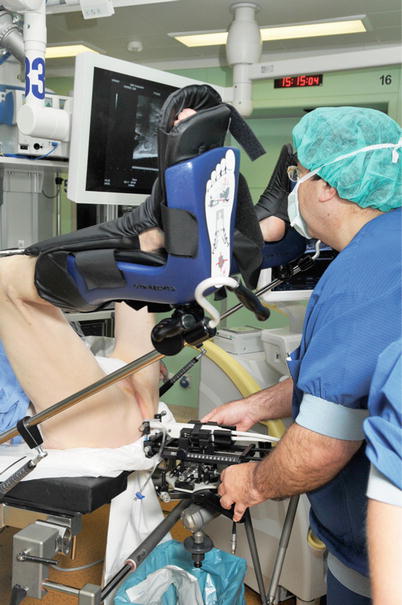 Fig. 12.2
Extended lithotomy position with ultrasound inserted
Full access? Get Clinical Tree