Fig. 2.1
Renal cyst
.
Sagittal sonographic image of the left kidney demonstrates a well-circumscribed, anechoic, thinly walled lesion with posterior acoustic enhancement (
black arrows
), a finding which is often used to definitively characterize a lesion as cystic. At the lateral edges of the enhanced echoes, there is a faint shadow representing
edge
(
refraction artifact
) which results from bending of the sound wave from its expected path
Attenuation
Attenuation
refers to decreases in sound beam strength as it travels through tissue. Frequency is a determining factor of attenuation, and the higher the frequency of the sound wave, the greater the attenuation. The penetrating power of sound is therefore limited at higher frequencies. Tissue density is another determining factor of attenuation. Reflections and refractions are some of the reasons for this phenomenon. Another is the conversion of the sound energy to heat.
Acoustic shadowing
is an example of attenuation differences in action. The term refers to lost through transmission of the sound beam. An example is seen in renal calculi which both absorb and reflect the sound beam, resulting in acoustic shadows posterior to the calculus, due to marked attenuation of the sound beam (Fig.
2.2
). In contrast, posterior acoustic enhancement is a phenomenon produced when attenuation of a structure is less than that of surrounding tissue, resulting in greater amplitude of the beam posterior to the structure. This is falsely displayed as an increase in echogenicity of the tissue posterior to the weakly attenuating structure. In clinical practice, this is commonly seen in the setting of a simple renal cyst (Fig.
2.1
) or any other fluid-containing structure, such as the urinary bladder [
2
–
5
]: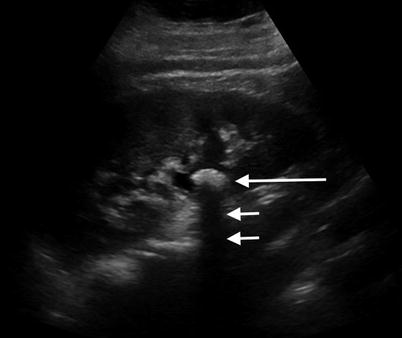 Fig. 2.2
Renal calculus
.
Sagittal sonographic image of the right kidney demonstrates a calcified renal stone (
large white arrow
) with the classic appearance of an echogenic lesion causing posterior acoustic shadowing (
small white arrows
)





Attenuation coefficients for selected tissues at 1 MHz






Material attenuation coefficient (dB/cm)






Water 0.0002






Soft tissue 0.3–0.8






Fat 0.5–1.8






Bone 13–26





Pulse-Echo Imaging Modes
Amplitude Mode (A-Mode)
Motion Mode (M-Mode)
Echo signal amplitudes are modulated according to levels of brightness and are displayed in a variety of shades of gray. The ultrasound beam is fixed at one position yet is observed in real time while scanning, allowing for the imaging of the motion of moving structures. A clinical example of M-mode use is in echocardiography, in which real-time evaluation of myocardial motion is performed [
2
,
3
,
5
].
Brightness Mode (B-Mode)
This mode produces a 2D image via modulating the echo signal amplitudes to various levels of brightness. This allows echoes to be displayed as lines with the imaged composed of "point-by-point variations in brightness level aka various shades of gray." In practice, structures that are more sound wave reflective appear more hyperechoic than those that are less reflective. Furthermore, the pulse line can be swept across tissue planes and produce cross-sectional imaging in the 2D plane [
2
,
3
,
5
].
Transducers
The sound beam is created by the transducer which makes use of a phenomenon called the piezoelectric effect to convert electrical energy into vibrational energy. This is accomplished by alternating electric current to the transducers crystal which causes expansion and contraction. Thus this produces vibrations and therefore sound waves. In addition to producing the sound beam, the transducer is also capable of receiving the reflected sound waves, referred to as echoes. Upon receipt, the crystal vibrates at the received echoes' frequency and converts that frequency into electrical current which is processed and converted into the ultrasound image [
2
,
3
,
5
].
Array technology allows for electronic focusing to a variety of depths with multiple focal zones from the same transducer. These capabilities yield better image quality/resolution/sharpness. Older transducers, in contrast, generated the sound beam with one element, causing the beam to converge at a focal zone, proximal to which was termed the
near field
and distal to which was termed the
far field
, where the sound waves diverged. The depth of the focal zone was determined by the characteristics of this single element [
2
,
3
,
5
].
Linear Array
Linear array transducers are composed of parallel scan lines which are perpendicular to the surface of the transducer. These utilize higher frequencies and provide high-resolution imaging of fascial planes that lay parallel to the skin surface. Linear arrays are most commonly used for imaging superficial and small parts and for musculoskeletal and vascular imaging where there is a need for highly detailed images [
3
,
5
].
Curvilinear Array
These transducers are composed of crystals aligned in a convex arrangement, and thus, the scan lines diverge as the sound beam travels deeper into the scanned tissue. They typically utilize lower frequencies, allowing for deeper tissue penetration compared to linear high-frequency imaging. Interpolation is often required to fill in the gaps in the image produced by the diverging sound waves. The advantage of the curved array is that it produces a larger field of view for deeper tissue structures. It is often used for abdominal and obstetric imaging [
3
,
5
].
Phased Array
These specialized transducers are composed of many more, often approximately 100, elements. They produce pulsed beams for each scan line, and thus, the beam can be steered in a different fashion than, for example, the linear array. The transducer also has a rather narrow face and the end result of its image formation is one with a large lateral view of deeper tissue [
3
,
5
].
A variety of modified transducer arrays are available for specialized imaging tasks by taking advantage of different focus strategies for specific anatomic regions. For example, endorectal probes are utilized for transrectal prostate biopsy, and endoesophageal probes are utilized for transesophageal echocardiography.
Image Resolution
Ultrasound Applications for the Genitourinary System
Computed Tomography (CT): Physical Principles and Genitourinary Applications
Physical Principles
There are many urologic applications of CT, including, but not limited to, detection and characterization of renal stone disease; obstructive uropathy; benign and malignant tumors of the adrenals, kidneys, and upper and lower urinary tracts; traumatic injury; infection and its complications; and assessment of renal artery disease. Technologic advances over the years have greatly increased the capabilities of CT and have resulted in markedly greater speed of acquisition, anatomic coverage, and the ability to obtain dynamic contrast-enhanced images, all of which have worked to increase its diagnostic accuracy and image quality. This has also led to the development of newer applications, such as dual-energy CT, CT angiography, and CT urography. A drawback to the use of CT is its use of ionizing radiation, which results in a relatively large radiation dose. In recent years, however, dose reduction techniques have been implemented on a wide-scale basis, which have the potential to significantly reduce the dose from routine CT imaging.
CT scanners are made up of two major components: the scanning component and computer components. The gantry consists of the scanning components, which surround the central aperture through which the patient is scanned. The computer components are located in the CT scanner control room. The scanning component includes the generator or power source, x-ray tube, collimators, detectors, data acquisition system computer components, image reconstruction, and scanner console.
Dual-Energy CT
Applications of CT in the Urinary Tract
Kidneys
There are numerous indications for the use of CT in the evaluation of renal pathology. Some of the more common reasons include renal mass characterization, renal cancer staging, stone disease, trauma, inflammatory/infectious processes, obstructive uropathy, vascular disease, congenital urinary tract anomalies, and postoperative evaluation.