Intravoxel Incoherent Motion and Non-Gaussian Diffusion-Weighted Imaging: Introduction
The role of breast magnetic resonance imaging (MRI) has expanded into many clinical applications, including differentiation between benign and malignant breast lesions, preoperative staging, evaluation of high-risk patients, and implant assessment. For breast diffusion-weighted imaging (DWI), as described in the previous chapters, apparent diffusion coefficient (ADC) has been well investigated for differentiating malignant and benign breast tumors, although not yet incorporated into the Breast Imaging Reporting and Data System (BI-RADS) classification. ADC, calculated using the monoexponential Gaussian model, has been utilized mainly for breast tumor characterization and has revealed various meaningful results. ADC values in breast cancer often are lower than benign tumors or normal breast tissue, and international efforts are underway toward implementing diagnostic ADC thresholds and standardizing the acquisition protocol of breast DWI.
It is also known that the DWI signal contains more information to be extracted and clinically utilized. In terms of signal intensity, at low b values (around ≤200 s/mm 2 ) the decay of measured signal attenuation in vivo is faster than at intermediate b values, whereas it is slower at larger b values (at least ≥1500 s/mm 2 ; Fig. 8.1 ). Consequently, non-Gaussian diffusion models are proposed to better describe diffusion signal behavior, which can have a direct link with tissue physiological and pathological characteristics. Signal behavior at low/intermediate values is often characterized by the intravoxel incoherent motion (IVIM) model, whereas departures from exponential signal decay at high b values are treated with various descriptions broadly termed non-Gaussian DWI. Non-Gaussian descriptors therefore attempt to move beyond this most simple concept of diffusion, toward a more accurate view of the underlying processes. Interpretation of observed non-Gaussian diffusion in vivo therefore requires a closer look at the process and properties of water molecule motion within tissue and an understanding of the mechanisms of image and contrast formation in DWI.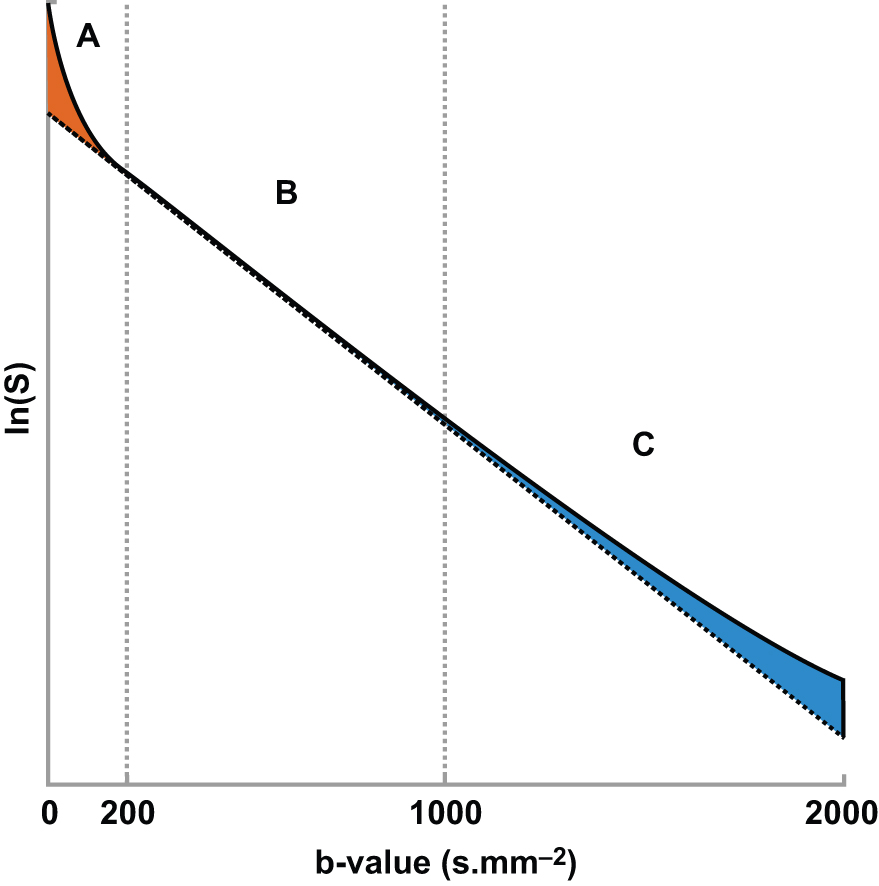 With the increasing use of the IVIM model in clinical research, throughout the body and including the breast, the interest in more complex and extended descriptions of diffusion has become commensurately greater. Although the IVIM model has generated a great deal of interest and has been the subject of much research, it is not without its challenges. With the advent of high performance gradient hardware systems in clinical MRI scanners, the access to high b values (beyond 1000 s/mm 2 ) has triggered interest in more complex and extended descriptions of diffusion beyond the standard ADC to supply new and useful information on tissue microstructure.
DWI has relatively lower sensitivity compared with dynamic contrast-enhanced (DCE) MRI, and improved diagnostic performance using a multiparametric approach combining DWI and DCE MRI has been reported by several groups. Still, although DCE MRI is a gold standard and the core of breast MRI, it requires the injection of gadolinium-based contrast agent, which is problematic for some with counterindications. Thus another benefit of IVIM and non-Gaussian DWI is that it can provide quantitative information on microcirculation and microstructure in tissues without the use of contrast agents.
This chapter introduces the methods and clinical application of IVIM and non-Gaussian DWI in the breast. First, fundamentals of Gaussian and non-Gaussian diffusion are reviewed, along with their common manifestation in clinical MRI (e.g., IVIM, diffusion kurtosis imaging [DKI]). Next, the literature of clinical applications of IVIM and non-Gaussian DWI in breast cancer is reviewed, including malignancy determination, prognostic factor correlation, and treatment response prediction. Then, methods of image acquisition of advanced breast DWI are reviewed, followed by discussion of data analysis strategies ( b value choices, fitting algorithms, model comparison, and noise handling). Finally, a brief discussion is provided on the balance between microstructural characterization and clinical value, as well as the potential for wide-scale translation of IVIM and non-Gaussian DWI in the breast.
Clinical Application of IVIM and Non-Gaussian DWI
IVIM Differentiation of Malignant and Benign Tumors
Tumor angiogenesis and cellular proliferation are important processes in breast cancer growth and metastasis. In terms of clinical application, the IVIM approach can separately reflect tissue diffusivity and tissue microcapillary perfusion in tissues without the need for contrast agents, with the advantage especially for patients contraindicated for contrast agents. Example IVIM signal decays from patients with breast lesions are shown in Fig. 8.5 .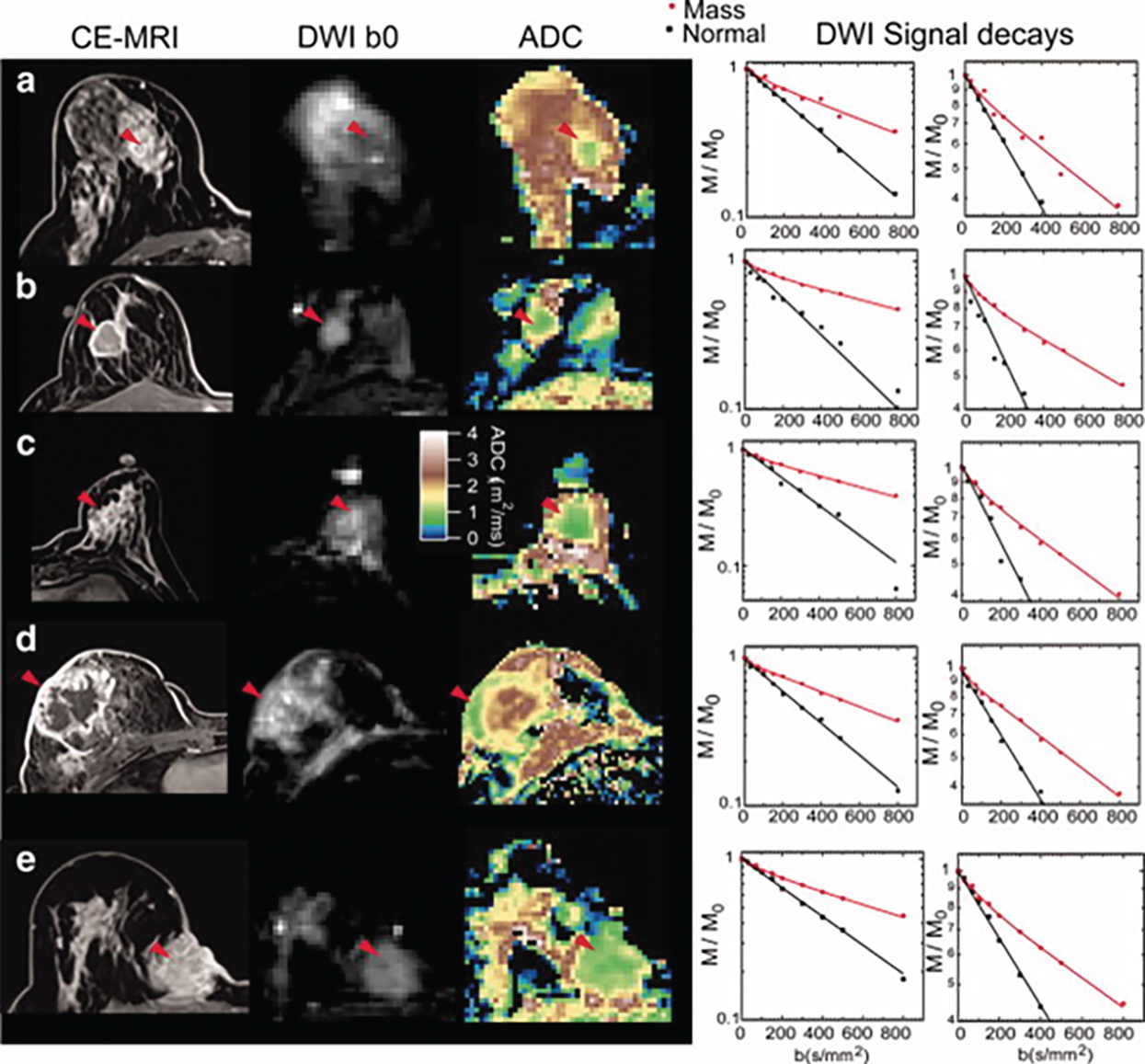 Many studies have reported the utility of IVIM for differentiating malignant from benign breast tumors, with higher f values in malignant compared with benign breast tumors. IVIM or combination of IVIM and non-Gaussian DWI parameters were reported to improve diagnostic accuracy over ADC alone, and the approach of combining parameters of IVIM, or IVIM and non-Gaussian (NG)–DWI to improve diagnostic accuracy, has been also explored.
Many of these studies are illustrated in Fig. 8.6 , and a formal meta-analysis by Liang and colleagues summarized their collective implications as follows. In an analysis of 16 studies encompassing 1717 lesions, the diagnostic performance of IVIM and ADC parameters was considered in distinguishing benign from malignant lesions in terms of area under the curve (AUC), finding 0.85, 0.91, 0.85, and 0.81 for ADC, D, f , and D *, respectively. Thus the individual diagnostic performance of f or D met or exceeded that of ADC . Furthermore, the pooled analysis also showed IVIM parameters differentiated lesion histological subtype, grade, ER/PR/HER2/Ki-67 expression levels, and lymph node status, whereas ADC only differentiated histological subtype. This combined analysis, which incorporated studies with variable technical protocols, highlights the broad potential utility of IVIM. Detailed findings of individual studies are discussed further later.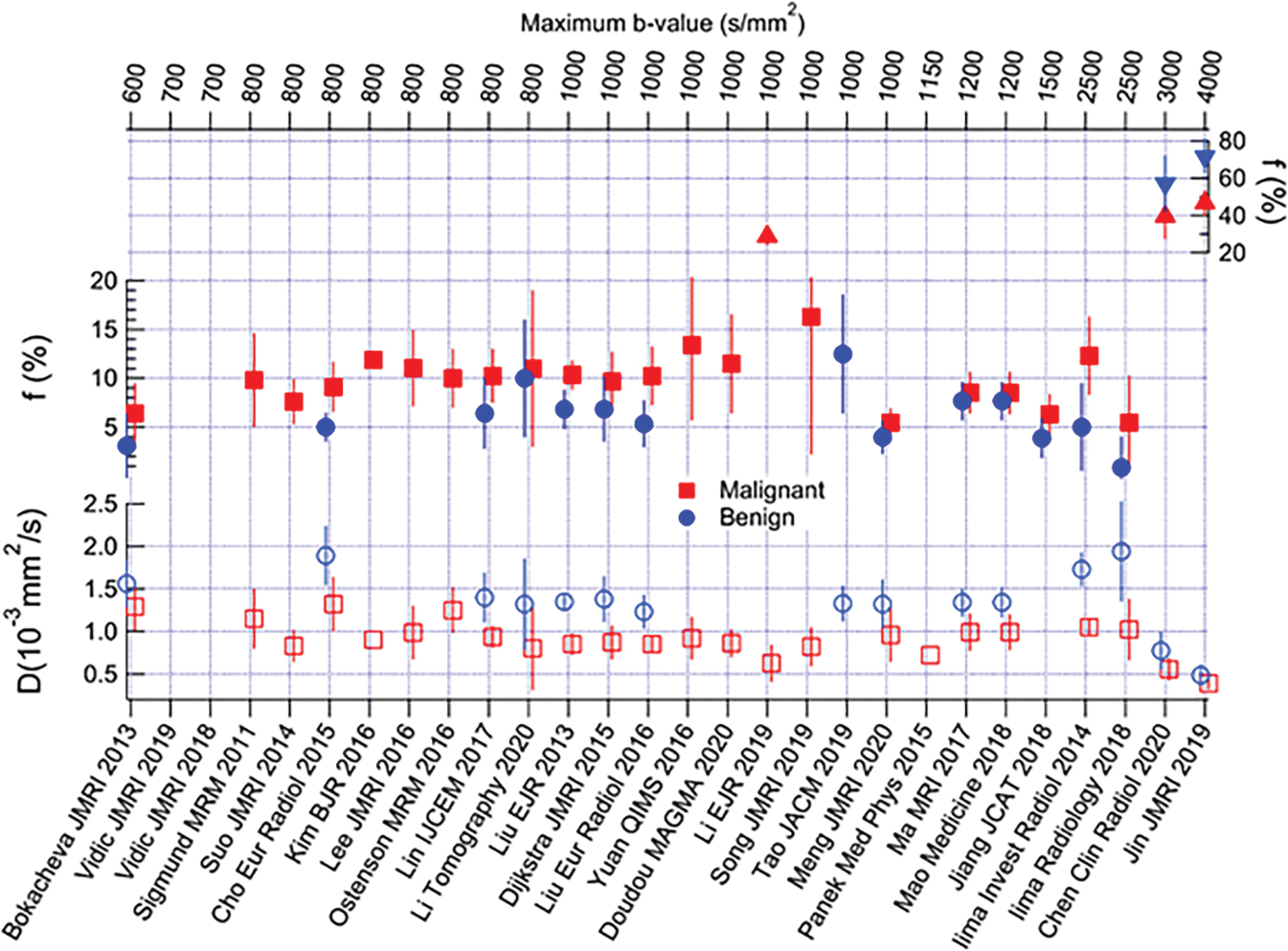 IVIM Tumor Characterization: Subtypes, Molecular Prognostic Factors
Many IVIM studies have investigated the relationship between IVIM parameters and the hormone receptor status, HER2, and Ki-67 expression levels or molecular subtypes (luminal A, luminal B, HER2-positive, triple negative) of breast cancer. The IVIM parameters showing significant associations with the molecular prognostic factors or subtypes are shown in Table 8.1 .
TABLE 8.1




Investigator


Study Design


Year


Patients (n)


Field Strength


b values (s/mm 2 )


ER


PR


HER2


Ki-67


Molecular Subtype




IVIM and non-Gaussian DWI models



Vidic´ et al. 28


Prospective


2018


51


3T


0, 10, 20, 30, 40, 50, 70, 90, 120, 150, 200, 400, 700


n/a


n/a


See subtype


n/a


Combined model distinguished ER+ HER2− from ER+ HER2+ with high accuracy (0.90)



Zhao et al.


Retrospective


2018


119


3T


0, 50, 100, 150, 200, 400, 500, 1000, 1500


D *↓


D *↓






Fraction of D *↓ in luminal B (HER2−) D *; fraction of D *↑; D ↓ in triple negative



Suo et al.


Retrospective


2017


101


3T


0, 10, 30, 50, 100, 150, 200, 500, 800, 1000, 1500, 2000, 2500


D , f , DDC, MD↓


–


–


D *↑, α↓





Lee et al.


Retrospective


2017


72


3T


0, 25, 50, 75, 100, 150, 200, 300, 500,800


D 50%, 75%, 90%, skewness↓, ADC 50%, mean, 75%, 90%, skewness↓-


ADC 75%↓


D skewness↓


f skewness↑


Luminal < HER2-positive ( D 75th percentile, ADC 50%, ADC mean); luminal < triple negative < HER2-positive (ADC 75%, ADC 90%)



Difference in subtypes ( D skewness)



Kawashima et al. 32


Retrospective


2017


134


3 T


0, 20, 40, 80, 120, 200, 400, 600, 800


–


–


–


–


D and ADC lower;



Kim et al.


Prospective


2016


275


3 T


0, 30, 70,100, 150, 200, 300, 400, 500, 800


D *↓


D *↓, ADC↓,


–


D ↓


Luminal A > other subtypes ( D ); Luminal A < other subtypes ( D *); luminal B (HER2−) < other subtypes (ADC); HER2-positive > other subtypes ( D *)



Cho et al.


Retrospective


2016


50


3 T


0, 30, 70, 100, 150, 200, 300, 400, 500, 800


ADCmax↓, Dmax↓, DSD↓, D * kurtosis↓, D * skewness↓


ADCmin↑, Dmin↑, DSD, D *max↓, D * skewness↓, f kurtosis↓, f skewness↓


See subtypes


f skewness↓


ER+ HER2− > other subtypes ( D * average); ER+ HER2− < other subtypes ( D * skewness, D * kurtosis); ER+ HER2+ < other subtypes (ADC kurtosis); ER+ HER2+ > other subtypes ( D skewness, D * kurtosis); triple negative > other subtypes ( D max)
Full access? Get Clinical Tree
Get Clinical Tree app for offline access