Always a rush in the morning. Time to fix lunch for the kids. Did we go grocery shopping this week? Those grapes don't look so hot. I think they've been in the produce drawer too long. What about these other grapes? Oh no—they have seeds. The kids never eat those. I'd better find something else to send with my kids for lunch. There are often clues that a mass in the breast is a potential problem. Something about it doesn't look so great.
Lawyers have been known to ask a radiologist on the stand, "Shouldn't you do a biopsy if there is any chance of cancer?" The answer is plainly, "No." Reading mammograms is all about the odds. What are the odds that a particular finding represents cancer? If the odds are less than 2%, then biopsy is not usually indicated.
A primary role of the radiologist is to determine the likelihood of cancer and to base management decisions according to that level of risk. Mass characteristics and change over time are the primary determinants of management. The shape and margins are important features of masses on any modality. Additional characteristics include density on mammography; echotexture, heterogeneity, and posterior acoustic features on ultrasonography (US); and enhancement pattern on magnetic resonance imaging (MRI). The management of masses is relatively straightforward once the characteristics and behavior over time are determined.
Benign Masses (BI-RADS 2)
The ability to recognize masses that are characteristically benign provides a great service to our patients. Establishing a mass as benign (BI-RADS 2) by any modality provides immediate reassurance to the patient and can spare her the anxiety and discomfort of unnecessary follow-up studies or biopsy. Certain masses—specifically, the fat-containing circumscribed masses, most cystic masses, and solid circumscribed masses that are stable for at least 2 years—are considered benign.
Fat-Containing Circumscribed Masses
On screening mammography, a circumscribed fat-containing mass is considered benign BI-RADS 2, without the need for recall. These masses are virtually always benign (BI-RADS 2). Okay, yes, it is possible that a hamartoma could have a cancer develop within its boundaries, but the odds of that are extremely small. Okay, and also a lymph node that is enlarged or has a thickened cortex could be due to metastatic disease or lymphoma/leukemia. But otherwise, fat-containing circumscribed masses are benign.
Why circumscribed? An invasive carcinoma that has engulfed fat can present as an irregular fat-containing mass, so those don't count. A fat-containing circumscribed mass seen on screening mammography does not need recall for diagnostic imaging. BI-RADS 2 at screening is fine. In fact, if you do bring the patient back for a diagnostic evaluation and end up performing US, the odd appearance of the mass may end up prompting a biopsy recommendation.
Fat-containing circumscribed masses are no problem. There are only five types, and they are pretty easy to tell apart ( Box 7-1 ). Note that the first two masses, lipoma and oil cyst, are completely fat density with no soft tissue components on mammography. The last three have both fat and soft-tissue density and are therefore mixed radiodense and radiolucent on mammography.



•




Lipoma




•




Oil cyst




•




Hamartoma




•




Lymph node




•




Galactocele
Benign Cystic Masses
There are four types of cystic masses in the breast: simple, clustered microcysts, complicated, and complex ( Box 7-3 ). Simple cysts, clustered microcysts, and most complicated cysts are benign. Complex masses have a moderate risk of malignancy.



•




Simple cyst




•




Clustered microcysts




•




Complicated cyst (includes hemorrhagic cysts)




•




Complex mass
The mammographic appearance of cystic masses is typically a round or oval, circumscribed, low- or equal-density mass. The margins may also be obscured on mammography, or the mass may be palpable but occult on mammography.
Stable Solid Mass with Benign Features
Benign features for a solid mass include a round or oval shape, circumscribed margins, low or equal density on mammography ( Fig. 7-15 ), and homogeneously hypoechoic with a parallel orientation on US. Benign features on MRI include smooth margin, oval or round shape, homogenous persistent enhancement, nonenhancing septations, and T2 hyperintensity ( Fig. 7-16 ).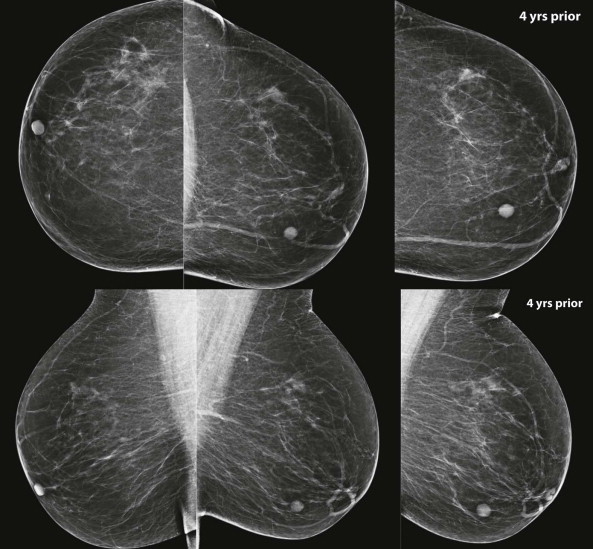 Premium Wordpress Themes by UFO Themes
WordPress theme by UFO themes