This chapter reviews the radiologic approach to mediastinal masses, diffuse mediastinal disease, and hilar abnormalities.
Mediastinal Masses
Localized mediastinal abnormalities are common diagnostic challenges for the radiologist. Patients with mediastinal masses tend to present in one of two fashions: with symptoms related to local mass effect or invasion of adjacent mediastinal structures (stridor in a patient with thyroid goiter) or incidentally with an abnormality on a routine chest radiograph. Occasionally, a mediastinal mass is discovered in the course of an evaluation for known malignancy (e.g., a patient with non-Hodgkin lymphoma [NHL]) or for a condition such as myasthenia gravis, in which there is an association with thymoma. Multidetector-row CT (MDCT) is the primary cross-sectional modalities used to evaluate mediastinal masses, with PET useful to assess the response of mediastinal tumors to therapy, particularly lymphoma, and to distinguish residual or recurrent tumor from fibrosis.
For the purposes of the following discussion, the mediastinum is divided into superior (thoracic inlet) and inferior components, with the inferior mediastinum subdivided into anterior, middle, and posterior compartments, as described in
Chapter 12
(
1
).
Thoracic Inlet Masses
The thoracic inlet is the region of the upper thorax marginated by the first rib and represents the junction between the neck and thorax. Masses in this region commonly present as neck masses or with symptoms of upper airway obstruction resulting from tracheal compression. Tortuous/dilated vascular structures, thyroid masses, lymphomatous nodes, and lymphangiomas are the most common thoracic inlet masses (
Table 13.1
).
Vascular Structures
. Perhaps the most common thoracic inlet mass is seen in older patients as the tortuous arterial structures (
Fig. 13.1
), in particular the confluence of the right brachiocephalic and right subclavian arteries as they bulge laterally into the right upper lobe to produce a right thoracic inlet mass. Since the "mass" is situated anteriorly in the thoracic inlet, its lateral border above the clavicle is indistinct. This is in distinction to thoracic inlet masses that are posterior or paravertebral in location, which are sharply outlined by apical lung which extends higher posteriorly than anteriorly. This finding is termed the "thoracic inlet" or "cervicothoracic" sign and helps localize thoracic inlet masses, thereby suggesting the etiology of such lesions. Tortuous arterial structures may be identified by the presence of atherosclerotic calcification within their walls and can often be seen on a lateral chest radiograph as a "mass" projecting posterior to the tracheal air column which is sharply outlined posteriorly. In contrast to other masses in the thoracic inlet, a tortuous vessel is usually associated with tracheal deviation toward the side of the mass, whereas most goiters and other inlet masses displace the trachea contralaterally.
Thyroid Masses
. In a small percentage of patients with a cervical thyroid goiter, a thyroid carcinoma, or an enlarged gland from thyroiditis, extension of the thyroid through the thoracic inlet into the superior mediastinum may occur. These lesions are usually discovered as incidental findings on chest radiographs; a minority of patients will present with complaints of dyspnea or dysphagia as a result of tracheal or esophageal compression by the mass. Thyroid goiters arising from the lower pole of the thyroid or the thyroid isthmus can enter the superior mediastinum anterior to the trachea (80% of cases) or to the right and posterolateral to the trachea (20% of cases).
On chest radiographs, an anterosuperior mediastinal mass typically deviates the trachea laterally and either posteriorly (anterior masses) or anteriorly (posterior masses). Coarse, clumped calcifications are common in thyroid goiters. Radioiodine studies should be performed as the initial imaging procedure, although false-negative results do occur. CT usually shows characteristic findings: (
1
) well-defined margins, (
2
) continuity of the mass with the cervical thyroid, (
3
) coarse calcifications, (
4
) cystic or necrotic areas, (
5
) baseline high CT attenuation (because of intrinsic iodine content), and (
6
) intense enhancement (>25 H) as a result of the hypervascularity of most thyroid masses and prolonged enhancement (resulting from active uptake of iodine from contrast media) following IV contrast administration (
Fig. 13.2
). MR is useful in depicting the longitudinal extension of thyroid goiters without the use of IV contrast.
Parathyroid Masses
. In approximately 2% of patients, the parathyroid glands fail to separate from the thymus in the neck and descend with the gland into the anterosuperior mediastinum. These glands can be found near the thoracic inlet in or about the thymus. This becomes important in the small
percentage of patients with persistent clinical and biochemical evidence of hyperparathyroidism following routine neck exploration and parathyroidectomy. Most of these ectopic parathyroid lesions are small (<3 cm) adenomas; rarely, they represent hyperplastic glands or parathyroid carcinoma. When US and nuclear medicine studies have failed to localize a lesion in the neck, CT, MR, or technetium
99
sestamibi scanning may be useful in detecting mediastinal lesions.
Table 13.1 Thoracic Inlet Masses




Vascular


Tortuous brachiocephalic/subclavian artery



Thyroid mass


Goiter
Malignancy
Thyromegaly resulting from thyroiditis



Parathyroid mass


Hyperplasia
Adenoma
Carcinoma



Lymph node mass


Lymphoma
Hodgkin
Non-Hodgkin
Metastases
Inflammatory
Tuberculosis



Lymphangioma
Lymphangiomas
. These uncommon masses are tumors comprised of dilated lymphatic channels. The cystic or cavernous form (cystic hygroma) is most commonly discovered in infancy and is often associated with chromosomal abnormalities, including Turner syndrome and trisomies 13, 18, and 21. In infants, these lesions tend to extend from the neck into the anterior mediastinum; less commonly they may arise primarily within the anterior mediastinum in older patients. Histologically, these tumors are composed of cystic spaces lined by epithelium and contain clear, straw-colored fluid. Although these lesions are benign histologically, they tend to insinuate themselves between vascular structures and the trachea. This makes complete surgical resection of lymphangiomas difficult, and they frequently recur. CT demonstrates a well-defined cystic mass within the thoracic inlet or superior mediastinum. MR typically shows a mass of high-signal intensity on T2WIs because of the fluid content.
Anterior Mediastinal Masses
The average age at diagnosis of thymoma is 45 to 50; these lesions are rare in patients under the age of 20. While most often associated with myasthenia gravis, thymoma has been associated with other autoimmune diseases, such as pure red cell aplasia, Graves disease, Sjögren syndrome, and hypogammaglobulinemia. Of patients with myasthenia gravis, 10% to 28% have a thymoma, while a larger percentage of patients with thymoma (30% to 54%) have or will develop myasthenia.
In patients with myasthenia gravis who are being evaluated for thymoma, CT can demonstrate tumors that are invisible on conventional radiographs. However, very small thymic tumors may not be distinguishable from a normal or hyperplastic gland with CT, particularly in younger patients with a large amount of residual thymic tissue.
Resection is curative.
While Hodgkin disease spreads in a fairly predictable pattern from one nodal group to an adjacent group, NHL is felt to be a multifocal disorder in which patterns of involvement are unpredictable. Localized intrathoracic Hodgkin disease is usually treated with radiation therapy, with 90% response rates. More widespread Hodgkin disease and NHL are treated with chemotherapy, with better response rates for Hodgkin disease than for NHL.
CT and fluorodeoxyglucose (FDG) PET are used to monitor the response of lymphoma to therapy. While CT can accurately assess tumor regression and detect relapse within nodal groups outside the treated region, the ability to distinguish residual tumor from sterilized fibrotic masses is limited. Residual soft tissue masses have been reported in up to 50% of patients, most commonly with nodular sclerosing Hodgkin disease, and are more common when the pretreatment mass is large. Some patients with residual masses on CT or MR will have tumor recurrence within 6 to 12 months after the completion of therapy. In general, the appearance of high-signal intensity regions on T2WIs more than 6 months after treatment should suggest recurrence. Radionuclide scintigraphy with gallium-67, particularly SPECT, has been largely replaced by FDG-PET in the initial diagnosis and staging of thoracic lymphoma. PET is clearly superior to CT or MR in distinguishing recurrent tumor from fibrosis in both Hodgkin disease and NHL.
Hemangiomas are benign tumors composed of vascular channels and may be associated with the syndrome of hereditary hemorrhagic telangiectasia. A pathognomonic sign on chest radiographs is the recognition of phleboliths within a smooth or lobulated soft tissue mass. Angiosarcomas are rare malignant vascular neoplasms that are indistinguishable from other invasive neoplasms arising within the anterior mediastinum.
Leiomyomas are rare benign neoplasms that arise from smooth muscle within the mediastinum. Similarly, fibromas and mesenchymomas (tumors that contain more than one mesenchymal element) can appear as anterior mediastinal masses.
Middle Mediastinal Masses
Lymph Node Enlargement and Masses
(
Table 13.3
). Most middle mediastinal lymph node masses are malignant, representing metastases from bronchogenic carcinoma (
Fig. 13.10
), extrathoracic malignancy, or lymphoma (
7
). Benign causes of middle mediastinal lymph node enlargement include sarcoidosis, mycobacterial and fungal infection, angiofollicular lymph node hyperplasia (Castleman disease), and angioimmunoblastic lymphadenopathy.
On plain radiographs, several findings suggest that a middle mediastinal mass represents lymph node enlargement. The presence of multiple bilateral mediastinal masses that distort the lung/mediastinal interface is relatively specific for lymph node enlargement. Solitary masses resulting from lymph node enlargement tend to be elongated and lobulated rather than spherical, since usually more than a single node in a vertical chain of nodes is involved. Occasionally, calcification can be detected within enlarged lymph nodes on plain radiographs;
CT is more sensitive in detecting nodal calcification and its distribution within lymph nodes.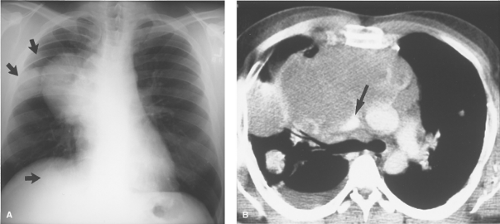 Figure 13.9.
Malignant Germ Cell Tumor. A
. Posteroanterior chest radiograph in a 38-year-old man reveals a right mediastinal mass with discrete right lung nodules (
arrows
).
B
. Contrast-enhanced CT demonstrates a large anterior mediastinal mass invading the superior vena cava (
arrow
) with right lung nodules and a small pleural effusion. CT-guided biopsy showed choriocarcinoma.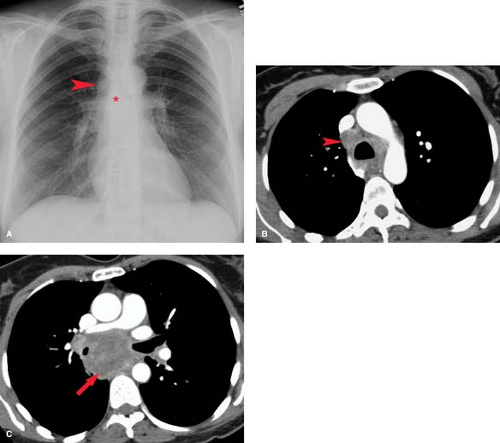 Figure 13.10.
Adenocarcinoma With Enlarged Middle Mediastinal and Hilar Nodes. A
. Chest radiograph shows enlarged right paratracheal (
arrowhead
) and subcarinal (
asterisk
) nodes.
B
and
C
. Axial contrast-enhanced scans shows enlarged, necrotic right paratracheal (
arrowhead
) and subcarinal (
arrow
) nodes. Bronchoscopic biopsy revealed adenocarcinoma.
Table 13.3 Middle Mediastinal Masses




Lymph node masses


Malignancy
Bronchogenic carcinoma
Lymphoma
Leukemia
Kaposi sarcoma
Extrathoracic malignancy
Head and neck tumors (squamous cell carcinoma of skin, larynx; thyroid carcinoma)
Genitourinary tumors (renal cell carcinoma, seminoma)
Breast carcinoma
Melanoma
Infection
Bacteria
Anaerobic lung abscess
Anthrax
Plague
Tularemia
Tuberculosis
Fungi
Histoplasmosis
Coccidioidomycosis
Cryptococcosis
Viral infection
Measles
Mononucleosis
Idiopathic
Sarcoidosis
Castleman disease
Angioimmunoblastic lymphadenopathy



Foregut and mesothelial cysts


Bronchogenic cyst
Pericardial cyst



Tracheal and central bronchial neoplasms


Malignant
Carcinoid tumor (bronchi)
Adenoid cystic carcinoma (trachea)
Squamous cell carcinoma



Diaphragmatic hernias


Foramen of Morgagni hernia
Traumatic hernia



Vascular lesions


Arterial
Double arch/right arch
Tortuous innominate/subclavian artery
Aneurysm of the aortic arch
Venous
Dilated azygos vein
Dilated hemiazygos vein
Dilated SVC
Left-sided SVC
Dilated left superior intercostal vein
Dilatation of the main pulmonary artery



SVC, superior vena cava.
One of the prime indications for performing thoracic CT is to detect the presence of enlarged mediastinal lymph nodes. CT is most often obtained to confirm an abnormal chest radiographic finding or to evaluate a patient with suspected mediastinal disease despite normal radiographs (a patient with a suspicious solitary pulmonary nodule or with cervical Hodgkin disease). The ability of CT to image in the axial plane and its inherent high-contrast resolution allow for the recognition of abnormally enlarged lymph nodes that would not be evident on chest radiographs. In general, abnormal lymph nodes are seen as round or oval soft tissue masses that measure larger than 1.0 cm in their short-axis diameter. Although CT is unable to distinguish between benign inflammatory nodes and those involved by malignancy based upon size criteria alone, CT can provide useful information about the internal density of the nodes (
Table 13.4
).
Table 13.4 Density of Mediastinal/Hilar Nodes on Ct




Calcification Central


Mycobacteria
Fungus



Peripheral (eggshell)


Silicosis
Sarcoidosis



Hypervascular


Carcinoid tumor/small cell carcinoma
Kaposi sarcoma
Metastases
Renal cell carcinoma
Thyroid carcinoma
Castleman disease



Necrosis


Mycobacteria
Fungus
Metastases
Squamous cell carcinoma
Seminoma
Lymphoma
A standardized classification system for hilar and mediastinal lymph nodes is the American Thoracic Society (ATS) map (
Fig. 13.11
). This scheme correlates with easily identifiable CT and anatomic landmarks and is most important when reporting lymph node enlargement in patients with bronchogenic carcinoma. A recently recommended new lymph node map has been proposed by the International Association for the Staging of Lung Cancer (
8
). A diagram of this simplified seven-station nodal map is illustrated in
Chapter 15
,
Figure 15.20
.
MR is as sensitive as CT in detecting enlarged mediastinal lymph nodes. Advantages of MR include the absence of iodinated contrast, easy distinction between vascular and soft tissue structures, exquisite contrast resolution between mediastinal nodes and fat on T1W sequences, and the ability to image in the direct coronal or sagittal plane. The latter feature is an advantage in those mediastinal regions that parallel the axial plane (subcarinal space, aortopulmonary window) and therefore tend to suffer from partial volume-averaging effects on CT. The major disadvantages of MR at present are the inability to detect nodal calcification and limited spatial resolution; the latter can result in an inability to distinguish between a group of normal size nodes and a single enlarged node, thereby leading to false-positive results.
In addition to the detection and characterization of enlarged mediastinal nodes, CT can help guide diagnostic nodal tissue sampling. This is usually most helpful in the setting of suspected bronchogenic carcinoma, where accurate staging of mediastinal nodal disease is important for prognostic purposes and treatment planning. The recognition of enlarged subcarinal or pretracheal nodes on CT may suggest biopsy via transcarinal Wang needle or mediastinoscopy, respectively.