Merkel Cell Carcinoma, Skin
Nayela Keen, MD
Christine M. Glastonbury, MBBS
Key Facts
Terminology





Neuroendocrine skin malignancy derived from Merkel cells






Rare but aggressive, rapidly growing cutaneous malignancy
Imaging





Primary tumor variable but may be small or not discernible on clinical exam






Imaging important for assessing nodes






CT or MR: Useful for assessing nodal spread






MR may be more sensitive for intralymphatic spread and deep extent of tumor






PET: High FDG avidity makes ideal staging agent
Top Differential Diagnoses





Skin basal cell carcinoma






Skin SCCa






Skin melanoma
Pathology





Associated with sun exposure






Merkel cell polyomavirus associated with most






Immunocompromised patients have higher incidence, often present in later stage and worse prognosis






MCC AJCC staging system introduced in 2010
Clinical Issues





Most patients > 65 years






Painless, firm, red nodule that grows rapidly






Early and frequent metastasis to regional lymph nodes






Nodal metastasis most important predictor of outcome






Wide local excision is important; XRT has role






2x the mortality rate of melanoma






5-year relative survival if N0 at diagnosis ˜ 75%, if nodal mets ˜ 45%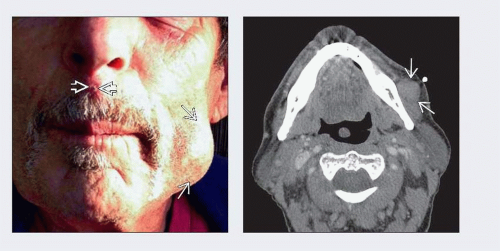 (Left)
Clinical photograph demonstrates subtle, small lesion of midline face, just above the upper lip

,
which at biopsy proved to be Merkel cell carcinoma. Also notice marked fullness of left lower cheek

.
(Right)
Axial CECT in same patient with skin marker demonstrates enlarged left facial node

without necrosis or calcifications. This corresponds to lower left cheek palpable and visible mass. Additional small bilateral submandibular nodes were also evident on this CECT.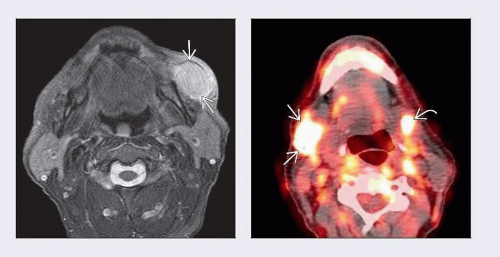 (Left)
Axial T2WI FS MR in same patient obtained almost 4 weeks after initial CT shows marked increase in size of left facial node

without necrosis. Case well illustrates the potential for rapid growth of Merkel cell carcinoma.
(Right)
Axial fused PET/CT obtained 1 week prior to MR shows avid FDG uptake in small left submandibular node

and large right IB node

.
Larger left facial node shown on CT above and MR to left was also markedly FDG avid (SUV = 15).
TERMINOLOGY
Abbreviations





Merkel cell carcinoma (MCC)
Synonyms





Neuroendocrine carcinoma of skin
Definitions





Neuroendocrine skin malignancy derived from Merkel cells









Part of the mechanoreceptor complex in skin






Located at basal layer of epidermis






Probably derived from neural crest cells
IMAGING
General Features





Best diagnostic clue









Nodal mass within neck associated with possible focal skin thickening









Primary site may be subtle clinically as well as radiographically






Location









Most commonly arises on facial skin









50% of cases occur in head and neck









Cheeks, nose, perioral, eyelids, periocular






30% occur on extremities






5-7% occur on trunk






< 15% unknown primary site






Even more rarely arises from mucosal surfaces






Size









Median diameter of primary at diagnosis = 1.1 cm






May present from adenopathy without discernible primary






Morphology









If primary visible, appears as exophytic subcutaneous nodule
CT Findings





CECT









Primary: Skin thickening or subcutaneous mass






Solid nodal disease, moderately enhancing
MR Findings





Primary site is typically small and may not be evident on imaging






If lesion seen, typically T2 hyperintense and moderately to markedly enhances with contrast






May see abnormal adjacent nodularity or hyperintensity of subcutaneous fat to suggest intralymphatic spread






Involved nodes of variable size, typically solid and moderately enhance with contrast
Nuclear Medicine Findings





PET/CT









Merkel cell carcinoma is highly FDG avid









Useful for staging, surveillance, restaging recurrent disease and distant metastasis






Even small nodes may show increased FDG uptake






Lymphoscintigraphy

may be used to locate sentinel nodes









Increasingly important role in MCC treatment