Anatomy
The mesentery is a part of the peritoneal lining that extends from the posterior peritoneum and suspends bowel loops. The mesentery is composed of two thin layers of fibrofatty tissue, which surrounds and contains the vascular and lymphatic structures supplying either the small bowel or colon. The purpose of the peritoneum and mesentery is to provide a smooth and frictionless surface between the solid organs. The mesentery can be further divided according to whether it suspends small intestine or colon. The small bowel mesentery is obliquely placed in the peritoneal cavity and extends from the ligament of Treitz in the left upper quadrant to the terminal ileum and ileocecal valve in the right lower quadrant. The transverse mesocolon extends from the pancreas and suspends the transverse mesocolon. The root of the transverse mesocolon passes across the second portion of the duodenum and the head, body, and tail of the pancreas. The plane of the transverse mesocolon can be identified by following the middle colic vessels.
The greater omentum is the continuation of the dorsal mesogastrium inferiorly from the greater curvature of the stomach. This extends inferiorly and doubles back anterior to the transverse colon and then continues posteriorly as the transverse mesocolon. The descending and ascending portions of the greater omentum usually fuse to form a four-layer vascular peritoneal fold ( Fig. 111-1 ).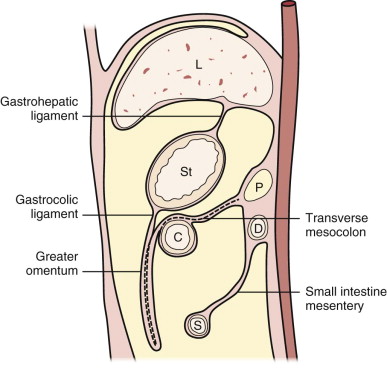 The peritoneal cavity is divided primarily by the transverse mesocolon into the supramesocolic and inframesocolic compartments. The peritoneal folds in the supramesocolic compartment consist of the falciform, coronary, gastrohepatic, hepatoduodenal, greater omentum, gastrosplenic, splenorenal, and phrenicocolic ligaments. The falciform ligament divides the subphrenic space into the right and left subphrenic spaces. The phrenicocolic ligament extends from the splenic flexure to the diaphragm and limits the cranial extent of the left paracolic gutter. The inframesocolic compartment is subdivided by the small bowel mesentery into the right and the larger left portion extending deep into the pelvis. The left inframesocolic space is limited in the lower left pelvis by the sigmoid mesocolon.
All the ligaments of the peritoneal cavity consist of fused peritoneal layers and form the subperitoneal space, which is a continuous potential space that connects the intraperitoneal compartment to the retroperitoneal compartment. The subperitoneal space also extends to the solid viscera. Thus, any disease process that involves the subperitoneal space can spread bidirectionally to involve either the peritoneal compartment or the retroperitoneum and may involve the abdominal organs.
In most patients, there is sufficient macroscopic fat on computed tomography (CT) to identify the small bowel mesentery, transverse mesocolon, and sigmoid mesocolon. Mesenteric fat has Hounsfield unit measurements of fat elsewhere and measures between −100 and −160 HU.
Premium Wordpress Themes by UFO Themes
WordPress theme by UFO themes