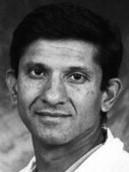 In this issue, Dr Avneesh Chhabra discusses the growing area of magnetic resonance neurography (MRN). This has always been a perplexing but expanding area. An example is a patient presenting with radicular pain or "sciatica." Historically, such a patient would undergo a lumbar spine MRI. However, advances in MR now permit us to evaluate individual nerves and there is a changing paradigm that permits MR studies to be focused on the "painful" nerve as opposed to the body parts the nerve traverses.
This unique and comprehensive edition contains state-of-the-art articles that describe nerve anatomy, pathophysiology, approach to MRN imaging, and interpretation. This issue is "image-rich" with numerous examples of pathology involving the brachial plexus, lower extremity, and lumbosacral plexus. Other articles focus on MR-guided perineural interventions, peripheral nerve surgery approaches, and postoperative imaging.
I wish to thank Dr Chhabra for accepting this challenging topic and all of the contributors for their outstanding contributions. This is truly a unique edition that will be a valuable resource for many years to come!