Opportunistic Intestinal Infections
Michael P. Federle, MD, FACR
R. Brooke Jeffrey, MD
Key Facts
Terminology





Gastrointestinal infection of immunocompromised host by virus (CMV), protozoa

(Cryptosporidium),

or

Mycobacterium

(MAI)
Imaging





Best imaging tool









Small bowel follow through, CECT






Protocol advice









CECT: 150 mL IV contrast at 2.5 mL/sec with 5 mm collimation
Top Differential Diagnoses





Giardiasis






Tuberculosis






Gastrointestinal lymphoma






Whipple disease
Clinical Issues





Most common signs/symptoms









Abdominal pain, nausea, vomiting, diarrhea, fever, GI bleeding






CMV and cryptosporidiosis respond to nitazoxanide in early stage






MAI in AIDS patients often difficult to treat






CMV: Antiviral therapy with acyclovir or ganciclovir






MAI: Antituberculous chemotherapy






Cryptosporidiosis: Chemotherapy with nitazoxanide
Diagnostic Checklist





Image interpretation pearls









CMV: Deep ulcerations and focal enteritis or colitis






MAI: Enteritis and low-attenuation nodes






Cryptosporidiosis: Thickened bowel wall and edematous folds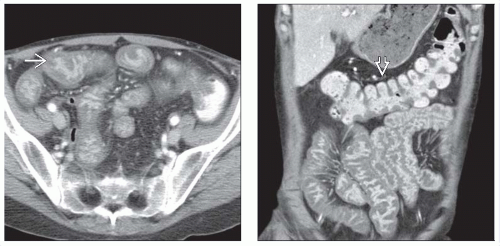 (Left)
Axial CECT in a 31-year-old woman with cystic fibrosis status post bilateral lung transplant, now with diarrhea, shows diffuse thickened, dilated, edematous folds of small bowel with prominent mucosal enhancement

involving much of the small bowel.
(Right)
Coronal CECT in the same patient reveals that the colon is spared

. Endoscopy and biopsy confirmed Cytomegalovirus. CT appearance is nonspecific; the patient's clinical scenario drives the diagnosis.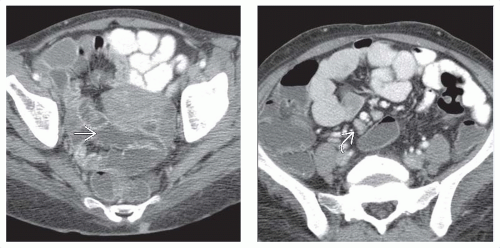 (Left)
Axial CECT in a 39-year-old woman with a history of HIV, now presenting with diarrhea, illustrates a common appearance of Cryptosporidium enteritis. Note the diffuse distention of the small bowel with low-attenuation fluid

.
(Right)
Axial CECT in the same patient further reveals lymph nodes in the root of the mesentery

. This infection typically affects patients with HIV, and is less common in the other immunocompromised hosts.
TERMINOLOGY
Synonyms





Cytomegalovirus (CMV),

Mycobacterium avium-intracellulare

(MAI), atypical mycobacterial infection, cryptosporidiosis,

Cryptosporidium parvum
Definitions





Gastrointestinal (GI) infection of immunocompromised host by virus (CMV), protozoa

(Cryptosporidium),

or

Mycobacterium

(MAI)
IMAGING
General Features





Best diagnostic clue









CMV: Thickened folds with deep ulcerations of small bowel (SB) or colon on barium studies






MAI: Thickened SB folds, mesenteric, or periportal adenopathy with low-attenuation nodes






Cryptosporidiosis: Secretory enteritis with thickened small bowel folds and increased fluid in bowel






Location









CMV: Small bowel, colon, stomach






MAI: Small bowel, nodes






Cryptosporidiosis: Small bowel
Fluoroscopic Findings





CMV: Barium enema









Diffuse colitis









Early stage resembles ulcerative colitis






Aphthous ulcers






Terminal ileum characteristically involved, with thickened folds &/or ulceration






Later stages show deep ulceration






CMV: Small bowel follow through (SBFT)









Thickened edematous folds






Discrete ulcerations






Deep ulcers in sinus tracts






MAI: Small bowel follow through









Diffuse enteritis with thickened folds






Micronodular mucosal pattern






Cryptosporidiosis: Small bowel follow-through









Secretory enteritis






Thickened folds






Increased fluid in bowel
CT Findings





CECT









CMV









Mural thickening of colon, stomach, small bowel (especially terminal ileum)