Key Facts
Terminology





Definition: Malignant tumor arising from bone with ability of neoplastic cells to produce osteoid
Imaging





Bone CT: Shows bone tumor with both osteolytic & osteoblastic components






MR imaging: Best evaluates extent of osteosarcoma









Intramedullary and extraosseous soft tissues






PET/CT: Used for local recurrence and distant metastasis identification
Top Differential Diagnoses





Mandible-maxilla osteomyelitis






Mandible-maxilla metastasis






Ewing sarcoma






Langerhans cell histiocytosis






Mandible-maxilla osteoradionecrosis
Pathology





Heterogeneous mass with ossified and nonossified components






Chondroblastic > osteoblastic > fibroblastic
Clinical Issues





Mean age: 35 years






Prognosis depends on pathologic type, size, location, and presence of metastases









Complete resection affords best chance of survival
Diagnostic Checklist





Osteoid matrix in tumor of mandible or maxilla suggests osteosarcoma









If not present, consider metastasis or osteomyelitis






Consider radiation-induced osteosarcoma if patient had radiation years prior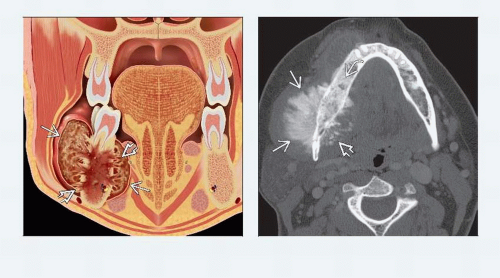 (Left)
Coronal graphic shows right mandible osteosarcoma. Note associated soft tissue mass

with aggressive periosteal reaction

.
(Right)
Axial bone CT demonstrates large, dense mass arising from the right mandibular body. The mass has both osteoid matrix

and periosteal reaction

associated with it. This is a classic aggressive periosteal reaction associated with osteosarcoma where periosteum is lifted off perpendicular to bone. Marrow within the involved portion of the mandible is sclerotic

.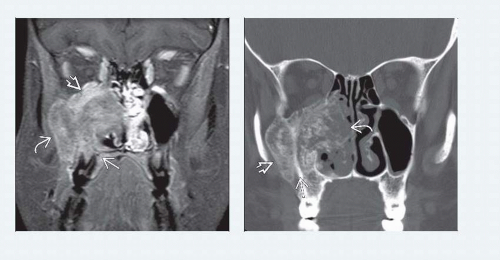 (Left)
Coronal T1
C+
fat-saturated MR reveals a large, heterogeneously enhancing maxillary mass involving the alveolar ridge

,
orbital floor

,
and deep soft tissues of the cheek

.
(Right)
Coronal bone CT in the same patient shows extensive new bone formation in the matrix, which creates central low signal. The tumor is centered on the lateral wall of the right maxillary sinus

,
extending into the fat pad

and nasal cavity

.
Most maxillary OSa are found in the alveolar ridge, not the lateral wall as in this case.
TERMINOLOGY
Abbreviations





Osteosarcoma of head & neck (OSa H&N)
Definitions





Malignant tumor arising from bone with ability of neoplastic cells to produce osteoid
IMAGING
General Features





Best diagnostic clue









H&N bone tumor demonstrating tumor matrix mineralization with aggressive bone destruction and soft tissue extension leads directly to radiologic diagnosis of osteosarcoma






Location









Mandible ≈ maxilla > > calvarium/skull base









All other sites are extremely rare









Hard palate, mastoid, zygoma, paranasal sinuses






Mandible OSa in mandibular body






Maxillary bone OSa in alveolar ridge






Postradiation OSa: Typically at border of radiation field









Most commonly involves multiple bones at this site






Size









Ranges in size from 1-15 cm






Majority present in 3-6 cm size range