Metastases
Gastric metastases are found at autopsy in less than 2% of patients who die of carcinoma. Duodenal metastases are even rarer. Nevertheless, metastases to the stomach and duodenum have been encountered more frequently as combined treatment with surgery, radiation, and/or chemotherapy has led to prolonged survival of patients with widespread metastatic disease. Most lesions are hematogenous metastases from malignant melanoma or carcinoma of the breast or lung. Less frequently, the stomach or duodenum may be involved by lymphatic spread of tumor or by direct extension of tumor from neighboring structures or mesenteric reflections such as the gastrocolic ligament, transverse mesocolon, and greater omentum. These various forms of spread produce characteristic radiographic findings that are considered separately in the following sections.
Clinical Findings
Most gastroduodenal metastases are discovered unexpectedly at surgery or autopsy. However, some patients with ulcerated metastases may develop signs or symptoms of upper gastro­intestinal (GI) bleeding, such as hematemesis, melena, and guaiac-positive stool. Others may present with epigastric pain, nausea, vomiting, early satiety, anorexia, or weight loss. One or more of these findings are sometimes caused by systemic chemotherapy or the hypercalcemia associated with widespread metastatic disease. As a result, gastroduodenal metastases may not be suspected, even if symptoms are present.
Most patients with gastroduodenal metastases have a known underlying malignancy. Occasionally, however, metastases to the stomach or duodenum may occur as the initial manifestation of an occult primary tumor. Certain malignancies such as carcinoma of the breast and kidney can also metastasize to the stomach or duodenum many years after treatment of the original lesion. It is therefore important to obtain a detailed clinical history in these patients.
Radiographic Findings
Hematogenous Metastases
True hematogenous or blood-borne metastases to the stomach or duodenum may be caused by a variety of malignant tumors. Although malignant melanoma has the highest percentage of hematogenous metastases to the GI tract, breast cancer is such a common disease that it rivals melanoma as the most common cause of metastases to the bowel. Much less frequently, the stomach or duodenum may be involved by hematogenous metastases from thyroid or testicular carcinoma or from other remote tumors.
Hematogenous metastases usually appear on barium studies as one or more discrete submucosal masses in the stomach, duodenum, or small intestine ( Fig. 33-1 ). When multiple lesions are present, they tend to be of varying sizes because of periodic showers of tumor emboli into the arterial supply of the bowel. As these submucosal masses outgrow their blood supply, they may undergo central necrosis and ulceration, resulting in the development of classic "bull's-eye" or "target" lesions ( Fig. 33-2 ). In general, bull's-eye lesions have large central ulcers in relation to the size of the surrounding mass. Superficial fissures may occasionally radiate toward the central ulcer crater, producing a characteristic spoke wheel pattern (see Fig. 33-2B ).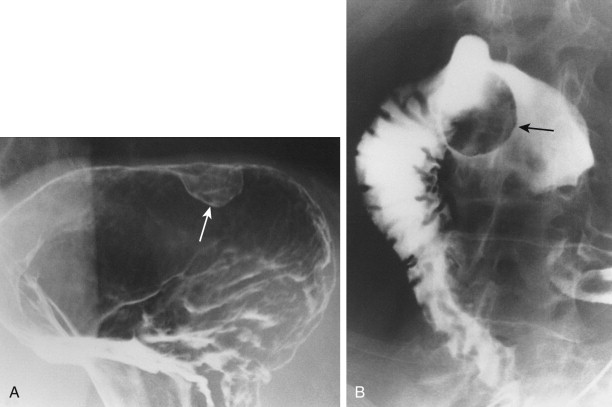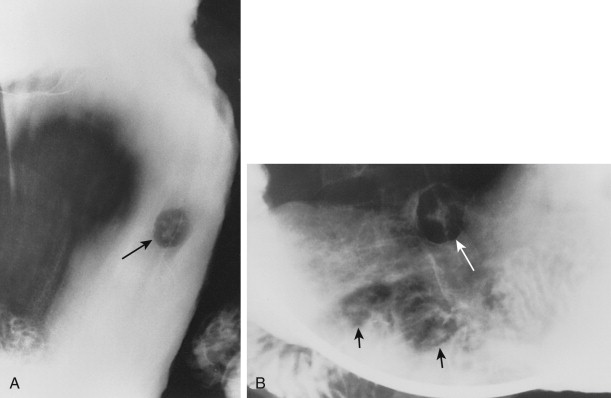 Hematogenous metastases to the stomach or duodenum are sometimes manifested by larger, more lobulated masses that can be mistaken radiographically for malignant gastrointestinal stromal tumors (GISTs) or even polypoid carcinomas ( Fig. 33-3 ). Other metastases, particularly those from malignant melanoma, may become necrotic, resulting in the development of giant cavitated lesions. These cavitated metastases can be recognized on barium studies as amorphous collections of barium (usually ranging from 5-15 cm in size) that communicate with the lumen ( Fig. 33-4 ). Computed tomography (CT) is particularly well suited for demonstrating these giant cavitated lesions.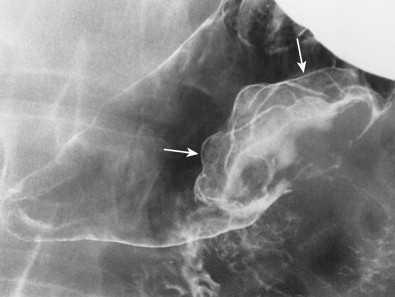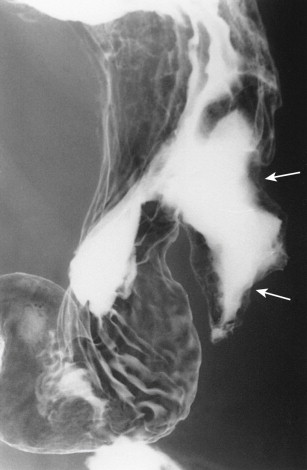 Hematogenous metastases to the stomach from breast cancer may produce a linitis plastica or "leather bottle" appearance indistinguishable from that of a primary scirrhous carcinoma of the stomach ( Fig. 33-5 ). This linitis plastica appearance is caused not by fibrosis (as in patients with scirrhous carcinoma) but by highly cellular infiltrates of metastatic tumor in the gastric wall. Although the degree of luminal narrowing is variable, these lesions can still be recognized on double-contrast studies by distortion of the normal surface pattern of the stomach with mucosal nodularity, spiculation, ulceration, or thickened, irregular folds (see Fig. 33-5 ). Some of these tumors may involve the proximal portion of the stomach with sparing of the antrum (see Fig. 33-5B ). The possibility of metastatic disease should therefore be considered in any patient with linitis plastica who has a history of breast carcinoma.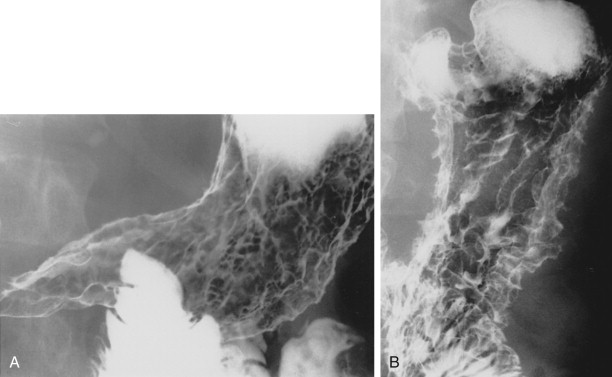 Metastatic disease to the stomach is usually found on CT studies performed as part of the routine work-up of patients with known malignant tumors. Although many extragastric tumors can metastasize to the stomach, careful evaluation of the stomach is particularly important in patients with known malignant melanoma or breast or lung cancer. It has been found that metastatic breast cancer involves the stomach in 5% to 27% of patients, often causing extensive gastric wall thickening (sometimes associated with increased attenuation of the wall after intravenous [IV] contrast enhancement) that simulates the linitis plastica appearance of a scirrhous gastric cancer ( Fig. 33-6 ). In other patients, CT may demonstrate more focal wall thickening ( Fig. 33-7 ). Because these tumors often reside deeply within the gastric wall, it can be difficult to obtain a definitive pathologic diagnosis from endoscopic biopsy specimens. Nevertheless, in the proper clinical setting, CT findings should be highly suggestive of metastatic breast cancer involving the stomach.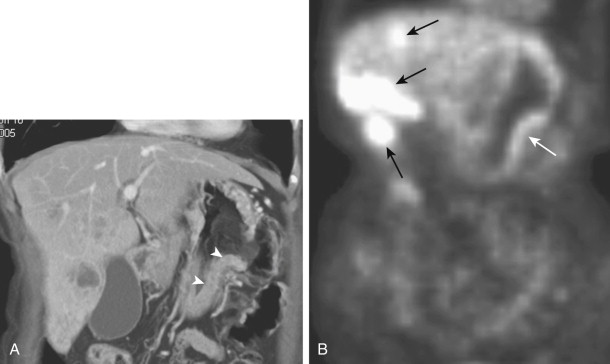 Hematogenous metastases to the stomach from malignant melanoma, bronchogenic carcinoma, and Kaposi's sarcoma may also be detected on CT.
Lymphatic Spread
Gastric metastases are found at autopsy in 2% to 15% of patients who die of squamous cell carcinoma of the esophagus. These metastases are thought to be caused by tumor emboli that seed the gastric cardia or fundus via submucosal esophageal lymphatics extending subdiaphragmatically to paracardiac, lesser curvature, and celiac nodes. Squamous cell metastases to the gastric fundus may appear on barium studies as giant submucosal masses, often containing central areas of ulceration ( Fig. 33-8 ). As a result, these lesions can be mistaken for benign or malignant GISTs or even adenocarcinomas. Squamous cell metastases to paracardiac or other lymph nodes in the upper abdomen are sometimes recognized on CT scans as low-attenuation masses relative to skeletal muscle ( Fig. 33-9 ).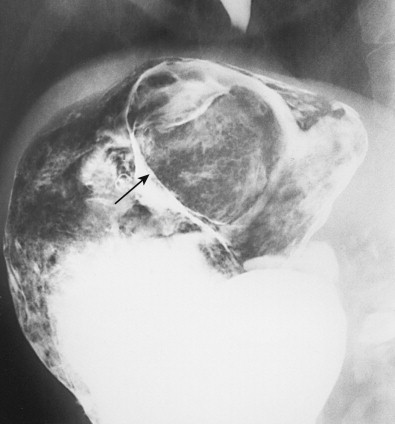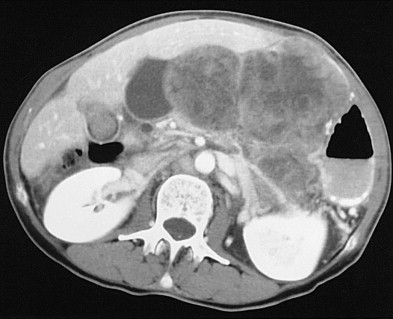 The duodenum is occasionally involved by peripancreatic lymphadenopathy from pancreatic carcinoma, lymphoma, or other malignant tumors. In such cases, barium studies may reveal nodular indentations on the medial border of the descending duodenum or widening of the duodenal sweep. However, pancreatic carcinoma, pancreatic pseudocysts, and pancreatitis can produce identical radiographic findings. CT is extremely helpful for determining the cause of a widened duodenal sweep and for differentiating a pancreatic mass from adjacent lymphadenopathy.
Malignant tumors that metastasize to retroperitoneal lymph nodes near the superior mesenteric root may be manifested on barium studies by extrinsic mass effect, nodular indentations, ulceration, or, in advanced cases, obstruction of the distal duodenum near the ligament of Treitz ( Fig. 33-10A ). CT is ideally suited for demonstrating retroperitoneal adenopathy as the cause of these abnormalities ( Fig. 33-10B ). Occasionally, retroperitoneal tumor involving the duodenum may cause delayed gastric emptying and massive gastric dilation out of proportion to the degree of duodenal dilation ( Fig. 33-11 ). This disproportionate gastric dilation is probably related to vagal destruction by retroperitoneal tumor, which decreases gastric peristalsis and exacerbates gastric distention.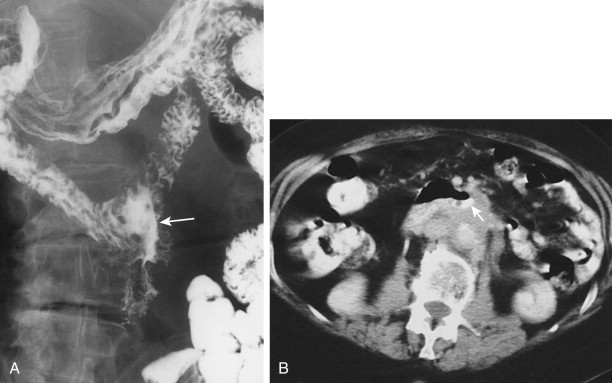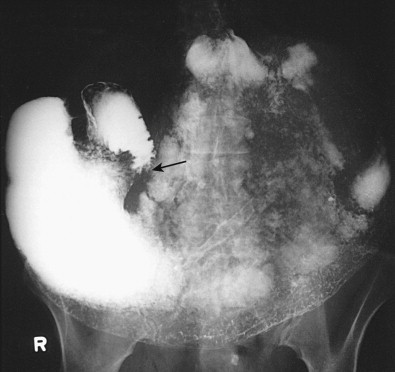 Direct Invasion
The stomach and duodenum may be directly invaded by malignant tumors arising in neighboring structures such as the esophagus, pancreas, and kidney. The stomach and duodenum may also be involved by direct extension of colonic carcinoma along mesenteric reflections (including the gastrocolic ligament and transverse mesocolon) or by contiguous spread of tumor from the greater omentum. Because the radiographic findings depend on the pathways of spread, the various primary malignant tumors are discussed separately in the following sections.
Differential Diagnosis
Hematogenous metastases that appear as small nodular lesions in the stomach or duodenum may be difficult to differentiate on barium studies from multiple hyperplastic or adenomatous polyps. Metastases that have a more typical submucosal appearance can be mistaken for benign intramural lesions such as GISTs, lipomas, or ectopic pancreatic rests. However, these benign mesenchymal tumors tend to occur as solitary lesions, whereas metastases are usually multiple. Centrally ulcerated bull's-eye lesions may be caused not only by hematogenous metastases but also by lymphoma, Kaposi's sarcoma, or carcinoid tumors. Occasionally, varioliform erosions surrounded by unusually prominent mounds of edema can be mistaken for bull's-eye lesions. However, varioliform erosions are rarely larger than 1 cm, and the central barium collections are considerably smaller than those seen in ulcerated submucosal masses.
Giant cavitated lesions in the stomach and duodenum may be caused not only by metastatic disease (particularly malignant melanoma) but also by lymphoma or malignant GISTs. However, malignant GISTs tend to occur as solitary lesions, so the presence of multiple cavitated masses in the stomach, duodenum, or small bowel should favor a diagnosis of metastatic disease or lymphoma.
The linitis plastica appearance caused by metastatic breast cancer may be indistinguishable on barium studies from that of a primary scirrhous carcinoma of the stomach. Circumferential gastric involvement by pancreatitis, pancreatic carcinoma, colonic carcinoma, omental metastases, lymphoma, or Crohn's disease and scarring from various types of severe gastritis may produce similar findings. Nevertheless, the possibility of metastatic disease should be considered when a linitis plastica appearance is detected in patients who were previously treated for breast cancer.
Direct invasion of the stomach and duodenum by metastatic tumor may be simulated by various benign and malignant conditions in the upper abdomen. Compression or displacement of the greater curvature or posterior wall of the stomach or of the medial border of the descending duodenum may be caused not only by pancreatic carcinoma but also by pancreatitis, pancreatic pseudocysts (see Fig. 33-15 ), peripancreatic lymphadenopathy, abdominal aortic aneurysms, or other retroperitoneal processes. Various signs of bowel wall invasion (e.g., mass effect, nodularity, and spiculated, tethered folds) may also result from a nonspecific desmoplastic response to inflammatory conditions involving the stomach. Thus, pancreatitis may produce changes on the greater curvature that are impossible to distinguish from pancreatic or colonic carcinoma or omental metastases involving the stomach. Other imaging techniques such as CT are usually helpful for differentiating these conditions.
Lymphoma
Lymphoma involves the stomach more frequently than any other portion of the gastrointestinal tract. Gastric lymphoma accounts for 50% of all GI lymphomas, 25% of all extranodal lymphomas, and 3% to 5% of all malignant tumors in the stomach. More than 50% of patients with gastric lymphoma have localized disease that is confined to the stomach and regional lymph nodes (primary gastric lymphoma); the remainder have generalized lymphoma with associated gastric involvement (secondary gastric lymphoma). When it occurs, duodenal lymphoma usually results from contiguous transpyloric spread of lymphoma from the stomach. Because of its rarity, duodenal lymphoma is considered separately in a later section.
The vast majority of gastric lymphomas are non-Hodgkin's lymphomas of B-cell origin. There is considerable evidence that these lymphomas arise from mucosa-associated lymphoid tissue (MALT) occurring in patients with chronic Helicobacter pylori gastritis. It has therefore been postulated that most primary non-Hodgkin's gastric lymphomas originate as low-grade MALT lymphomas, which, if untreated, eventually pro­gress to more high-grade lymphomas. In the past, low-grade proliferation of lymphoid tissue in the stomach was sometimes known as pseudolymphoma. However, these pseudolymphomas are currently thought to represent monoclonal B-cell proliferations or true B-cell MALT lymphomas. As a result, the term pseudolymphoma has largely been abandoned.
Because the gross pathologic findings are nonspecific, gastric lymphoma is often difficult to differentiate from gastric carcinoma on radiologic or endoscopic examination. However, gastric lymphoma has a much better prognosis than gastric carcinoma, with overall 5-year survival rates of 50% to 60%. Thus, failure to obtain biopsy specimens from an advanced lesion that is assumed to be inoperable gastric cancer may deprive the patient of the opportunity for cure or long-term palliation. Proper staging of the tumor is also important, so a rational decision can be made about treatment options such as surgery, radiation, and chemotherapy.
Premium Wordpress Themes by UFO Themes
WordPress theme by UFO themes