Lymphoid Interstitial Pneumonia (Lymphocytic Interstitial Pneumonia)
Etiology, Prevalence, and Epidemiology
LIP is a rare condition limited to the lungs and characterized at histology by diffuse infiltration of the alveolar septa by polyclonal lymphocytes. LIP has been considered part of a spectrum of pulmonary lymphoproliferative disorders that range in severity from benign airway-centered cellular aggregates (lymphoid hyperplasia) to malignant lymphomas ; however, immunohistochemical and molecular analyses indicate that the risk of transformation to pulmonary lymphoma is low. Most cases of LIP occur in patients with underlying autoimmune disease or immunodeficiency, most commonly Sjögren syndrome, autoimmune disorders, dysproteinemia, and AIDS; the last-mentioned is particularly seen in children ( Box 23.1 ). When underlying systemic diseases are excluded, a diagnosis of "idiopathic" LIP can be made; however, idiopathic LIP is extremely rare. The clinical and radiologic manifestations of LIP often resemble those of other interstitial pneumonias, and the histologic pattern is that of an interstitial pneumonia that can mimic nonspecific interstitial pneumonia and occasionally hypersensitivity pneumonitis. LIP is part of the updated American Thoracic Society/European Respiratory Society international multidisciplinary consensus classification of idiopathic interstitial pneumonias and is one of the "rare" idiopathic interstitial pneumonias.
Clinical Presentation
The average age of presentation is 50 to 60 years; women are affected twice as commonly as men. The onset is typically insidious over several years. The main clinical symptoms are cough, dyspnea, and fatigue. Approximately 80% of patients have serum dysproteinemia, most commonly polyclonal hypergammaglobulinemia. Analysis of bronchoalveolar lavage fluid frequently shows lymphocytosis (30%).
Pathology
LIP is characterized histologically by extensive infiltration of the alveolar septa with polyclonal lymphocytes and variable numbers of plasma cells ( Fig. 23.4 ). Although usually more or less diffuse within the lobule, small nodular foci may be seen as a result of localized proliferation or the formation of germinal centers. Fibrosis is usually absent or mild in severity; occasionally, it may be associated with remodeling and a honeycomb appearance. Airspaces are typically unaffected.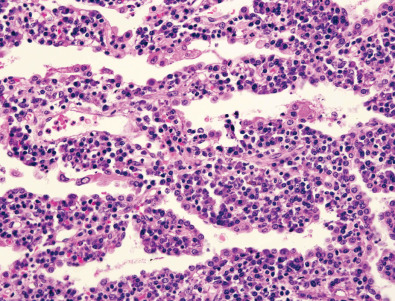 Premium Wordpress Themes by UFO Themes
WordPress theme by UFO themes